News Around the Republic of Mexico | February 2005
Buying Mexican Real Estate Gets Easier

Steve McLinden - Bankrate.com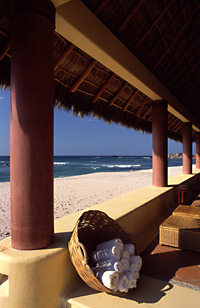 Onward, the Mexican land rush.

Lured by beachfront vistas, quaint colonial backdrops and a historic construction boom, thousands of Americans are heading down Mexico way to snap up vacation homes, retirement villas and investment properties.


Heartened by wide-sweeping reforms in the country's judicial and foreign-investment systems over the past decade or so and heightened interest from investors, many Yanks have watched the values of their south-of -the-border properties head north in surprisingly short order.


"The market has just become prolific in Mexico, with about 1.5 million Americans now owning property there," says Mitch Creekmore, vice president of the Stewart Title Guaranty de Mexico office in Houston and one of America's foremost experts on Mexican real-estate acquisition. "Values in some markets have tripled in five years -- far exceeding the rates of return you find in the United States."


Barriers Falling - Yet foreigners are still paying a premium to finance such deals, either through developer/seller financing that requires at least 30 percent down, or pricey, hard-to-get mortgage loans at Mexican banks that can hover well above 15 percent.


That's why several U.S. institutions are gearing up their own lending programs to cater to the growing niche. A handful of banks, including Marshall & Ilsley, Sonada Financial Group and Collateral Mortgage, now provide mortgages to American entities buying Mexican real estate.


Others, such as GS Mortgage Securities, plan rollouts in 2005. Collateral announced its "Mexico -- My Dream" program in late 2004, focusing on the vibrant Cancun and Riviera Maya markets. The company plans to step up its program in 2005, says Creekmore, whose firm, along with a few other U.S. companies, offers title insurance in Mexico.


Previously, American banks were reluctant to lend monies for Mexican real estate because of unreliable foreclosure laws and the potential for corruption, says Jeronimo Gomez del Campo, partner in the Phoenix office of Bryan Cave LLP, who specializes in the representation of U.S. companies and financial institutions investing in Mexico.


"But it is next to impossible now for corrupt officials or other individuals to mess with the chain of title or encumber properties for no legitimate reason," says Gomez del Campo. "Under NAFTA and other reforms, the Mexican government can't discriminate against foreigners in terms of property ownership."


Hence, Mexican haciendas are becoming hotter and bigger targets for many Americans and Canadians, especially those who have been priced out of U.S. resort areas, he says.


Rules, Restrictions Remain - However, Mexican real-estate laws still differ substantially from the American system and there are many crucial nuances to consider before cutting a deal for Mexican property, say experts.


While foreigners can purchase real estate in their own names throughout the country's interior, they can only buy property in Mexico's "restricted zone" -- within 31 miles of its coastlines and 62 miles of its borders -- as the beneficiary of a Mexican bank trust called a "fideicomiso." In this arrangement, the bank technically holds legal title to the real estate but its beneficiaries, who are known as the "fideicomisarios," retain the right to use, improve, sell, and will the property as they would if they were fee-simple owners.


While there's more bureaucracy involved in the trust process, "it is still as good as outright ownership ... and it's a real opportunity for people from the U.S. to settle in some incredibly beautiful areas such as Puerto Vallarta and Cancun," says Gomez del Campo. "Prior to 1992, all you could do was lease."


Closings Pricey - The Mexican bank trust, which costs about $500 to establish, is good for 50 years and is easily renewable for another 50 years. Other costs, however, can add up quickly. There's a mandatory real-estate transfer tax, which averages 2 percent, a 1-percent to 3-percent fee for a government-appointed "notario publico" for processing and transaction certification, plus a bank appraisal fee.


"At the end of the day, buyers just have to realize that they are going to pay at least 6 percent to close a deal, as opposed to about 1 to 2 percent in the U.S.," said Stewart Title's Creekmore, who teaches classes to real estate agents on Mexican real estate. "While real estate deals in Mexico are more expensive ... some of that (extra money) goes to providing protective benefits to the foreign buyer. And once you do close, it's a little easier going, because property taxes are much cheaper and the trust fees are small."


Indeed, property taxes are only about a half of one percent in the Los Cabos region of Baja California, says Ted Downward, co-owner of Century 21 Paradise in Los Cabos. The cost of living in the area, which encompasses Cabos San Lucas and San Jose del Cabo, is also low and seems to be dropping as Mexican merchants adjust their prices to compete with such new-to-the-market American retailers as Costco, he said.


The Century 21 Paradise agent recalls when he first came to Los Cabos 21 years ago. "There were just a handful of gringos who lived here. Now, there are tens of thousands." Property values have risen rapidly and in many cases have more than tripled in the last half decade, Downward said. "It's been almost astronomical. I guess because we were so behind the U.S. for so long, everything here seems like a bargain."


U.S. lenders can offer much more competitive mortgage rates to buyers than their Mexican counterparts, although rates are still slightly higher than what buyers would pay for American real estate due to the added risks and extra legal precautions necessary to do business in another country, say real estate agents.


Cash, Not Credit, Rules - Currently most loans used to buy Mexican property originate through developers or sellers, who require down payments of 30 percent or more and terms of 7 percent interest or more on the balance. "These are generally five- to 10-year loans that require a lot of cash," Downward says. "The good thing is that if you have the 30 percent, then you instantly qualify here, regardless of your credit."


In the past, the main obstacle for U.S. lenders has been Mexico's lax foreclosure laws, which virtually prohibited them from pursuing homeowners in Mexico who were in default. "That is changing," says Downward. "The Mexican government is becoming more reasonable and that is making it a little easier to foreclose and a little more worth the risk."


Representatives of more than a half-dozen mortgage-lending companies interested in offering Mexican mortgages from the U.S. side have talked with Downward recently about opportunities in the country, he says. "That's a market that is really going to open up. Lenders are just trying to figure out how to make it work."


"We have big coasts where this can happen," Lopez said.
Tell a Friend
•
Site Map
•
Print this Page
•
Email Us
•
Top