Entertainment | Restaurants & Dining | January 2006
Perfecting the Palate at Costantini Wine Bar

Kathy Taylor - PVNN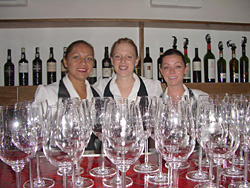 Susan Stewart and Staff at Constantini Wine Bar's bilingual wine tasting presentations.

Puerto Vallarta - Wine making is a canny mix of art and science. Wine appreciation is a complex fusion of art and science as well, and a well-educated palate performs like a wily detective investigating the mystery of the glass.


The palate employs the arts of the matter, our senses of sight and smell and taste, at the same time that it opens the vault of experience and the sensory memories stored there. Coupled with the science of the grape, the genealogical and geographical details critical to its characteristics, a wide appreciation for the "juice of the grape" is formed.


Educating the palate is a matter of practice, practice, practice. Few other pursuits of knowledge are quite so enjoyable. At Costantini Wine Bar in Puerto Vallarta, part of Thierry Blouet's Café des Artistes triad of gastronomic experiences, it is possible to sip and learn, guided by experts in the field.


As part of Thierry's 15th Anniversary celebrations in December, Costantini Wine Bar offered a complimentary half-hour wine tasting each evening. Costantini's New Year's resolution was to draw on that experience, and continue its commitment to the Puerto Vallarta gastronomic scene, by developing a regular series of wine tastings.


Mark Thursday evenings on your calendar for Costantini's hour-long, complimentary, bilingual wine tasting seminars, hosted by Susan Stewart who heads the Wine Bar staff, and guest wine experts.


During the December celebrations, Vinos Beausoleil provided samples from their excellent cellar for tastings at Costantini's. At a preview of the new tasting series last Thursday night, we were privileged to sample some of the best wine that Chilean and Mexican vintners have to offer.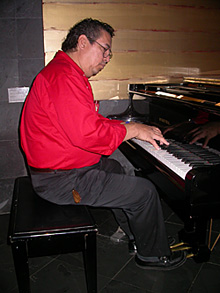 Enrique plays the baby grand at Costantini's every Mon-Thurs from 7:30 - 11:30 pm.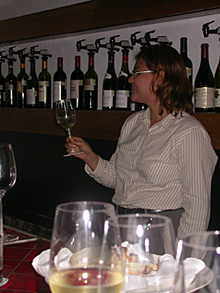 Irma Zepedia Plauto of Vinos Beausoleil.

First up was a 2005 Luis Edwards Chardonnay Reserva from Chile. In contrast to the recently popular "big oak," buttery chardonnays, the Edwards was distinctly tropical, with dominant flavors of banana and pineapple. Having spent only 5 months in new French oak, it had a surprisingly mellow finish, and is recommended to be served well-chilled on our warm Puerto Vallarta evenings, to sip on its own or as an accompaniment to light pastas and seafood.


Tasting the lost grape of Chile was next on the agenda, and Irma Zepedia Plauto of Beausoleil offered the Luis Felipe Edwards Carmenere Reserva 2002. Carmenere once rivaled Bordeaux as a major varietal in France in the late 1700's, just before phylloxera, a tiny pest, decimated crops and changed the future of wine production in Europe.


Chilean growers, however, had been planting imported vines from Bordeaux, including Carmenere, in the years previous to the infestation. Over the years, it became mixed with Chile's Merlot vines, and was often mistaken for a Merlot clone. DNA research in 1994 revealed that this once-thought extinct varietal was indeed growing well in Chile, and it soon became the mainstay of Chilean wine production.


Held to the light, the Edwards Carmenere flaunted a beautiful dense claret tone against Costantini's white walls, and the nose revealed a rich rush of fruit and berry aromas. At once complex and smooth, this wine of the lost grape is the perfect accompaniment to grilled meats and poultry.


The old axiom, "save the best for last," has never been truer. A gold medal winner from the Mexican house of Monte Xanic, Guadalupe Valley, Baja California, was poured last. It held true in this case. The Monte Xanic winery was established by five partners in 1987 whose mission statement was to produce the finest quality Mexican wine for the best price. Just ten years later, they established a benchmark for Mexican wineries by winning France's Gold Medal Challenge International du Vin with their Cabernet Sauvignon 1995.


The Cabernet had a voluptuous nose of berry and pepper scents. A mouthful revealed black cherry and ripe strawberry flavours in a wonderful pas de deux, an intense and bold ballet. The imagination soared to food pairings: woodsy mushroom sauces, venison and well aged beef, strong cheese and a perfectly ripened pear. For those who favour the big reds, this is one not to miss!


Costantini Wine Bar provides a warm and elegant background for these pursuits of pleasure and knowledge. Situated in the heart of the Café des Artistes gallery of dining experiences, its main feature is a long low bar with comfy swivel chairs under a magnificent living chandelier of staghorn ferns. The Bar is loosely defined with slate floors, intimate groupings of ruby couches and casual chairs, fat columns of flickering white candles, obelisk-shaped standing lamps and dark Greek statuary.


A new Costantini menu of boutique tapas and select small plates to accompany wine and cocktails will be available soon. Of special note are promises of great cheese boards and signature "shots," layers of complex flavours and ingredients offered in unique presentations.


On non-tasting evenings, the staff at Costantini's will be happy to provide you with a private tasting, a "flight" of a particular varietal or winery. Costantini's services are also available for private parties, whether they are casual or sophisticated get togethers for groups of up to 40 guests.


For your listening pleasure, Enrique is at the baby grand in Costantini's from Monday to Thursday, 7:30 to 11:30, with old favourites and a new international repertoire. Don and Rhonda's hot blues and jazz guitar and piano sounds provide lively weekend entertainment. They play on Friday and Saturday nights from 8:30 till 12:30.


Located in the Cafe des Artistes Restaurant at Guadalupe Sanchez 740 in downtown Puerto Vallarta, Costantini Wine Bar opens daily at 6 pm. A wonderful evening doesn't have to end early... at Costantini's, "We close when you leave." For reservations, call (322) 222-3228, 222-3229 or send an email to info@cafedesartistes.com.

Wines in this review are available at Rosa Boutique, Café des Artistes and Vinos Beausoleil located at Int Puerto Rico #1316, Colonia 5 de Diciembre, Puerto Vallarta. For more information call (322)223-3525 or 223-2688, or send an email to info@vinosbeausoleil.com.
Tell a Friend
•
Site Map
•
Print this Page
•
Email Us
•
Top