Entertainment | Restaurants & Dining | March 2006
From the Hands of Two Masters

Kathy Taylor - PVNN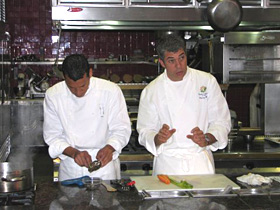 Chef Thierry Blouet (R) in the Cafe des Artistes kitchen.

If carmelize, flambé and chiffonade are part of your culinary vocabulary, grab your apron and get to school! Two of the world's top chefs are offering bilingual cooking classes in the elite setting of Puerto Vallarta's Café des Artistes on March 21st, 23rd, 24th and 25th.


The title of this special cooking course is "Mano a Mano: From the Hand of Two Masters." The emphasis will be on classic techniques, unaffected and unpretentious basic skills.


Chefs Thierry Blouet and Gerard Dupont will lead this exclusive learning opportunity for both professional chefs and serious amateurs.


Gerard Dupont is President of the Académie Culinaire de France, and a frequent guest chef in Puerto Vallarta. His mentor ship is one of the reasons that the Festival Gourmet, celebrating its 12th season in November 2006, continues to be an international success story.


Thierry Blouet is chef/owner of Café des Artistes and was named a member of the Maîtres Cuisiniers de France in February of 2000, becoming one of only 340 Chefs world-wide to belong to this exclusive echelon of professional recognition.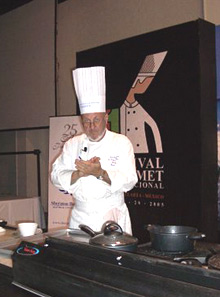 Chef Gerard Dupont at the 2005 Festival Gourmet.

Cooking classes were a popular part of the Café des Artistes 15th Anniversary celebration last December. Thierry and his assistant chef prepared an exciting and ambitious menu in his Cocina de Autor open kitchen.


Tuna tartare, mussels filled with scallop mousse, medallions of lobster in an oyster and tarragon liquor, a pate sable, caflouti, and food talk like, "the caviar of vanilla" and "smash the head of the lobster... inside the head is the best part," consumed the three-hour class as Thierry worked and talked feverishly.


In the arena demonstration kitchen at the 2006 Festival Gourmet, Chef Gerard Dupont instructed the daily menu using classic terms like mire poix, consommé, concasse, and duxelle. Dupont employed the essentials of French cuisine while being imaginative and creative with local ingredients.


The classes will begin each day at 10:00 and students will observe Dupont and Blouet as they demonstrate techniques and work their way through the daily lunch menu. From 12:15 each day to 2:00 will be practice time, for students to try their hand at the tools and techniques they just observed.


At 2:15, lunch with wine pairing will be served in Thierry Blouet Cocina de Autor.


Participants of this exclusive cooking course will be awarded a diploma from the Academie Culinaire de France. There is limited space available and only 25 students will be accepted for the program. The price per person is $6,000 pesos.


To reserve your space, or for more information, contact Café des Artistes at 322-222-3228.
Tell a Friend
•
Site Map
•
Print this Page
•
Email Us
•
Top