Entertainment | Restaurants & Dining | May 2006
NH Krystal Vallarta Sends Chefs to Spain

PVNN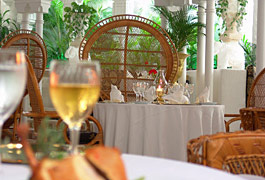 Bogart's Restaurant in Puerto Vallarta offers the perfect combination of fine dining, elegance and distinction.
more info »»»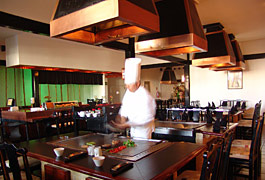 With the most extensive sushi bar in town, Kamakura is the only place in Puerto Vallarta that serves authentic Japenese food cooked at your table by expert chefs.
more info »»»

Puerto Vallarta - World travelers appreciate and have come to expect the difference in products and services provided by NH Hotels. This year, the NH Krystal Vallarta is surpassing it own level of excellence and quality by sending 2 of its best chefs to Madrid for one year of intensive study with European chefs.


Known for their motto, an "Eye for Detail," NH Krystal Hotels take pride in assisting their employees to reach professional goals. Thus the company has developed a program called "Plan Development for Individuals."


The "PDI" program offers NH Krystal employees that display potential the opportunity to improve their professional skills, abilities and knowledge, which are necessary in order to obtain higher levels of employment within the organization.


As part of their initiative to raise the bar for the restaurant and hotel industry on a worldwide scale, each year, NH Hotels provides six international cuisine grants for chefs in Spain, Europe and Latin America who have a minimum of four years of confirmed experience in the hotel and catering industry.


The content of these grants, which are without a doubt among the most exclusive in the world, will consist in carrying out year-long internships in the most prestigious, 3 Michelin star restaurants in Europe.


The NH Krystal Hotel in Puerto Vallarta recently announced that as part of the "PDI" program, they will be sending two of their best chefs, Sr. Iram Alberto Diaz and Sr. Juan Pablo Sanchez, to Madrid for 1 year to study with European chefs to enhance their skills in the Culinary Arts.


Offering warm Mexican hospitality and attentive service, the NH Krystal Vallarta is like a typical Mexican town. Situated on 32 acres in the hotel zone of Puerto Vallarta, the hotel is ideally located on the best beach in Vallarta, so guests can enjoy the privacy of this luxurious resort that features five restaurants serving Mexican, Japanese, Argentine and International cuisines; a variety of quality shops and markets offering typical Mexican handicrafts; over 40 bubbling fountains, 3 giant swimming pools and two swim-up bars; two tennis and two racket-ball courts; a Convention Center, nightly entertainment and fun-filled theme parties.


For more information call 52 [322] 224-0202 or visit NH-Hotels.com.
Tell a Friend
•
Site Map
•
Print this Page
•
Email Us
•
Top