Entertainment | Restaurants & Dining | August 2006
Stirring the Senses at Costantini Wine Bar

Adriana Romero - PVNN

Chef Thierry Blouet represents the cutting edge of culinary invention in Puerto Vallarta, and his patrons' love for refined French cuisine infused with the flavors of Mexico has stirred Chef Blouet's desire to expand the restaurant's offerings.


So, I was pleased to have been invited by Café des Artistes owner Chef Thierry Blouet and General Manager Carolina Barrera to a recent press conference at Costantini Wine Bar, where they shared some wonderful and exciting news with us.


First on the list was the presentation of the new dessert menu, a parade of 12 decadent desserts created by Puerto Vallarta native born chef, Alfredo Chavez. We were treated to a feast of taste sensations with one common theme - chocolate.


Thierry, having just returned from his trip to Mónaco where he attended the Cofrerie gran Cordón D´Or and an incredible 160 year celebration of French Cuisine Master Augusté Escoffier, states that chocolate is currently in fashion in the best restaurants around Europe.


Most of the chocolate delicacies on the restaurant's dessert menu are made from 70% Valhrona Guanajá, Patis France, Callebaut, and Ivoire Valhrona chocolates, one of the most expensive chocolates in the world. After trying them all, I strongly recommend the Chocolate Napoleon and the Moctezuma Fondant... you are sure to be delighted!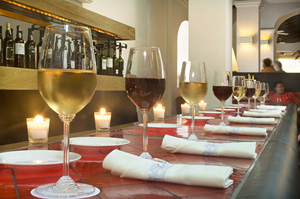 With its numerous wines by the glass, delicious menu of boutique tapas, full bar, live music and new dessert menu, Costantini Wine Bar in Puerto Vallarta has something for everyone - from chocolate lovers to even the most sophisticated "foodie."
(Photo: Mark Callanan)

And, as if treating us to chocolates wasn't enough, next Costantini Wine Bar Manager and Somellier, Sarah Stewart, gave us an explanation and demonstration of how wine and port can be enjoyed with dessert.


Sarah poured 3 different wines for us to sample: a Late Harvest Sauvignon Blanc to be savored with desserts such as the Créme Bruleé tropical; a Robert Mondavi Rosé Zinfandel to enjoy with Cremoso de Vainilla Rosé, Bretón Tarts, and Le Rouge or Exótica Sherbets; and last but not least, a fine port that complements desserts containing hazelnuts or walnuts.


Throughout the presentation, Sarah Stewart's knowledge of wine was obvious and her personal attention was outstanding. As she was wrapping up the demonstration she reminded us that these desserts, as well as a variety of boutique tapas, can be ordered to accompany the drink or wine of your preference at Costantini Wine Bar.


She also informed us that during the month of August, Café des Artistes and Costantini Wine Bar are offering Puerto Vallarta residents a 15% discount on food and beverages every Sunday, Monday and Tuesday in addition to the complimentary bilingual wine tasting seminars that are offered every Thursday from 6 to 7 pm at Costantini.


On another note, Blouet proudly announced that Café des Artistes Chef Hugo Cesar Ahumada won an originality award in the 7th annual U.S. Meat Export Federation cooking contest, which recently took place in the Cordón Bleu installations of Anáhuac University in México City.


To top off a perfect evening, we were entertained by lively Bossanova performed by Cristy and Nacho of Cuarto Creciente, who will be playing at Costantini Wine Bar every Saturday from 8:30 pm til 12:30 am throughout the month of August.


Open daily from 6 pm to 1 am, Cafe des Artistes and Costantini Wine Bar are located at Guadalupe Sanchez 740 in downtown Puerto Vallarta. For more information call 222-3228, or visit http://www.cafedesartistes.com.
Tell a Friend
•
Site Map
•
Print this Page
•
Email Us
•
Top