News Around the Republic of Mexico | April 2007
Key Mexican Drug Cartel Suspect Arrested

Associated Press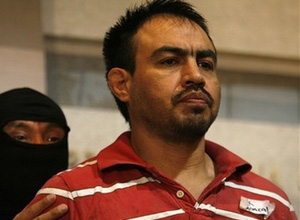 Eleazar Medina Rojas, aka 'El Chelelo', is shown to the press during the announcement of a bust to a drug trafficking ring at the Federal police organized crime unit's office in Mexico City, Monday, April 23, 2007. At least eight alleged members of the Mexican Gulf Cartel were detained in the operation. (AP/Dario Lopez-Mills)

A man described as a key member of the powerful Gulf drug cartel has been arrested, a top Mexican law enforcement official said Monday.


Eleazar Medina Rojas was detained for links to organized crime, said Patricio Patino, the assistant federal secretary of public safety.


Medina was arrested in the border city of Nuevo Laredo, across from Laredo, Texas, along with his father, four other cartel members and four women. The charges were not immediately specified.


Patino said Medina allegedly ran the cartel's operations in Nuevo Leon state and was a member of the Zetas, a violent group of cartel enforcers that includes former soldiers.


The Gulf and Sinaloa cartels, Mexico's largest and most powerful drug gangs, are fighting for lucrative smuggling routes into the U.S. They are accused of hundreds of killings in the past year, including beheadings.


Meanwhile, authorities also reported the killing of a police chief in the southern Gulf coast state of Tabasco.


Jorge Gonzalez, police chief of Cardenas, was shot at least 30 times and killed as he drove home, authorities said.
Tell a Friend
•
Site Map
•
Print this Page
•
Email Us
•
Top