News from Around Banderas Bay | May 2007
Baby Bengal Tigers Born at Vallarta Zoo

Adriana Romero - PVNN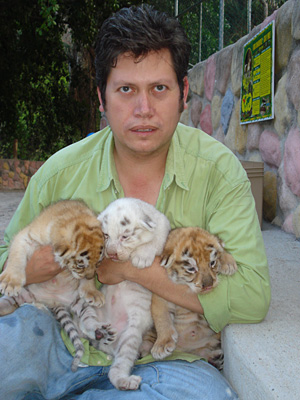 One of the Puerto Vallarta Zoo's more exotic animals, an Albino Bengal Tiger named "Bombon," recently gave birth to three healthy and beautiful Bengal Tiger cubs, shown here with Zoo owner, Martin Castañeda.


Click HERE to see video. (Oliver Ellrodt/Reuters)

Over the last few weeks, the Puerto Vallarta Zoo has had a baby boom! On April 8th, 2007, El Zoologico de Puerto Vallarta celebrated the births of one Jaguar, three Bengal Tigers, and two Lion cubs in the Zoologico de Vallarta facilities.


And now, they are proud to announce that one of the Puerto Vallarta Zoo's more exotic animals, an Albino Bengal Tiger named "Bombon," recently gave birth to three healthy and beautiful Bengal Tiger cubs.


Zoologico de Vallarta is owned by the Castañeda family, who have deep ecological concerns and devote themselves entirely to the preservation of all animal species. They believe that providing the animals with excellent care and a safe environment encourages them to reproduce in captivity.


And it seems that they have found the formula for success. Since September of 2005, Spider Monkeys, Capuchinos Monkeys, Hienas, Pumas, Flamingos, Emus, Nandus, African Midget Goats, Vietnamese Pigs, Pheasants and Guacamayas have been born in the zoo's facilities, in addition to the nine endangered animals that have been delivered over the last few weeks.


According to Puerto Vallarta Zoo owners, Martín and Antonio Castañeda, such a great number of successful births in such a short period of time is rather rare, and as a result these joyful events have attracted the attention of many locals, tourists, the press, and even international media such as CNN and a Miami radio station.


Martín and Antonio believe that hard work and dedication, along with the zoo's state-of-the-art facilities, great veterinarians, and privileged location have contributed greatly to the success of their reproduction in captivity program.


Surrounded by lush jungle vegetation of Mismaloya, in a tropical environment that provides the perfect setting for the zoo's more than 400 mammal, bird and reptile inhabitants, the Puerto Vallarta Zoo offers visitors a place to relax, enjoy and learn about indigenous and endangered animals, while promoting and developing an environmental awareness that helps to preserve and enrich the relationship between humans and the natural environment.

Located just south of Vallarta in the jungles of Mismaloya, Zoologico de Vallarta is open daily from 10 am to 6 pm. For more information, call (322) 228-0501, click HERE or visit ZoologicoDeVallarta.com.
---
Nacen Tres Tigres en un Zoo de México
20minutos.es


El Zoológico de Puerto Vallarta, en el oeste de México, anunció el nacimiento de tres tigres, uno blanco y dos tamizados, ambas especies en peligro de extinción. Los cachorros, dos hembras y un macho, serán presentados oficialmente a la prensa y a los visitantes hoy.


"Le robarán el corazón" a las personas, aseguró el zoológico en un comunicado. "Las crías nacieron hace 18 días, pesan entre 800 y 900 gramos y miden 28 pulgadas (71 centímetros) con la cola", dijo Antonio Castañeda, propietario del zoológico.


Precisó que la madre de los animales es un tigre blanco (albino) y el padre un tigre tamizado (amarillo con franjas anaranjadas opacas.)


"Baby Boom" Felino


En menos de dos meses en este zoológico, ubicado en uno de los centros turísticos más importantes del país, han nacido un total de nueve felinos.


Hace un par de semanas el centro de animales informó del nacimiento de tres tigres de bengala más, dos leones africanos y un jaguar hembra que también se encuentra en peligro de extinción.


De los nueve felinos el zoológico se quedará solamente con dos y el resto los intercambiará por animales de otros zoológicos del país, precisó Castañeda.


En este sentido dijo que esperan próximamente la llegada de una jirafa, que se unirá a los dromedarios, osos, cebras, lobos y más de 20 felinos que posee el centro.


"Sin lugar a dudas el zoológico de Vallarta se encuentra ubicado en un lugar clave propicio para la reproducción de estos animalitos", destacó la dirección del centro en un comunicado.


En este lugar el visitante puede ver aves, felinos, monos y reptiles viviendo en libertad, y tiene además la posibilidad de interactuar con los animales y alimentarlos.
Tell a Friend
•
Site Map
•
Print this Page
•
Email Us
•
Top