Editorials | October 2007
Former President Fox Is Not Going Away

Allan Wall - PVNN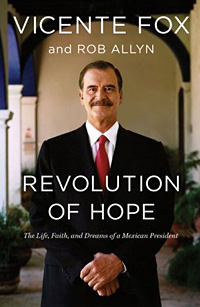 Revolution of Hope: The Life, Faith, and Dreams of a Mexican Presidentby Vicente Fox and Rob Allyn
(Hardcover - Oct 4, 2007)


Check it out at Amazon.com

Vicente Fox stepped down as president of Mexico ten months ago, but he is not going away. For good or bad, the former president continues to be a frequent subject of the Mexican media.


Mexico has a long tradition of former presidents keeping a low profile. It goes back to the 1930s, when President Lazaro Cardenas (1934-1940) had former president Plutarco Elias Calles escorted out of Mexico for attempting to control his presidency.


During the years of the PRI (Institucional Revolutionary Party) state, former presidents kept a very low profile and would often leave the country.


That's not the case with Vicente Fox.


Fox had promised one year of silence after leaving the presidency. But considering Fox's personality, and his habit of speaking his mind even when it wasn't prudent, that might've been too much to ask. Within a few days of Calderon's having taken office, Fox was already talking to reporters.


Fox entered Mexican politics, and eventually became president, largely on the basis of his reputation as a "straight talker." His discourses were a breath of fresh air, especially in comparison to the vague and dull speech of many PRI (Institucional Revolutionary Party) politicians.


The downside though, is that Fox often speaks without consideration of the consequences, and shoots himself in the foot.


Mexico-watcher Profesor George Grayson has described Fox as "politically tone-deaf."


One glaring example was when he boasted over fellow PAN (Nacional Action Party) candidate Felipe Calderon's victory over PRD (Party of the Democratic Revolution) candidate AMLO (Andres Manuel Lopez Obrador.) In fact, Fox described it as a personal triumph for him over AMLO.


This was highly imprudent given that Fox's thinly-disguised campaigning in 2006 for Felipe Calderon was, by Mexican standards, a violation of protocol and a cause for bitterness in the post-election contention. Fox was reprimanded for this behavior by the IFE (Federal electoral Institute.) Now, as a former president, Fox, was dredging it up again. That didn't help Calderon.


Be that as it may, Fox adamantly defends his right to publicly hold forth. The former president says, "There is no reason to hold to the anti-democratic rules of those who still live in the authoritarian past... now that Mexico is a democracy, every citizen has the right to express himself, even a former president."


Certainly, Fox has the "right" to express himself. But the fact that one has a right to do something doesn't mean it's always prudent or constructive.


Vicente Fox has embarked on a worldwide career of delivering expensive speeches in various locations, and has been hired by the same agency which handles the spechmaking career of former U.S. president Hill Clinton and rock star/social activist Paul Hewson, better known as Bono.


Fox has already given speeches in Nigeria, Canada, and the U.S.A., holding forth on such topics as the Iraq War, the 2006 Mexican election, and of course, one of his favorites, Mexican emigration to the U.S.A.


Former president Vicente Fox has a recently-released book, Revolution of Hope: The Life, Faith and Dreams of a Mexican President. This book has already attracted attention for its criticisms of U.S. president George W. Bush.


Certainly, Bush is a favorite target for criticism worldwide, there's nothing unusual about that, but given their relationship, Fox's criticisms come across as petty and ungrateful.


And as far as Fox calling Bush "The cockiest guy I have ever met in my life," Bush and Fox are probably tied in that department.


Recently, too, there have been corruption accusations against Fox, resulting from an interview and photo feature in Quién (Who) magazine, which displayed photographs of the luxury of Fox's Guanajuato ranch and home.


However, the photos themselves aren't really very strong evidence. After all, Fox wasn't poor to begin with, and his earnings from his Coca-Cola executive years are substantial. Of course, the accusations are politically-driven, coming as they do from opposition parties.


Still, was it wise for Fox to appear in Quién so soon after stepping down, with those photographs? Once again, it may again demonstrate Fox's "tone-deaf" problem.


Vicente Fox might be better served by concentrating on the construction of his Fox Center of Studies/Library/Musuem. It's being built with private funds at his hometown. Modeled on the Bill Clinton Presidential Library in Little Rock, Arkansas, it's scheduled to be completed at the end of 2007. It's the first American-style presidential library in Mexico.
---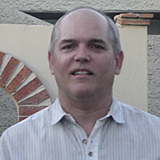 Allan Wall is an American citizen who has been teaching English in Mexico since 1991, and writing articles about various aspects of Mexico and Mexican society for the past decade. Some of these articles are about Mexico's political scene, history and culture, tourism, and Mexican emigration as viewed from south of the border, which you can read on his website at AllanWall.net.

Click HERE for more articles by Allan Wall.
Tell a Friend
•
Site Map
•
Print this Page
•
Email Us
•
Top