Health & Beauty | November 2007
David Zinczenko is Living His Best Life

FishbowlNY
go to original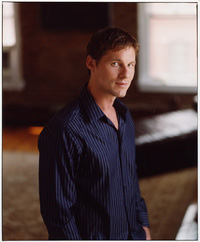 David Zinczenko

David Zinczenko is having a good year. Actually, he's having a good five and a half years - the years since he was made Editor in Chief of Men's Health at the ripe old age of 30. Since then he's overseen the growth of the Men's Health empire, which has included a massive circulation hike, two spinoffs, Best Life and Women's Health, a fast-growing books imprint, new international editions, and a 2004 National Magazine Award for Personal Service, followed up by a nom in 2005 for General Excellence. Also, he sometimes shows up in Page Six.


I first encountered Zinczenko on a stage - well, he was on the stage, I was in the front row capturing his every word for posterity. It was the night of the infamous Jon Stewart MPA event, and after the transcript I published - liberally sprinkled with my own tart commentary - I did not expect to make a new friend. Yet when I finally met Zinczenko he laughed, complimented my work and told me not to worry about it. Classy. That kind of grace and genuine good-naturedness has made him popular with his staff, his colleagues, and with random fans on the internet. It also made him popular with Fishbowl, because that same good grace led him to agree to submit to this interview on a dime, in which he has gamely participated in the midst of travelling to Mexico for a meeting of 40+ Men's Health edition EICS, publishers and marketing directors from around the world. In between meetings (and, I hope, Margaritas), he took the time to answer my questions about Men's Health, Best Life, his abs, and that infamous night with Jon Stewart back in September.


Come on, you didn't think I was going to make it all the way through that introduction without mentioning his abs, did you? Oh, ye of little faith. DZ, take it away.


How much do you love your job?


I have one of the best jobs in publishing, because I create a magazine designed to improve the lives of guys who are very much like me. In a way, I'm on a long journey of self-improvement, but it's a journey I get paid to go on.


How has it changed over the five and a half years you've been doing it? Is it still challenging, or have you ever craved a change?


I'm lucky to be surrounded by really creative and talented people who are always challenging me. My editorial creative director, John Tayman, gets a rave review for his first book in the Times last Sunday (The Colony, Mary Roach review), and I think, "Damn, how can I get my writing closer to that level?" My executive editor, Peter Moore, wins a National Magazine Award for a story on heart disease last year, and I think, "How can I come up with ideas that are as smart and informative as that?" I spend more time on my toes than Baryshnikov, thanks to these people.


Is it ever exhausting to embody the brand? Do you sometimes crave a banana split chased by fries followed by vegging out on the couch?


I do, and many times I indulge my cravings, as anyone working at Cold Stone Creamery will tell you. Embodying the brand means being a regular guy who's trying to improve himself, personally and professionally, all the time. And like any regular guy, I need to splurge, pig out, and channel-surf now and then.


"The Greatest Abs Exercise Ever" and more after the jump!


The Abs Diet. It spawned an eating guide and you just published a follow-up, all with MH contributing editor Ted Spiker. Did you ever think it would be such a success?


Honestly, yeah, I really did. Maybe not selling a million copies of the Abs Diet books, but still creating a bestseller. I got incredible support from the company, particularly the folks in the Rodale book division, and when you have so many people getting passionate and excited about something, you can't help but expect success.


Describe DZ's workout regimen. Is every MH workout tested by you/your staff? What about the other articles (i.e. "30 Red-Hot Sex Secrets" (and let's not forget the "The Men's Health Position Master") - is there a Rodale love lab, perchance?


Well, we don't have a Rodale Sex Lab per se, but we do have several unlit parking lots around the Emmaus offices.


The truth is, all of our workout and sex tips-and health and nutrition and grooming and tech and fashion advice-come from the best experts in the field. We generally test-drive them on our own time, and we know we've got a solid source for info when our staffers feel a boost, in the gym or wherever.


Of Nipple and Ripple: Eric Bana, shirts; Adrien Brody, skins. How do you decide which coverboys go topless? Will there ever be topless men on the cover of Best Life? If so, will you send it to me?


Some celebs feel that going shirtless is the right thing for them at that point in their careers-Adrien Brody, for example, was showing off how his hard work made him worthy of heading up an adventure flick [December 2005 issue for King Kong]. Bana [Jan/Feb 2006 for Munich] was in a solemn historical drama, so he didn't want to equate Munich with his abs. As for Best Life, I think [Editor] Steve Perrine and his team have created a very different aesthetic with a very different message, and sell-through is climbing rapidly. So, keep your shirt on.


At the MPA event, Jon Stewart asked: "Why is your magazine so gay?" Everyone howled, because, well, there are hot, shirtless guys on the cover often. Do you think of gay/straight appeal when you're considering content? Is that something you even think about? Since you bill Men's Health as a full lifstyle brand (trifecta: health/career/relationships) how do you address the gay/straight readership?


We're a magazine about health, nutrition, fitness, relationships, fashion, technology, career - last I heard, gay men and straight men were both interested in that kind of info. The reality is, straight or gay, American or European, white or black or Hispanic, men are just a lot more similar than they are different. We all have the same core concerns, dreams, fears, ambitions. As far as the covers are concerned, I dunno. Nobody ever calls Cosmo or Glamour or Shape a lesbian magazine, even though the women on the covers are often exposing a lot of skin. So come on: Why the double standard?


"Fit is the new Rich" emerged as one of the more quotable moments from the MPA panel. Do you wish you'd never said that, or do you still stand behind it? Jon wasn't really that interested in letting you (or anyone else) elaborate. Tell me about the logic behind that statement, and how you've seen that play out in tangible results in terms of MH and BL (and, if you so wish, DZ).


Well, I didn't get the sense that Jon wanted a serious discussion, so maybe it wasn't that best time to float the idea. He was being a comedian, not an interviewer, and he was in control of the stage, not us. But here was what I was getting at: in a country where everybody shops at the same stores, buys the same electronics, wears the same clothes - where everything is available in plenty and cheap and right from China - there are very few things that one can point to as widely accepted status symbols. Being fit and in shape is one of them: Everybody can have a wide screen TV. Not everybody can have a 32-inch waist. If fit isn't the new rich, what it is in fact is the new symbol of status.


You've described Men's Health as "the smarter, fitter older brother you never had. The guy who's always ready with a good joke and a sound piece of advice." Who, then, is Best Life?


Oh, Best Life is still your older brother. It's just that the two of you have both moved on to new concerns. Whereas Men's Health is the older brother you turn to in your 20s and 30s for advice on moving up in your career, understanding women, staying fit, figuring out how to make it in the world, Best Life is the older brother you turn to in your mid- to late 30s and 40s. He's the guy who's telling you what to do with your money now that you've made it in your career; how to eat right and stay fit when you're traveling on business and running a household; how to deal with issues of marriage and children and aging parents and saving for college. You're older, more complicated and involved, and responsible to more people. That's when you turn to Best Life.


Who have your mentors been in this business? Whom do you admire?


Steve Murphy, Rodale's current president and CEO, is a real mentor. He often says, "it starts with great editorial," and he gives me and my team tremendous freedom to execute the right vision for Men's Health and Best Life. On the women's mag side, I would say both Kate White and Cindi Leive have been great confidants and a tremendous help to me, as has Peter Bonventure at Entertainment Weekly. I got my start under John Rasmus, whom I still respect a great deal, as well as Jeff Morgan, the former worldwide publisher of Men's Health who is now an executive at Ralph Lauren. And probably my biggest regret is that I didn't get to know Art Cooper better. He would have been a great mentor.


Time to throw it down: You said the men's market is "freaking out" about Best Life, which is the fastest-growing men's mag out there. You have not been, er, impressed with Esquire according to your comments of record, and that goes double for GQ. Is that symptomatic of something happening in the men's mag market right now?


I think some traditional men's magazines are struggling to stay relevant. One minute they're competing with lad magazines, putting starlets on the cover. The next they're competing with celeb magazines, trying to do hip, snarky humor about Brad Pitt. That's fine, but I can get that every day on the Onion's website, or on VH1 specials, or in Page Six. So the question becomes: do I need a magazine for that particular thing? In this case they're covering stuff that just isn't relevant to most men's lives.


Then you look at the current issue of Best Life, fore example: how to get back in shape. How to talk to your kids about sex. How to improve your marriage. How to invest for your family's future. And these are stories written by people like Jay McInerney, David Mamet, Mark Leyner, and photographed by people like Mary Ellen Mark and Dan Winters. The writing and photography in the magazine is at the level or better than other men's books, but we're doing it while also covering topics that really, really matter to men. So yes, parts of the mens' market are freaking out, especially when they see advertisers like Ferragamo and Versace and Breitling coming to understand and appreciate the importance of a magazine like Best Life - while selling more than a hundred thousand copies a month at newsstand for five dollars after launching just a year ago.


Do you feel like part of the reason Men's Health has done so well (and that the brand has expanded so impressively in to books, spinoffs like Best Life and Women's Health etc.) is because of some shift/Zeitgeist that you were able to tap into?


What we've been able to do well is respect our readers and believe in their personal quests to take control of every aspect of their lives. It's not just a magazine idea. It's a profound category of human endeavor. It's a philosphy for success and happiness and a way of life, which is pretty exciting.


At the risk of engaging in overstatement, I think at least for guys, Men's Health is the trend. Men increasingly have been acknowledging that they have a responsibility to their loved ones to be active managers of every aspect of their health and well-being. We've gone from a world where men barely acknoweldged their health to one in which their cholesterol numbers and their bench press are a point of pride.


Your circ. is 1.725 million, yet in the Jan/Feb issue you cite reaching "9 million Men's Health readers," and according to the latest MRI numbers (Fall 2005), Men's Health increased its audience by 9% for a total audience of 10,280,000. I assume those extra numbers come from the internet. What have you done to expand your reach and what's the arc for these numbers been? What's the plan going forward?


No, they're not from the internet. 1.75 million is our circulation, and our readership is more than 10 million [basically, around five to six readers for each copy sold, which is about the industry average].


Also, Men's Health is the world's largest men's magazine, with 35 editions in more than 40 countries. This week I'm at our international conference in Puerto Vallarta, meeting with Men's Health editors from Australia, Germany, Indonesia, China, Russia...and we're launching in Brazil and India this year. Like I said, men are more similar than they are different, and that's why the Men's Health formula works in every language.


JON STEWART:


Okay, your turn to set the record straight.


How did the MPA sell the event to you?


A celebration of magazine humor, just like it said on the invite. I think we all assumed there'd be some humor, as well as a few pointed questions designed to make us squirm a bit, but in general we also assumed it would be a tout for the magazine industry.


At what point did you realize that you were toast? What was going through your mind - was it all adrenaline or did you feel like you were going to throw up?


I didn't feel like I was toast. I felt like everyone on stage was toast, including Jon, as soon as he came out and said he didn't want to be there but, hey, the MPA was paying him a lot of money. So at that point you just throw in the towel, make a few attempts at humor and try to get through the beating.


Did you guys talk to Jon afterward? What did he say? What did you say? Page Six reported that Graydon stormed off saying "Never again." What happened after? Did you all go get drunk?


The most important thing that happened afterwards is that Steve Murphy, Rodale's CEO, came backstage and said, "Heck of a job. Don't worry about it." And if I have the support of people like that, well, then I'm not going to worry about it.


Nat Ives wrote in AdAge: "One could almost hear the ad dollars draining from the room." Was there fallout? Did you hear from advertisers either way (you were the most pointed about addressing advertiser-related issues, and it was Adweek after all).


No, I don't think it had any negative effect. It just didn't have the positive, uplifting effect we were hoping for.


ABS, ODDS AND ENDS:


So, are you rocking a six-pack or are you the James Frey of the "Abs Diet" series? How do we know?


It's only a month past Christmas, so I can't say I'm rocking the tank-tread stomach right now. But summer's a few months away, so give me a pass for now, okay?


(Ed. We recommend "The Greatest Abs Workout Ever" on page 137 of the Jan/Feb Men's Health, by David Zinczenko)


What are your must-reads? Guilty pleasures? (Media-wise)


The Week is my favorite new magazine of the last few years. Their sensibility and their readership is very much the same as Best Life's.


Guilty pleasures? (carb-wise)


Cold Stone Creamery, after a night at Elaine's. Which is why I'm not rocking the abs.


What's the 5-year plan for Men's Health?


Continued international growth to the tune of five new editions per year, turning Best Life into a category killer, and I want to someday sell 800,000 copies at newsstand - we just broke the 735,000 mark with our January issue.


What's the 5-year plan for DZ?


Maybe starting a Jon Stewart fanzine.
Tell a Friend
•
Site Map
•
Print this Page
•
Email Us
•
Top