Enjoy Art and Music in Marina Vallarta

Mercedes Sanchez - PVNN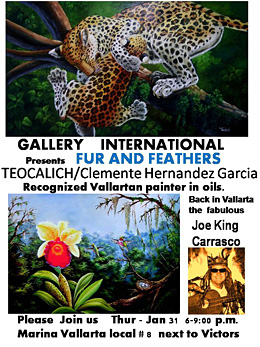 Click image to enlarge

On January 31st, Bridged and Brian Lott welcome Puerto Vallarta oil painter Clemente Hernandez Garcia, a.k.a. Teocalich, and Tex-Mex rocker Joe King Carrasco to their new Mexican-African art gallery in Marina Vallarta, Galería Internacional.

The Puerto Vallarta art community is proud to announce the opening of Gallery International, a new art gallery in the Marina that brings a whole new concept to the Puerto Vallarta art scene.


Gallery owners Bridged and Brian Lott have opened a new art gallery that focuses on International art, featuring everything from stunning masks, stone carvings and basketry from Africa to original paintings by gallery owner/artist Bridged Lott and marine bronzes by renowned Mexican sculptor Octavio Gonzales.


The gallery's exquisite collection of Shona sculpture, Dogon bronzes and other beautiful African art works, along with decor and gift items from the most talented artists and artisans collected from around the globe, will surely make this new Puerto Vallarta art gallery a huge success.


On Thursday, January 31st from 6-9 pm, Galeria Internacional will be presenting the works of celebrated Puerto Vallarta oil painter, Clemente Hernandez Garcia, a.k.a. Teocalich, who has spent 40 years painting Vallarta and neighboring pueblos. This show, called Fur and Feathers, is a exciting diversion for Clemente.


To round out the evening, "The King of Tex Mex," Joe King Carrasco, who is home from his fall concert tour of Texas, New Mexico and Seattle, will provide live entertainment for the exhibit's opening reception. Joe King is famous for his own style of music, "Nuevo Wavo-Surfer-Reggae," so be sure to catch him before he returns to Texas for his Mardi Gras Blast!


Don't miss a fabulous evening of art in all forms. Stop by Galeria Internacional, located at local #8 in Marina Vallarta, next to Victor's Restaurant, on Thursday, January 31st from 6-9 pm, for an fun-filled night on the town that you'll never forget!