News from Around the Americas | February 2008
Roids Ravage Runway: Super Models Exposed as Clemens Affair Takes Unexpected Turn

Sportsman's Daily
go to original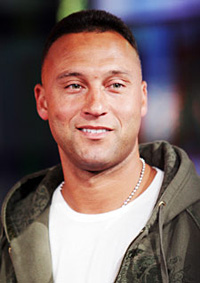 Derek Jeter (Getty Images)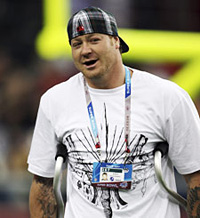 Jeremy Shockey (Getty Images)

Last week, Roger Clemens' accuser, Brian McNamee, upped the ante by claiming he injected Debbie Clemens, the pitcher's wife, with HGH before the couple posed for a 2003 Sports Illustrated swimsuit edition photo shoot. The ensuing "he said, he said" gave credence to persistent rumors of widespread HGH use among top super models (and not-so-top supermodels), all but overshadowing well-received collections from the likes of Michael Cors, Anna Sui and Vera Wang (loved the rubber bondage dress, honey, and the ivory goatskin coat made from free range highland goat is to die for).


It seemed just yesterday when the "waif" look ruled the runway and anorexic models wafted weightlessly across the pages of top fashion magazines. Then, beginning around 2003-2004, I noticed changes, starting with the Marc Jacobs show in Milan, where his homage to '70s teen fashion (with hints of playful pederasty) was in sharp contrast to the freakishly large, angry models who stalked the runway - at least a third were over 6-4, with comically oversized heads and shockingly large, mannish hands - all exuding a barely suppressed rage that seemed completely at odds with the theme of the collection.


Flash forward five years to New York's Fashion Week, where I caught up to several prominent fashionistas who shared their thoughts and observations about the rumors convulsing the fashion world.


"I'm not surprised, I've been backstage, I see what goes on," said veteran fashion watcher and serial dater of super models Derek Jeter. "Was I shocked to see some of the world's most beautiful women prancing around naked with needles sticking out of their butts? Well, shock isn't the word that comes immediately to mind. Though I'll admit, the excitement tends to diminish when you get a load of the back acne."


I asked Derek if he'd ever dated a model he suspected was "juicing."


"Oh yeah, definitely. A couple of years ago I was dating a girl from Slovenia - 6-5 with legs like a steel vice. It was like having sex with Jason Giambi. Come to think of it, one morning I woke up with Giambi in my bed - to this day I'm not sure what he was doing there."


Over the past couple of years, the Giants' Jeremy Shockey has gone upscale - no longer a regular at the city's most exclusive strip clubs, Shockey has become a fixture at fashion shows - and on at least two occasions has accompanied me to Paris and London during the offseason for private showings.


"Two years ago I was in Milan for several shows ... I don't remember if it was the Donna Karan or Versace show, but after I went backstage to hit on some models and out comes Naomi Campbell, screaming, throwing cell phones, kicking and swinging like a wild animal. I ain't seen nothing like it - think Ray Lewis, but with amazing bone structure. I'm a big guy, I like contact, so I'm thinking, damn, this broad's hot ... until she punched me in the nuts, which wasn't cool. Now either that's one crazy be-yatch, or she's juicing - most likely both."


Of the super models he has dated, Shockey estimates "easily two-thirds" were taking HGH.


"Other than the occasional freak-outs, which I learned to deal with (mostly by leaving the apartment for three weeks and changing my phone number), the sex was great. The thing about HGH is that it aids recovery - no matter how much punishment you dish out, 10 minutes later she's fully recovered and ready to go."


The fashion world is by definition fickle. Yesterday it was "heroin chic," today it's HGH and super-sized super models. So let's not get our panties all in a bunch - this too will pass. And to tell you the truth, aesthetically I much prefer today's uber-model look - some clothes just show better on big, strapping, androgynous frames. As far as the scary and increasingly frequent hissy fits - often accompanied by superhuman feats of strength - heck, it comes with the territory.


If there's a major downside, it's the dramatic spike in bulimia - HGH allows you to withstand sustained purging, but with no accompanying loss in muscle tone - which might account for how streamlined some baseball players look in their double knits ... and how good Ms. Clemens (and Roger, for that matter) looked in the SI photo shoot (though you want don't to put your loafers in the way of a fashion model during her pre-show "warm-up"). I look at it this way: Beauty has its price. Seeing Roger Clemens jailed for perjury? Priceless. (Andy Pettitte, whose insists he never gave his wife HGH injections, asked me to say that.)
Tell a Friend
•
Site Map
•
Print this Page
•
Email Us
•
Top