News from Around Banderas Bay | July 2008
VES Health Fair in Tomatlán a Success!

Paco Arjona - Vallarta Enfrenta el Sida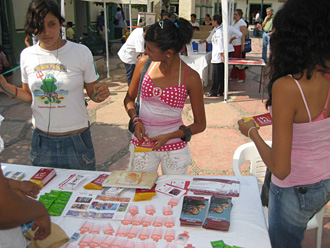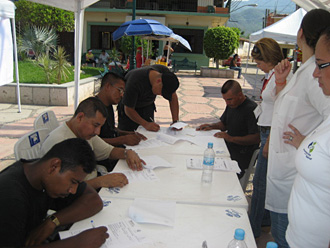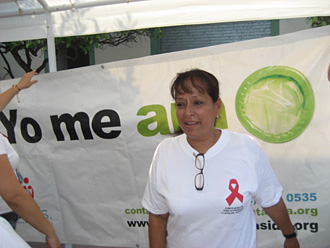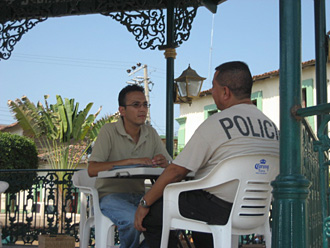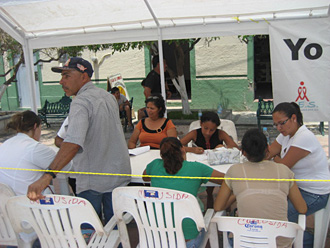 Thanks to the excellent coordination and work by Tomatlán COMUSIDA Coordinator Mrs. Estela Cortés and her team, a health fair sponsored by Vallarta Enfrenta el Sida, CAPASITS and the Jalisco Health Department on June 26th was quite a success.

On Thursday, June 26, 2008 Vallarta Enfrenta el Sida, A.C. (V.E.S.), in collaboration with CAPASITS, Aids Health Care Foundation and the Jalisco Health Department, joined forces to participate in a health fair in the town of Tomatlán, Jalisco, organized by the local COMUSIDA.


Thanks to the excellent coordination and work by Tomatlán COMUSIDA Coordinator Mrs. Estela Cortés and her team, the event was quite a success. After the 10 am opening ceremony by Tomatlán City Hall representatives, medical attention was provided to the people who gathered for a wide range of free health services, including: Tests for Diabetes detection, Cholesterol measurement, blood pressure, vaccines, reproductive health for women, osteoporosis and of course, HIV rapid testing and counseling.


Due to the excellent organization and disposition of the volunteers and staff from all of the previously mentioned Institutions, a total of HIV 92 tests were given to men and women of all ages. Out of those 92 tests, there were no reactives (presence of antibodies for HIV) detected.


Prior to closing the fair, the Mayor thanked the participating organizations for supporting the local COMUSIDA in this important event.


On behalf of all of the participating institutions, a V.E.S. representative reiterated their disposition and commitment to help at any moment, always with one objective: to successfully reduce the number of new cases of HIV infection in Puerto Vallarta, including residents and visitors alike, and to assist persons and families already affected by HIV by providing the most current and comprehensive information, counseling and assistance available.


The Health Fair concluded at 4 pm and it is worthwhile to stress that the event's success was largely due to the excellent disposition and attention given by City Hall.

For more information about HIV testing, counseling and risk reduction, please call Vallarta Enfrenta el SIDA, A.C. at (322) 223-0535; or visit the VES website at VallartaEnfrentaSida.org. Volunteer opportunities are available, as well as assistance and referrals for health and social services.
---

Puerto Vallarta's HIV/AIDS non-profit organization, Vallarta Enfrenta el SIDA, and CAPASITS, work together to provide high-quality medical care, counseling and psychological support, education and prevention programs, and outreach to at-risk communities in the Banderas Bay area. For information, assistance, or to volunteer or donate, please visit VallartaEnfrentaSida.org. To learn more about VES, click HERE.
---
V.E.S. Feria de Salud en el Poblado de Tomatlán, Jalisco
Paco Arjona - Vallarta Enfrenta el Sida


El pasado jueves 26 de junio, Vallarta Enfrenta el Sida, A.C (V.E.S.) en colaboración con el CAPASITS, el AIDS Healthcare Foundation y la Secretaría de Salud Jalisco, se unieron para participar en una feria de salud en el poblado de Tomatlán, Jalisco organizada por el COMUSIDA de la localidad.


Gracias a la excelente coordinación y trabajo de la Coordinadora del Comusida Tomatlán, la Sra. Estela Cortés y su equipo. El evento fue todo un éxito. A partir de las 10 am y después de la ceremonia de inauguración realizada por representantes del H. Ayuntamiento de Tomatlán, se procedió a brindar atención a la población ahí reunida, a los cuales se les brindó una amplia gama de servicios de salud, entre ellos: pruebas para detección de diabetes, medición de colesterol, presión arterial, vacunas, salud reproductiva de la mujer, osteoporosis, y pruebas rápidas para detección del VIH entre otras. Siendo este último servicio uno de los más concurridos.


La excelente organización y disposición tanto de voluntarios como del personal de las instituciones mencionadas, nos hizo alcanzar un total de 92 pruebas realizadas entre adultos y jóvenes, hombres y mujeres, de los cuales afortunadamente no hubo reactivos (presencia de anticuerpos para VIH en las pruebas).


Antes de terminada la feria, la C. Presidenta Municipal agradeció a las organizaciones participantes, el apoyo brindado durante esta actividad al COMUSIDA del municipio.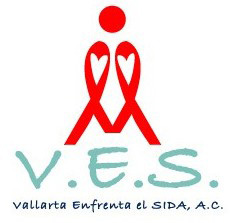 V.E.S. por su parte y en representación de las instituciones presentes, reiteró la disposición y el compromiso de ayuda en cualquier momento, siempre con un solo objetivo: bajar los índices de infección por VIH en nuestra región, así como detectar y canalizar oportunamente a las personas ya infectadas para su atención.


La feria se dió por concluída a las 4 pm. Cabe destacar la excelente disposición y atención por parte del H.Ayuntamiento Municipal.


Para información adicional acerca del VIH, pruebas, consejería, y reducción de riesgos, favor de visitar a nuestro sitio, VallartaEnfrentaSida.org o llamar a nuestras oficinas en (322) 223-0535, o en cualquiera de las instituciones de salud antes mencionadas.
Tell a Friend
•
Site Map
•
Print this Page
•
Email Us
•
Top