Puerto Vallarta Real Estate | October 2008
Mexico's Mortgage Industry Flourishing Amid America's Financial Collapse

Business Wire
go to original

Puerto Vallarta - Leading Mexico mortgage broker MEXLend closed a record number of mortgages for 2008, proving that despite the dire circumstances of the American financial market, Mexico's mortgage industry is not only healthy, but thriving.


"This has been an excellent year for purchasing property in Mexico," says Terence L. Reilly, CEO of MEXLend. "The real estate market is still very strong in Mexico. Our current lenders have seen little impact from the plummeting American mortgage markets and our buyers are still seeing an excellent return on investment from their purchases."


"In light of the recent collapse of mortgage giants Freddie Mac and Fannie Mae, American investors would be wise to diversify their holdings into a foreign market. By investing in Mexico now while prices are still reasonable, they are ensuring significant growth," adds David Schwendeman, President of MEXLend. "Even buyers who are able to make cash purchases are using a mortgage program for the added security on their investment and to maintain liquidity."


Historically, Mexico has been an all cash society. According to Softec, only three years ago mortgaged real estate comprised less than five percent of the entire market. In only three years that figure has doubled and continues to increase dramatically.


Foreclosures are almost non-existent, that coupled with high returns on stable collateral makes Mexico increasingly attractive to global lending markets. The advent of the mortgage industry has boosted the real estate market and freed up capital; one of the factors that has catapulted Mexico from number fifty-nine to number twelve in the world's economies.


In 2007 foreign investment in Mexico increased twenty five percent. While in the United States credit lines have all but frozen, MEXLend reports that in Mexico, large commercial loans for developments and industry are still readily available for viable projects.


"Problems north of the border still have an impact on Mexico," says Reilly. "But the old adage that 'when the United States sneezes, Mexico catches a cold' no longer holds true. Now when the United States sneezes, Mexico sneezes right back."
---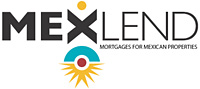 MEXLend, Inc. is a Mexican mortgage brokerage based in Puerto Vallarta that currently represents 8 different lenders offering 75 different loan options in Dollars and Pesos for buyers looking to purchase vacation or investment property throughout Mexico. To learn more about MEXlend, click HERE or visit MexLend.com.
Tell a Friend
•
Site Map
•
Print this Page
•
Email Us
•
Top