News from Around Banderas Bay | January 2009
Becas Vallarta Benefit Concert

PVNN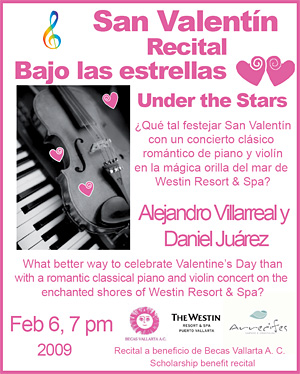 Click image to enlarge
The Becas Vallarta Valentine Benefit Concert Under the Stars is scheduled to take place at the Westin Resort on February 6th.
On February 6th, the Westin Resort will host the Becas Vallarta Valentine Benefit Concert Under the Stars, featuring classical romantic music that is sure to satisfy the most demanding of music lovers.


The first half of the program is devoted mostly to music by classical/romantic composers such as Mozart, Brahms, Villalobos, de Falla, Shostakovich and others and, after the intermission, the program continues with lyrical music by Mexican composers, mostly of the Porfiriato period (late 19th/early 20th century) - such as Ricardo Castro, Juventino Rosas, Macedonio Alcalá, Alfredo Carrasco and Manuel María Ponce.


Program


Minuet & Trio K1 – Wolfgang Amadeus Mozart
Sonata No. 11 Rondo alla Turca – Wolfgang Amadeus Mozart
Danzas Úngaras / Hungarian Dances No. 5 & 7 – Johannes Brahms
Salut d' Amour – Edward Elgar
La Brunnette Valse de Concert – Edmond Severn
Liebesfreud – Fritz Kreisler
Bachiana Brasileira No 5 – Heitor Villalobos
Romance de la / from the Gadfly Suite – Dmitry Shostakovich
Danza Ritual del Fuego El Amor Brujo – Manuel de Falla
Meditación de / from Thais – Jules Massenet
Czardas – Vittorio Monti


Intermission


Preludio Romántico – Tobías González
Intermezzo No. 1 – Manuel María Ponce
Danza Frívola – Ricardo Castro
Sobre las Olas – Juventino Rosas
Mazurka de Salón – Manuel María Ponce
Morir Por Tu Amor – Belisario de Jesús García
Ternura – Mario Ruiz Armengol
Dios Nunca Muere – Macedonio Alcalá
Adiós – Alfredo Carrasco
Las Bicicletas – Salvador Morlet


This is delightful Valentine fare, sure to enchant all music lovers gathered on the idyllic shores of the Westin!


Tickets cost just $200 pesos for Adults or $100 pesos for Students with all proceeds going toward scholarships for Vallarta's bright young people who have great educational goals, but small resources with which to fulfill those goals. You can make it happen for them!


To get your tickets contact:


Cecile Scriban - (322) 223-4606 or celiatsascri(at)hotmail.com
Polly Vicars - 223-1371 or phvicars(at)gmail.com
Mariel Fregoso - 221-0789 or csolaire(at)prodigy.net.mx
Ricardo Murrieta - 224-9966 or blm(at)prodigy.net.mx


To learn more about Becas Vallarta, click HERE or visit BecasVallarta.com. If you would like to volunteer or make a tax deductible donation, please call Polly Vicars at 011-52-322-223-1371 or Buri Gray at (322) 221-5285, or send an email to becasvallarta(at)gmail.com.
Tell a Friend
•
Site Map
•
Print this Page
•
Email Us
•
Top