News from Around Banderas Bay | August 2009
BINGO for Beans & Babies 7 Weeks Strong

pvrpvblog.blogspot.com
go to original
August 24, 2009
Bingo for Beans and Babies is being held every Thursday from 6-9 pm through October 1st at Bite me! Beach Club. For reservations call (322) 223-1521, ext 234.
After seven weeks, BINGO for Beans and Babies at Bite me! Beach Club is still going strong. On Thursday, August 20th, 68 people showed up to play BINGO in aid of Pasitos de Luz and the Puerto Vallarta Summer Food Drive. We raised a ton of money - $10,530 pesos - bringing the total monies raised for PDL so far to over $70,000 pesos.


Guest callers Benitto (Benitto's Deli in Marina Vallarta) and Graphic Artist Livi, although nervous at first, came through with flying colors. Thanks tons to you both.


There were many great prizes up for grabs, and this week's lucky winners were:


• Game 1: Keith Robertson


• Game 2: Betty Bevers


• Game 3: Jose Maria Sarinana


• Game 4: Mary Devaney


• Game 5: Savannah Villaseñor - a Pasitos De Luz volunteer


• Game 6: Gary Beck - BanderasNews food writer and creator of Beck's Best Restaurant Guide


• Game 7: Richard Burns


• Game 8: Gabby Clayton - One of our youngest winners ever


The 50/50 raffle prize of $1610 pesos was won by Sally Smith. One of our door prizes, a basket of delectable treats from Xocodiva, was won by Sandra Van Norman. The other door prize, a gift certificate for Sea Me Eyewear, was won by Bill Kelly.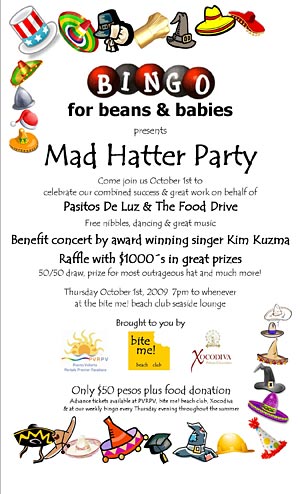 Click image to enlarge
And Richard Burns was at it again, he won the free ticket to our fabulous Mad Hatter Party. Speaking of parties...


Don't forget about our wrap party on October 1, and definitely don't forget your hat! Be it a bowler, a ball cap, a wedding veil or sombrero, the craziest and most outrageous hat will win yet another terrific prize. So plug in your glue gun and start planning.


"Mad Hatter Party" will be at Bite me! Beach Club in the seaside lounge Thursday October 1st, 2009 from 7 pm until the wee hours. The evening will feature a benefit concert by award winning singer Kim Kuzma and free nibbles from Bite me! Beach Club.


We will also be drawing our raffles prizes which include:


• 6 nights 7 day at Blue Seas Resort & Spa plus daily breakfast for 2 - Value $1500 USD


• 2 nights 3 days at Molino De Agua compliments of Ross and Sandra - Value $800 USD


• Sunset Cruise for 8 with Pegaso Chartering - Value $3500 MN


• Cocktail party for 8 compliments of Food By Seth - Value $4000 MN


• 3 hour Bay Cruise with Sail Vallarta - Value $3500 MN


• Original Painting by Cassandra Shaw - Value $5000 MN


• 7 nights at Jardin del Almendro compliments of Tracy Parks - Value $875 USD


• 2 nights at Studio Sevilla compliments of Ron Morgan - Value $390 USD


• 2 nights at Molino De Agua compliments of Ron Morgan - Value $990 USD


• 2 nights at Casa de Sevilla compliments of Ron Morgan - Value $500 USD


• 2 nights 3 days Penthouse Andale's On The Bay - Value $850 USD


This will truly be a night to remember. Ticket are $50 pesos only and available at PVRPV, Bite me! Beach Club, Xocodiva and at our weekly BINGO nights every Thursday. And of course the party is open to everyone, after all, the more the merrier!


The amazing generosity of local businesses and friends continued. Donating prizes this week were:


Adriana Garcia, Anna Reisman, Ambiance By Marcia, Apaches Bar and Bistro, Bill Kelly, Bite me! Beach Club, Café San Angel, Dianita's Restaurant, El Sofa, Encore Boutique, Farmacia Olas Altas, Garbo's, Jose Morales, La Bodega De Nina, Refrimar, Banana Cantina, Bar Frida, Benitto´s Deli, Blue Seas Resort & Spa, El Arrayan Restaurant, Botanical Gardens, Cassandra Shaw, Club Mañana, Fajita Republic, Fishing with Carolina, Gilmar Restaurant, Maria O'Connor of Tropicasa Realty, Miralo Arts & Gifts, Pam Thompson of HealthCare Resources Puerto Vallarta, Paul Crist of Hotel Mercurio, PVRPV, Sea Me Eyewear, Trattoria Michel, Xocodiva and Yoga Vallarta


And the list keeps growing. As always, a thousand thanks! We couldn't do it without all of you.


Next week's fabulous caller is none other than Juan Carlos from PVRPV. Don't forget, if you bring a friend who has never attended before you will receive a free bingo card as our thanks.



BINGO for Beans and Babies will continue every Thursday night until October 1 at Bite me! Beach Club, located on Los Muertos Beach directly south of the Tropicana Hotel. For Reservations, call 223-1521 ext. 234. If you haven't been yet, Click HERE to see what you've been missing.
Tell a Friend
•
Site Map
•
Print this Page
•
Email Us
•
Top