Vallarta Living | August 2009
Help Feed & Educate a Child for $1 a Day

Arthur Fumerton - PVNN
August 01, 2009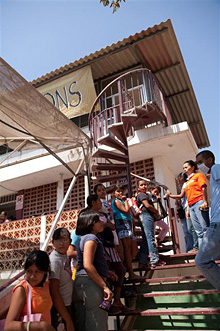 The School of Champions offers classes in Math, Computer and English to approximately 300 Puerto Vallarta elementary students each school day. For more information, visit ChildrenOfTheDump.org or contact Arthur Fumerton at ArthurEFumerton(at)yahoo.com.
Just $1 USD per day keeps one child in the School of Champions for every school day.


We need 300 donors to commit to a contribution of $1 per day for the entire school year, so that we can plan our budget for next year and continue to educate the 300 students in our after school program (Magisterio and Volcanes.)


Because of the current economic conditions in Puerto Vallarta, we may face a continuing decrease in donations to Feed the Children Vallarta and the School of Champions.


We need your commitment in order to effectively plan for the operations in the school, including meals for the students, teachers expenses, supplies, utilities and maintenance.


Without your support it will be difficult to start the school in September at the level of excellence that we have enjoyed in the past. We do not want the students to suffer; they are CHAMPIONS.


We suggest you put your loose change in a jar each day and send it to us monthly, or in a lump sum, as you wish. You can also tell your family and friends of the program and encourage them to participate.


Give the kids a chance for a better life - Keep them in our programs.


For information on how to donate to Feed the Children Vallarta and the School of Champions, click HERE.
---

The Children of the Dump was founded in 1998, originally as Feed the Children Vallarta. Through private donations, the program feeds more than 2,300 children daily, operates nine day care centers and an after-school program for grades 3 through 6; teaching them English, math and computers. The goal of the Children of the Dump is to ensure education through grade nine and to educate the children of Puerto Vallarta in the skills necessary to rise above poverty. To learn more about Children of the Dump's programs, click HERE or visit ChildrenOfTheDump.org.
Tell a Friend
•
Site Map
•
Print this Page
•
Email Us
•
Top