News from Around Banderas Bay | September 2009
Bingo for Beans and Babies a Success!

pvrpv.com
go to original
September 28, 2009
BINGO for Beans and Babies is being held every Thursday from 6-9 pm until October 1st at Bite me! Beach Club. For reservations call (322) 223-1521, ext 234.
Thursday, September 24 BINGO for Beans and Babies at Bite me! Beach Club drew a record crowd of 79 people. We raised $10,440 pesos in support of Pasitos de Luz. We have surpassed our original goal of $100,000 and we still have the closing night party to go. What an awesome effort from everyone!


This week's caller was Grant Hunermund of Bite me! Beach Club, bringing us full circle to our opening night way back in July.


There were many great prizes up for grabs, and this weeks lucky winners were:


• Game 1: Dee Rindt


• Game 2: Rosa Fishman


• Game 3: Dibas Chandra


• Game 4: Keith Jewers


• Game 5: David Spang


• Game 6: Toni Stronach


• Game 7: Marisele Blanco


• Game 8: Steve Snyder


The 50/50 raffle prize of $1640 pesos was won by Hector Medina. One of our door prizes, a basket from Mavi Graf was won by Janice Dyment. The other, a year of free advertising on BanderasNews went to Jan Saridakis.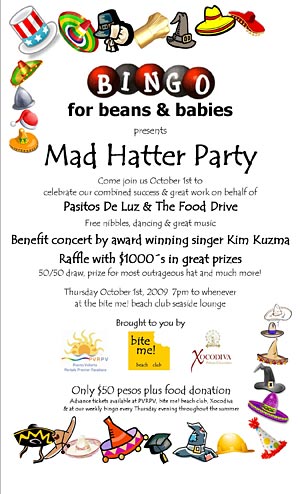 Click image to enlarge

And Dee Rindt won the free ticket to our fabulous Mad Hatter Party. Speaking of Parties...


Don't forget about our wrap party on October 1, and definitely don't forget your hat! Be it a bowler, a ball cap, a wedding veil or sombrero, the craziest and most outrageous hat will win yet another terrific prize. So plug in your glue gun and start planning.


Mad Hatter Party will be at Bite me! Beach Club in the seaside lounge Thursday October 1st, 2009 from 7 pm until the wee hours. The evening will feature a benefit concert by award winning singer Kim Kuzma and free nibbles from Bite me! Beach Club.


We will also be drawing our raffles prizes which include:


• 6 nights 7 day at Blue Seas Resort & Spa plus daily breakfast for 2 - Value $1500 USD


• 2 nights 3 days at Molino De Agua compliments of Ross and Sandra - Value $800 USD


• Sunset Cruise for 8 with Pegaso Chartering - Value $3500 MN


• Cocktail party for 8 compliments of Food By Seth - Value $4000 MN


• 3 hour Bay Cruise with Sail Vallarta - Value $3500 MN


• Original Painting by Cassandra Shaw - Value $5000 MN


• 7 nights at Jardin del Almendro compliments of Tracy Parks - Value $875 USD


• 2 nights at Studio Sevilla compliments of Ron Morgan - Value $390 USD


• 2 nights at Molino De Agua compliments of Ron Morgan - Value $990 USD


• 2 nights at Casa de Sevilla compliments of Ron Morgan - Value $500 USD


• 2 nights 3 days Penthouse Andale's On The Bay - Value $850 USD


• Photo shoot compliments of Joseph Kandoll - Value $5000 MN


• One year of free advertising on BanderasNews.com - Value $5000 MN


• Original painting by Lalo Morales - Value $8000 MN


• Original hand-painted vase by Manuel Morales, compliments of T. Fuller Fine Art - Value $990 USD


• Bronze Cuevas sculpture, "Indian Meditating" compliments of Gerardo at Unique Consignments - Value $2500 MN


This will truly be a night to remember. Ticket are $50 pesos only and available at PVRPV, Bite me! Beach Club, Xocodiva and at the door. And of course the party is open to everyone, after all, the more the merrier!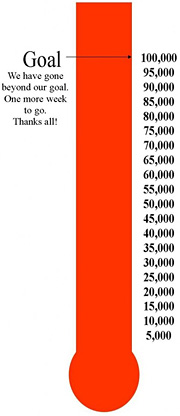 The amazing generosity of local businesses and friends continued. Donating prizes this week were:


Trattoria Michel, Balcones, Ambiance By Marcia, Bill Kelly, Jose Morales, Joe Jack's Fish Shack, Bohemia Boutique, Club Maρana, Garbo, El Arrayαn, Yoga Vallarta, BanderasNews, La Bodega de Nina, Health Care Resources, Chuck Mallery, Vallarta Tribune, Restaurant La Dianita, Kathy Lowther, Bar Frida, Blue Seas Resort & Spa, Dee's Coffee Company, Apaches Martini Bar, Maria O'Connor-Tropicasa Realty, The Botanical Gardens, Los Veranos Canopy Tour, bite me! beach club, PVRPV – Puerto Vallarta Rentals & Property Management, Xocodiva, Banana Cantina, Cassandra Shaw Jewellery, Fishing With Carolina, Adriana Garcia, Encore Boutique, Ron Morgan and Paul Crist-Hotel Mercurio


Thank you again to the many people who have helped to make this event a success. We could not have done it without your generosity. We are looking forward to seeing you all at the closing party!


As we all know PVRPV – Puerto Vallarta Vacations – has wrapped up their incredibly successful Summer Food Drive. They are thrilled that through many sources and your generous donations at our weekly Bingo, the food drive was able to do so much for so many. That being said however, below is a wish list from Pasitos De Luz.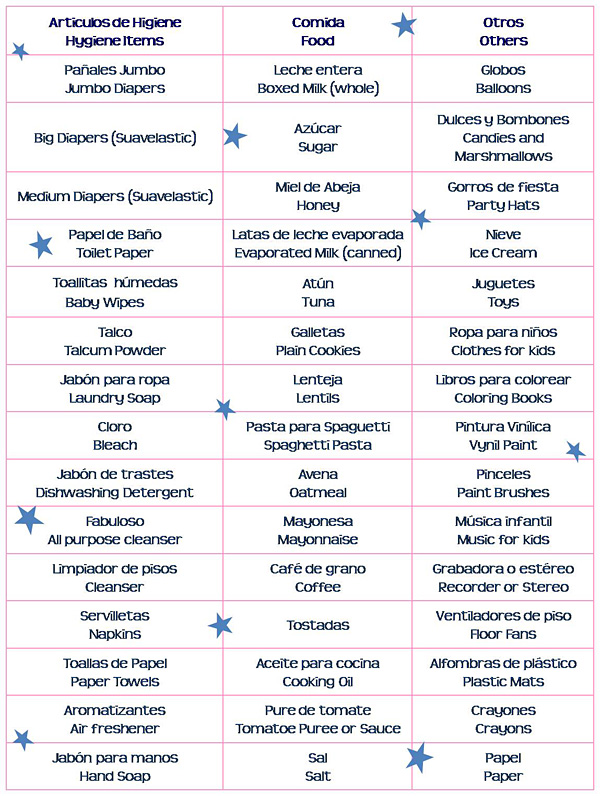 These items are needed to ensure the health and welfare of the children they serve. Anyone who brings any of these items to BINGO will receive a free BINGO card. How's that for a deal, folks?


And if this isn΄t enough, stay tuned for 3 more Bingo night΄s to assist the Botanical Gardens with their effort to beautify Vallarta. They will be planting 5000 Buganvilia bushes from the airport to Mismaloya and they need our help. So on behalf of the committee was will be hosting Bingo Friday Oct 9, 16 and 23. Come on out and help with this terrific project.


Bite me! Beach Club is located on Los Muertos Beach, at the foot of Calle Abedul, directly south of Hotel Tropicana. For more information about the Mad Hatter Party, call (322) 223-1521 ext. 234. If you missed all the fun we had playing BINGO for Beans and Babies click HERE to learn more...
Tell a Friend
•
Site Map
•
Print this Page
•
Email Us
•
Top