Editorials | Issues | October 2009
Mexico's Rural Poverty Has a Woman's Face

Emilio Godoy - Inter Press Service
go to original
October 05, 2009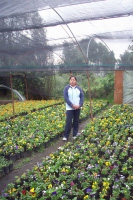 Verónica Martínez surrounded by the flowers she grows. (Emilio Godoy/IPS)
Mexico City - Some transformations occur so imperceptibly that people only become aware of them when the new reality has set in. That's exactly what happened in Mexico's countryside, where economic and social conditions have combined to put rural production largely in the hands of women.


The migration of rural men to the cities and to the United States, and their move from farming to better paid jobs in the countryside have meant that women have had to take over the responsibility for production and resource management in their communities, agricultural authorities and experts say.


According to a study by the Inter-American Development Bank, rural women are filling the void left by men, adding the role of agricultural producer to the many tasks they already shouldered, as Mexico's rural economy becomes increasingly feminised.


Before stepping down as agriculture and rural development minister in early September, Alberto Cárdenas explained that his ministry was rearranging its priorities and redirecting resources to address the phenomenon of "feminisation of the countryside" and change the sexist culture and discriminating practices that prevail in agriculture.


Verónica Martínez, 29, runs a flower-growing business she inherited from her parents. This year she received a 22,000-dollar soft loan from the government to make improvements in the nurseries that extend over the 650 metres of land where her family began the business 20 years ago.


"Thanks to the loan I was able to expand my greenhouses," Martínez told IPS at her farm in San Gregorio, south of Mexico City, where she planted 40,000 new seeds. While her parents originally grew dahlias only, she has diversified production to include pansies and the native marigold variety zempasúchitl, widely used by Mexicans in one of their most popular traditions, the Nov. 2 All Souls' Day celebrations.


San Gregorio is located in Xochimilco - one of the 16 boroughs of Mexico's Federal District -, which has an ancient flower-growing tradition, so much so that the name in Nahuatl means "field of flowers," and the area is famous for its floating gardens.


But most women engaged in agricultural production are not as lucky as Martínez. Statistics reveal that the growing involvement of women in agriculture has not brought about significant changes in patterns of landholding and access to resources such as water and credit. Neither has it served to expand women's rights or boost their participation in decision-making for rural development.


On the contrary, the situation of rural women and their families has accompanied the deterioration of Mexican agriculture in general, brought on by the North American Free Trade Agreement (NAFTA) signed with Canada and the United States, which has stifled the country's agricultural development since its entry into force in 1994.


Of Mexico's approximately 108 million inhabitants, more than 24 million live in nearly 200,000 small communities of less than 2,500 people, which according to the National Statistics Institute are more or less evenly distributed between men and women, in line with population trends worldwide.


However, women represent only 25 percent of the 4.5 million people who hold agricultural land titles.


Some 106 million hectares in Mexico are farmed under one of two systems of collective ownership and production, divided into over 30,000 units. These are either 'ejidos' (communal lands), where plots were distributed for groups of small farmers to use, while the state retained ownership, under the 1915 Agrarian Act, or rural communities dating back many years, even centuries, where the land is also cultivated collectively.


In the village of Santa Rosa de Lima, in the central state of Querétaro, some 250 km north of the capital, four years ago a group of six women and one man formed a cooperative, Delicias Santa Rosa, to produce tamarind and guava jam, toasted seeds, glazed fruit, and other sweets and snacks.


"We buy the raw material in the area and all our production is artisanal," one of its members, Alejandra Olvera, told IPS.


A state fund granted them a small loan (16,000 dollars) under special conditions, which they used to purchase a truck and tools to improve their productivity and distribution.


"It's a profitable project. We can make a living with our production and have enough money to send our children to school. Also, most of the women are mothers, and this way they don't have to leave the community," Olvera said.


Towns without men


Strengthening the sustainability of rural communities is one of the greatest challenges faced by Mexico, as many towns across the country - from the southern states of Oaxaca and Guerrero to northwestern Michoacán and central Guanajuato - have been virtually emptied of men as a result of their mass exodus to large cities and the United States.


This is compounded in certain areas by internal migration to other agricultural regions, with men or whole families leaving the poor, southern states for northern states like Sinaloa and Sonora, where they find employment as rural labourers for agribusiness.


In addition, an estimated one million people leave their homes temporarily every year to work in seasonal agricultural activities in Mexico's prosperous north. About 55 percent of seasonal labourers are families.


Still, less than 18 percent of all rural migrants leave their homes to work in agriculture.


"The situation of women has deteriorated because there are areas with acute marginalisation, and it is especially in those areas that male migration has led to women taking over their families' livelihoods," José de la Cruz, a teacher at the private Institute of Higher Studies of Monterrey, told IPS.


At least 60 percent of all women who participate in rural production activities are unpaid workers or independent farmers, and most women who work in agriculture are employed without contracts and receive no social benefits.


In seven out of 10 rural homes, women are the only breadwinners in the family. Income in 34.7 percent of all homes with women heads of household is equal to or less than Mexico's minimum wage (120 dollars a month), and in another 34.3 percent of these homes it ranges from one to two minimum wages.


Only 31 percent of rural households headed by women have an income above two monthly minimum wages.


A survey of Mexican rural women conducted in 11 of the country's 32 states by the National Network of Rural Promoters and Advisors, a women's organisation, revealed that they put up with an increasingly heavier workload, frozen incomes, a diminished diet, and the combined impact of the low prices their products sell for and the rising cost of basic foodstuffs, such as oil, meat, and other staples.


The organisation believes the way out of this situation is promoting production for self-consumption and limiting dependency on the market.


New paradoxes


The most striking among the many paradoxes that have sprouted in Mexico's new rural landscape is the fact that the very migration to the United States that altered its development is at the same time a leading source of income for the population left behind, as the rural economy is largely fuelled by remittances from these migrants.


In the first half of 2009, Mexico received 12.9 billion dollars in remittances, despite the 11 percent drop that, according to official projections, the sector is expected to suffer this year as a result of the global financial crisis.


"The situation worsened with male migration, and women were left to their own devices, to work in a deserted countryside with no financial resources," de la Cruz said.


The financial resources that are available are mostly managed by the women who the migrants left behind to care for their families, and to tend to their plots in those cases in which they owned or held any land.


Although the government has put in place programmes to support production initiatives headed by women, these have failed to solve the root problems affecting the countryside.


According to Cárdenas, in 2008 women accounted for 32 percent of the beneficiaries of training and technical assistance programmes implemented by the agriculture ministry, and 60 percent of the recipients of the Food Security Strategy project.


"The programmes have had positive results, but they should be aimed at supporting people with more business-oriented skills, and should be geared at generating greater added value," de la Cruz said.


The feminisation of agriculture is occurring in unfair conditions for women because they have been traditionally marginalised from key factors of production, such as land ownership, credit and technical and financial assistance.


And because women usually have less schooling and training, their incorporation as independent farmers or wage earners occurs in more precarious conditions than those men work in. They also have to reconcile their new role with their traditional responsibilities of running the household, bearing children and caring for the family.


Experts like de la Cruz concur with national and international agencies in that the economic recovery of the countryside is a strategic need for Mexico, and that the success of such efforts will depend on women's access to training and the possibility they have of growing as producers, which will in turn entail changes in their traditional roles.


However, positive experiences in that sense - such as Martínez' flower business or the Delicias Santa Rosa cooperative - are threatened by a combination of problems, most notably Mexico's economic recession and the drought that affects a large part of its territory.


The current situation is pushing Mexico's countryside and its women, who are largely in charge of rural production, into a crisis that threatens their already diminished incomes and puts them at risk of a food crisis.


Olvera has no doubt about what the best recipe to prevent this is: "more resources, more training, more technical assistance and greater inclusion of women in decision-making."


"However it may have happened, the countryside is now in women's hands, or so they say. Well, then, it's time for us to be taken into account," she said.
Tell a Friend
•
Site Map
•
Print this Page
•
Email Us
•
Top