Entertainment | Restaurants & Dining
Everything Food with Seth: January News

Seth Cloutman - PVNN
January 06, 2010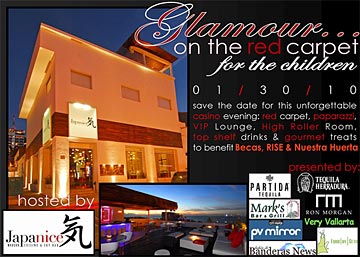 To reserve your space for 'Glamour on the Red Carpet ... for the Children' on January 30th at Japanice, call (322) 222-9081 or send an email to seth(at)foodbyseth.com.
What a month we have had here in Vallarta. The streets are full again, friends old and new arrive everyday, there is fresh marlin and tuna, the mandarins are still in season and we have been so busy that there was no time to write a December newsletter. Here are some of the highlights and some events planned for this month.


Rise and Shine - the Gourmet Champagne Brunch that we did last month and which was packed with almost 80 people in two seatings was a huge success and raised lots of money with an entirely volunteer staff for Refugio Infantil Santa Esperanza! Another one takes place on Saturday, January 9th at Casa Karma. Tickets are available at Daiquiri Dick's or by calling us at (322) 222-9081. It costs $350 pesos and promises to be another great event. Seatings are at 10:30 am and 12:30 pm.


Then on January 30th we have Glamour on the Red Carpet ... a casino night held at the beautiful Japanice restaurant. Guests will arrive to the red carpet, paparazzi, glamorous cocktails and food prepared by Food by Seth and Japanice. Everything is being donated so that all proceeds will be split between BECAS, RISE and Nuestra Huerta. $350 pesos gains general admission and $750 pesos gets you the VIP treatment by being whisked in the elevator to the Sky Bar and the High Roller's Lounge. Tickets are available at Japanice or by calling Food By Seth. Numbers are limited so get your place reserved as soon as possible.


The monthly cooking classes are scheduled for Bucerias - our first was so much fun! - on January 23rd. Once again it will be held at Jan Marie's Boutique where we will use the gorgeous table settings that Jan has designed to plate our meal. The Puerto Vallarta cooking class will be held on January 26th and will feature a trip to market, creating a menu based on seasonal products and then a dinner following. As always, if friends or family wish to join in the festivities but not the actual preparation and cooking they may attend the dinner party and the students may show off the foods that have been prepared.


The French Dinner takes place on January 20th. At 6 pm we will start with canapes and wine overlooking the bay and seeing the sunset and will be followed by a 5 course dinner. This month we will be featuring fresh local rabbit in a mustard sauce and a lot more French treats. You can be sure to that there will be some freshly prepared pate, a caramelized onion and garlic soup gratin and many other treats. Reservations are required and the cost is $750 pesos, which includes all the wine you can drink as well as the food.


As always, we are available for your private events which is the mainstay of our work. Last month we did 36 meals for people and it was great. There is nothing more satisfying than preparing meals for people and seeing them leave with a big smile.


Finally, Nuestra Huerta, our kitchen garden project at a primary school in El Remance will again be serving 500 children a free, hot and healthy meal. Volunteers are needed. We expect that this month we will actually break ground with the garden and you may contact us if you would like to be part of this exciting project. Volunteers will be assisting the children in preparing the soil, planting and then when the meal is served we will need folks to help with prep, serving and cleanup.


Looking forward to seeing you soon and Mil Gracias for your support! Buen provecho, Seth


P.S. If you fly Delta-Frontier Airlines, check out Food By Seth's article on the Picks of Vallarta in the InFlight Magazine - you will see the Vallarta Botanical Gardens, Daiquiri Dicks, Trattoria Michel, Tacos on the Street in La Cruz and Mark's Bar and Grill in Bucerias.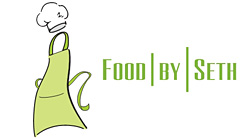 Seth Cloutman is the owner of Food by Seth, which provides services as a private chef, caterer and cooking class instructor. Specializing in French cuisine, Chef Seth develops menus that use these traditional techniques to include a broader cooking style that includes Northern Italian, Spanish, American Regional and Mediterranean cuisines. Full rich flavors, beautiful presentation and freshness coupled with experienced staff and attention to all the details will make your dining experience memorable. For more information, call 044-322-131-8808 or visit FoodBySeth.com
Click HERE for more articles by Seth Cloutman
Tell a Friend
•
Site Map
•
Print this Page
•
Email Us
•
Top