Vallarta Living
Dr. Leslie Korn Returns to Puerto Vallarta with Fulbright Award

Daniel Gomez - mijobrands.com
March 31, 2010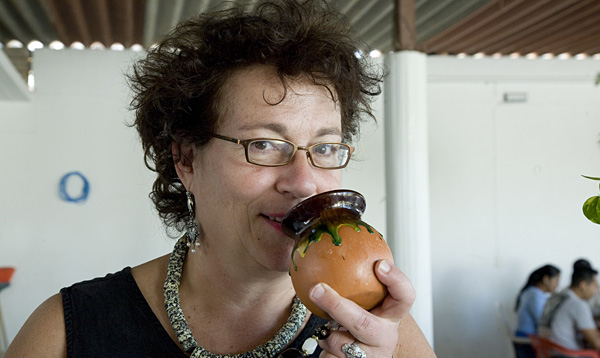 For more information about Dr. Lorn's upcoming book 'Medicines of the Jungle' or to support its publication, please contact medicinesofthejungle(at)mijobrands.com.
Western Mexico's traditional healers and herbalists possess a wealth of knowledge about wild- crafted plant medicines and foods. This knowledge reaches deep into the cultural heritage of the original peoples of this important region that embraces Nayarit, Jalisco, Michoacán, Colima, and Guerrero.


A frequent resident in the region for more than 35 years, Dr. Leslie E. Korn began a year- long study of traditional plant knowledge with healers and a demanding book-writing schedule in Puerto Vallarta.


Dr. Leslie Korn has been researching the traditional medicines and foods of Cabo Corrientes since 1974, and this year she has returned to Puerto Vallarta having been awarded the prestigious Fulbright award from both the US and Mexican Governments.


Sponsored by the La Comisión México-Estados Unidos para el Intercambio Educativo y Cultural (COMEXUS) J. William Fulbright Foreign Scholarship Board (FSB), and the Bureau of Education and Cultural Affairs of the Department of State (ECA), recipients of Fulbright Scholar awards are selected on the basis of academic or professional achievement and extraordinary leadership in their fields.


Dr. Korn joins great researchers like Adela Breton (1850-1923) English artist and explorer, Carl Lumholtz, (1851-1920) Norwegian anthropologist, Ynes Enriquetta Julietta Mexia (1870-1938) botanist and adventurer, Isabel Kelly (1906-1982) anthropologist and historian, and Helen Perlstein Pollard (1946 -) Archaeologist and ethno-historian. All have sought to quench their thirst for knowledge, and by doing so have revealed the rich and more than 5000-year history and living reality of present-day cultures in west Mexico.


Dr. Korn has been documenting traditional plant medicine and food use in western Jalisco, Nayarit and Colima with a special focus on Cabo Corrientes with careful plant identification, interviews, conversations and treks. Her current focus became possible when she was awarded a Fulbright Scholarship through the US Department of State in the summer of 2009.


From 1980-2001 Korn led a team of Yelapa community researchers in which members of the community decided what they wished to study and explore. Teen girls requested that they learn herbal medicine from their mothers and grandmothers. This fit very well with Dr. Korn's research and together they produced a full-color, bi-lingual, community plant book, Medicines of the Jungle / Medicinas de la Selva with the participation of children, teens and adults as co-creators. This "one chapter book" has just been edited by Dr. Korn and designed by Mijo! Brands and is about to be published and released in Puerto Vallarta.


After reviewing an advance copy of Medicinas de la Selva, Antonia Lavender, the Director of Commercialization at the Puerto Vallarta Office of Conventions and Visitors, A.C. said, "This book honors our past, our natural resources and the thirst for remedies for common daily ailments that do not merit a trip to the doctor. These are our traditions."


Mijo! Brands and the popular Mexican restaurant El Arrayán have decided to generously to co-sponsor the printing and dissemination of the book. Mijo! Brands and El Arrayán are together working to find additional sponsors to achieve their goal: to make the book available to all the school children in Puerto Vallarta and Cabo Corrientes.


Dr. Korn will be conducting a book signing in April and part of her work as a Fulbright scholar is to identify potential candidates, both university faculty and indigenous students alike, who may be eligible to participate in an intercultural educational grants to teach and study in the US, sponsored by COMEXUS-Becas Fulbright García-Robles.


For more information about the upcoming book or to support its publication please contact medicinesofthejungle(at)mijobrands.com.


Additional Information and Resources:

Learn more about COMEXUS
Center for Traditional Medicine
WHO International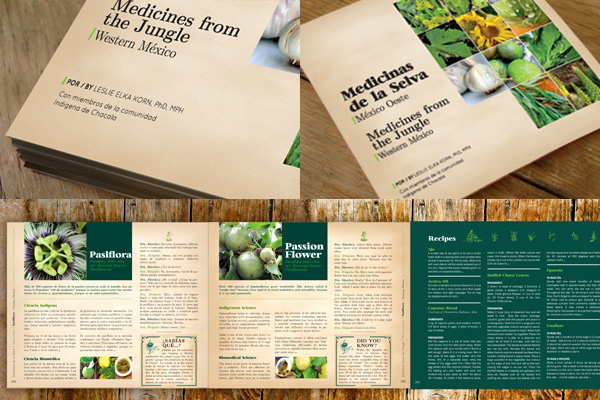 ---

Based in Puerto Vallarta, Mijo! Brands is a strategic brand design agency servicing clients across North America and Europe to create breakthrough brand communications solutions.


To learn more about Mijo! Brands, click HERE, call (322) 223-2837 or visit MijoBrands.com.


A ver la información en español haz click AQUÍ, o visite mijobrands.com/es/blog.
Tell a Friend
•
Site Map
•
Print this Page
•
Email Us
•
Top