News from Around Banderas Bay
A Grocery Shopping Adventure in Bucerías, or Who Put Lips in My Tacos?

Kathleen Dobek - PVNN
May 18, 2010
Bucerías, like most of the small towns of Mexico, offers unexpected surprises when one is grocery shopping. Click HERE for more photos.
Bucerías, like most of the small towns of Mexico, offers unexpected surprises when one is grocery shopping. Each town has a unique flavor, reflecting its residents, and Bucerías is no exception.


Exploring its little stores can provide an entertaining morning. Go while it is still cool, wear a good pair of walking shoes, and take a bottle of water, a shopping bag and your Spanish-English dictionary. You will be rewarded with food items you may not have seen before, let alone even tried.


One recent expedition turned up a few unusual items. For instance, we learned that Beto's Dulceria y Mini Super has an extensive offering of processed Asian ingredients, like dark mushroom soy sauce, hoisin sauce and canned lychees in syrup. Beto's may also have the largest liqueur selection in the area, as well as the largest shelf of Chef Boyardee pseudo Italian food I have ever seen in Mexico.


Next we visited El Chabacano (The Apricot), the local produce store that will order almost anything in the fruit and vegetable category if they don't already carry it. Many of the fresh herbs called for in your recipes can be ordered here, including the elusive dill weed. They boast a walk-in cooler, a real boon during the hot months, to keep produce fresh longer.


La Abejita (The Little Bee) has a remarkable inventory of almost any dried spice or herb the northern cook may be looking for, such as celery seed, turmeric powder, cardamom pods and mustard seeds, to name a few. They also have flours, grains, beans, dried chiles and pet food in bulk, as well as all the usual and unusual Mexican medicinal herbs and potions. La Abejita is the only store where I have seen raw cocoa beans, the starting point for the world's finest chocolates.


Rounding out our grocery adventure was El Palacio Chino (no translation needed, I hope), the store that looks like it should be stocked with every Asian ingredient imaginable, but isn't. It does have a few nice items, like organic coffee, Mexican vanilla and some imported foods. Its real claim to fame is its amazing Chinese architecture, seen again in a smaller version at the local cemetery, the resting place of its original owner, who had a passion for all things Chinese.


Once you have checked out the featured stores, don't miss an opportunity to have street tacos for lunch. On the plaza is a stand selling Tacos de Cabeza, "Head Tacos." Yes, it is just what it says it is: tacos with cooked meat of beef tongue, lips, cheeks, eyes, brains or an assortment of all. Before you recoil and think I have lost my senses, take my word that they are lip-smacking good!


Mega, outside of Bucerías, will remain the major, local grocery shopping destination, providing one stop for everything but the kitchen sink... but give the little stores a chance. They offer items you won't find at the larger stores, plus your purchases will support the local economy.


To see additional photos of a grocery shopping adventure in Bucerías, check out my Cooking in Mexico blog.
---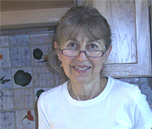 Kathleen Dobek explores the culinary traditions of Mexico from her home in La Cruz de Huanacaxtle, Nayarit. Through regular columns on BanderasNews and via her Cooking in Mexico blog, Kathleen shares her experiences in Mexico and introduces the great variety of New World ingredients and contemporary dishes of this country to the foreigners who visit and live here.


Click HERE to read more articles by Kathleen Dobek.
Tell a Friend
•
Site Map
•
Print this Page
•
Email Us
•
Top