Entertainment | Restaurants & Dining
Tongue and Lip Tacos in Bucerías. Try It, You'll Like It!

Kathleen Dobek - PVNN
May 29, 2010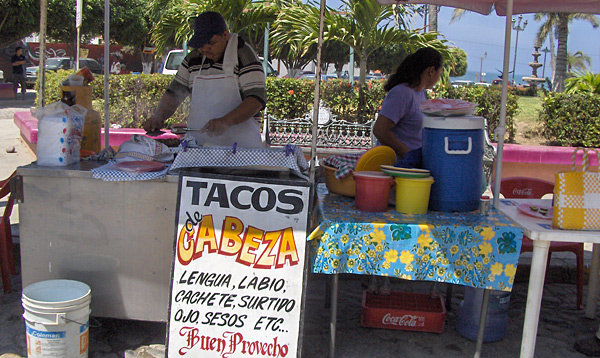 Tacos de Cabeza, a street stand in Bucerías Plaza, offers an assortment of beef parts to fill your tortilla, including tongue, lips, cheek, eye and brain.
For the adventuresome gourmand in Mexico, there is a new eating experience around every corner, including every corner of the plaza. We didn't have to go far to find Tacos de Cabeza on the Bucerías plaza. The street stand offers an assortment of beef parts to fill your taco: tongue, lips, cheek, eye and brain, but today there was only tongue, lips and brain from which to choose.


In case this selection offends the delicate sensibility of a few readers, remember that this is a country where little goes to waste. This was probably due originally to economic considerations, but today these parts are considered everyday fare and relished by the average Mexican.


We ordered tongue and lip tacos. If you like beef, you will like tongue. Cheek is tasty, too, speaking from past experience. But lips, eyeball and brains still require more time to fully be appreciated on our part.


Steamy hot tacos, freshly chopped onion and cilantro, and a very flavorful, piquant salsa made this lunch a winner. While we ate, we enjoyed a post-card perfect view of Banderas Bay. Every town in Mexico has its plaza, and every town has its Taco de Cabeza stand.


Bucerías is about a 20-minute drive north of Puerto Vallarta on Highway 200. To read all about it and view more photos, click HERE.
---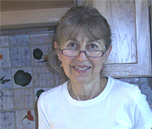 Kathleen Dobek explores the culinary traditions of Mexico from her home in La Cruz de Huanacaxtle, Nayarit. Through regular columns on BanderasNews and via her Cooking in Mexico blog, Kathleen shares her experiences in Mexico and introduces the great variety of New World ingredients and contemporary dishes of this country to the foreigners who visit and live here.


Click HERE to read more articles by Kathleen Dobek.
Tell a Friend
•
Site Map
•
Print this Page
•
Email Us
•
Top