Entertainment | Restaurants & Dining
A Taste of Puerto Vallarta Comes Once Again to the Food + Wine Classic in Aspen

Nora Ocegueda - visitpuertovallarta.com
June 19, 2010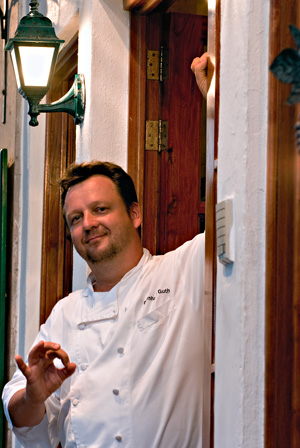 Bernhard Güth, Chef - Owner of Trio Restaurant Bar Café and Vitea Ocean Front Bistro, will present A Taste of Puerto Vallarta at this year's Food + Wine Classic in Aspen, CO.
Puerto Vallarta sets the stage for one of the finest culinary experiences in Mexico and those attending the Food + Wine Classic in Aspen from June 19-20th will have the opportunity to sample A Taste of Puerto Vallarta with tantalizing delicacies prepared by the resort town's acclaimed chef Bernhard Güth, Chef - Owner of Trio Restaurant Bar Café and Vitea Ocean Front Bistro.


Puerto Vallarta's natural beauty is a source of inspiration for chefs from Mexico and around the world who create an exciting amalgam of flavors blending traditional Mexican ingredients with contemporary tastes from around the globe. Food aficionados can delight in the wide array of dining alternatives from family-run taco stands to internationally acclaimed restaurants, many of them Five Star Diamond Award recipients from the American Academy of Hospitality Sciences.


In November of every year, Puerto Vallarta reigns as Mexico's capital of culinary arts with the annual International Gourmet Festival. During this ten-day celebration that is a feast for the senses, more than 20 guest chefs in addition to talented local chefs offer special Chef's Table and Winemaker dinners in over 20 participating restaurants, cooking classes and demonstrations, gourmet safaris, and cheese, wine and tequila tastings.


Gerard Dupont, president of the Académie Culinaire de France (the French Culinary Academy) is a regular participant. Past participants have also included Anton Mossimann of Club Mossimann in London, winner of numerous international awards, and internationally acclaimed Mexican chef Patricia Quintana. This year's edition will be held November 11-21, 2010.


Puerto Vallarta also celebrates its culinary diversity with Restaurant Week, held every year, the last two weeks of May. Puerto Vallarta Restaurant Week tempts foodies with specially designed menus at over 35 of Puerto Vallarta's top dining establishments with special three-course prix-fixe menus at up to 50% off their regular price.


One of Puerto Vallarta's most respected culinary talents, Chef Bernhard Güth is the Chef - Owner of Trio Restaurant Bar café and Vitea Ocean Front Bistro. Chef Güth has been Chef-Owner of Puerto Vallarta's Trio Restaurant Bar Café since 1997. The restaurant is famous for its outstanding interpretations of Mediterranean cuisine with Mexican flair.


Since 2003, Chef Güth is also Chef-Owner of Vitea Ocean Front Bistro, offering dishes inspired by the French Riviera. The two restaurants are an important part of Puerto Vallarta's restaurant scene and a rich contribution to its culinary diversity.


Chef Bernhard Güth began his career as a cook apprentice in his home town of Breisach am Rhein, Germany. His journey to Puerto Vallarta started when he left Germany and entered the world of the best European restaurants, including Gualterio Marchesi in Milan, Italy; Grand Hotel Victoria Jungfrau in Interlaken, Switzerland; and Tantris Restaurant in Munich, Germany.


After his European experience, Chef Güth moved to New York, where he opened Jean Claude Bistro in SoHo as Executive Chef and encountered the diversity of Latin food in the city. Eager to learn more about the different mélanges of Latin cuisine, he left for Puerto Vallarta in 1993 for a couple of months and ended up making it his home for the past two decades.


For the Food + Wine Classic, Chef Güth has created a special sampling of fine tastes including Crabmeat with Guacamole and Jicama, Chipotle Sauce, and Crispy Tortilla Salad; Goat Birria Braised in its own Juice and served with Corn and Huitlacoche; Marinated Fish with Habanero Chile, Mashed Plantains, and Lime Ginger Sauce.


Additional information on Puerto Vallarta and the International Gourmet Festival can be obtained at VisitPuertoVallarta.com.
Tell a Friend
•
Site Map
•
Print this Page
•
Email Us
•
Top