Entertainment | Restaurants & Dining
Qué es la Jicama?

Kathleen Dobek - PVNN
September 30, 2010
To learn more about jicama, including instructions for preparation, menu suggestions and more photos, please visit my Cooking in Mexico blog.
When you see street vendors selling small plastic bags or cups of fruits and vegetables sprinkled with lime juice and chile powder, you will probably encounter jicama.


This oddly shaped, often muddied tuber that resembles a cross between a potato and a large turnip is a favorite snack in Mexico. It is a true Mexican native, originating in this country and named by the indigenous Nahuatls as xicamatl.


Jicama has many uses: in salads, as a base for guacamole or ceviche, as a substitute for water chestnuts in Asian stir-fries, or as a simple appetizer of cold, refreshing slices. It is easy to clean and prepare, and offers an authentic Mexican touch to your table. As if that isn't enough, it is now classified as a "functional food," offering soluble fiber that supports the immune system.


To read more about this juicy tuber, check out Kathleen's blog, Cooking in Mexico for instructions for preparation, menu suggestions and photos.
---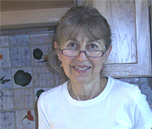 Kathleen Dobek explores the culinary traditions of Mexico from her home in La Cruz de Huanacaxtle, Nayarit. Through regular columns on BanderasNews and via her Cooking in Mexico blog, Kathleen shares her experiences in Mexico and introduces the great variety of New World ingredients and contemporary dishes of this country to the foreigners who visit and live here.


Click HERE to read more articles by Kathleen Dobek.
Tell a Friend
•
Site Map
•
Print this Page
•
Email Us
•
Top