Editorials | Environmental
Inauguration of Cancún Electric Airgenerator

Suzanne Stephens Waller - Presidencia de la República
go to original
November 29, 2010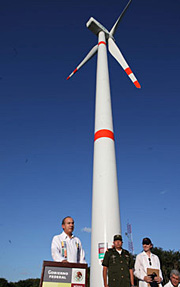 (Presidencia de la República)
Benito Juárez, Quintana Roo - President Felipe Calderón led the inauguration of the Cancún Air Generator in the municipality of Benito Juárez in Quintana Roo.


This modern airgenerator will provide approximately 3,000 megawatts-hour of clean energy during the COP16 work from 29 November to 10 December 2010 in Cancún.


The airgenerator will prevent the annual production of 2,000 tons of CO2, equivalent to the annual emissions of hundreds of automobiles.


During COP16, there will be a waste recycling program and the GEG released as a result of the Mexican delegations trips will be neutralized.


A broad energy reconversion will be carried out, with hydroelectric and wind infrastructure and alternative energies such as biodiesel.


The specific actions carried out mean that in 2012, Mexico will be able to mitigate 50 million tons of CO2.
Tell a Friend
•
Site Map
•
Print this Page
•
Email Us
•
Top