Editorials | Environmental
Mexico City to Close Huge Landfill, Among World's Largest

Associated Press
go to original
November 23, 2010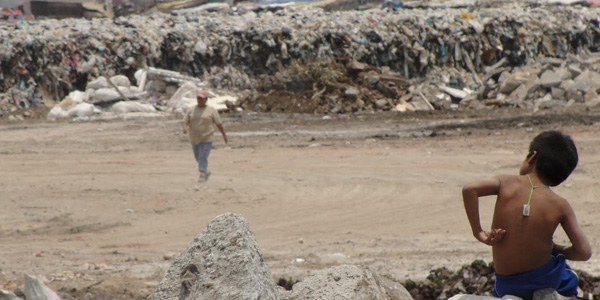 (Distintas Latitudes)
One of the world's largest landfills is to be closed next year because of worries that the more than 12,000 tons of garbage deposited there daily could contaminate the aquifer, Mexico's Interior Department said Monday.


The closure of Mexico City's massive Bordo Poniente landfill aims to "to resolve for once and for all the grave and latent problem of contamination" of water sources, an Interior Department statement said. The dump also represents a flood threat, as it could potentially interfere with the water drainage out of Mexico City.


Still, despite the city and federal governments' agreement to close Bordo Poniente at the end of 2011, the statement provided few details about plans to replace the massive landfill. It said only that waste treatment centers "without harmful effects on the environment and the population" would be up and running by Jan. 1, 2012.


Officials from Mexico City's Waste Commission have said they're working to build four state-of-the-art processing centers to recycle, compost or burn for energy 85 percent of Mexico City's trash.


The city has required residents to sort trash since 2003 but hasn't provided the infrastructure to handle it, and just about 6 of waste here is currently recycled. If the Waste Commission's project is a success, it would put this polluted metropolis in a league with San Francisco, The Netherlands and other top recyclers.


Monday's statement hailed the closure as "excellent opportunity for Mexico City to join world efforts to reduce greenhouse gas emissions." Open-air landfills are major emitters of gases believed to contribute to global warming.


Built on a dry lake bed on the northeast edge of Mexico City in part to handle the rubble from the devastating 1985 earthquake, Bordo Poniente takes about 12,600 tons of trash — or about 700 truckloads of unsorted rubbish — a day. It now contains more than 76 million tons of trash, the statement said.


It called Bordo Poniente the world's largest landfill, but other publications have ranked it as the second largest land-based dump, behind Sudokwon, which serves the South Korean capital of Seoul.
Tell a Friend
•
Site Map
•
Print this Page
•
Email Us
•
Top