Editorials | Issues
Latam Migrants Risk a River of Woes

Dudley Althaus - Houston Chronicle
go to original
December 06, 2010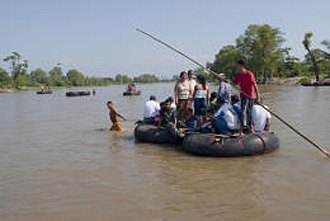 Crossing the Suchiate River from Guatemala to Mexico is just the start of an 1,100-mile perilous journey for many migrants looking to illegally enter the United States. (Keith Dannemiller/Huston Chronicle)
Tecun Uman, Guatemala — Juan Bautista Castañeda stepped aboard a makeshift raft to cross the shallow Suchiate River into Mexico from Guatemala, the beginning of a more than 1,100-mile trek he hopes will end on the South Texas border.


And not in abduction, torture or death.


On two earlier tries, he has been attacked by thugs and arrested by Mexican immigration agents, Castañeda said. But nothing good awaits the field hand back in his El Salvador village, so he has girded himself for another, perhaps final, attempt.


Pushed first by war and then by want, Central Americans for three decades have poured through Mexico by the millions on their way to hopeful, if illegal, futures in the U.S. Making their way north by rail and road, many have been robbed and raped, kidnapped and extorted, maimed and murdered.


"You see it every day — how difficult it is, how dangerous," Castañeda said. "But I'm going again. With the Lord's help, I'm going to make it."


Like other crimes in Mexico, the abuses against migrants worsened as authorities and the public downplayed them too often, ignored them too long. With stricter immigration enforcement in both countries, slipping across Mexico and into the United States unaided became tougher.


So traffickers' fees skyrocketed, as did demand for their services. More organized, armed and vicious crime syndicates - like the Zetas operating on the lower Texas border - pushed aside smaller smuggling groups.


Today the migrants, like many Mexicans, suffer the grinding grip of the gangs.


"After drugs, the activity that gives them the most money is human trafficking," said Fernando Beltran del Rio, Mexico's immigration director.


More than 20,000 migrants are kidnapped for ransom each year in Mexico, mostly by crime gangs, Amnesty International, the human rights group, estimated last month. The Mexican government's human rights commission last year put the number at 10,000. An unknown number simply disappear forever along the trail.


"The violence today is much more sophisticated," said Ademar Barilli, a Brazilian priest who for 16 years has run a migrant shelter in Tecun Uman, the shoddy Guatemalan city from which many cross into Mexico. "Their choices are to either die of hunger at home or face the risks of going north. It's like a war."


Just how perilous the journey has become was driven home to the world by the August slaughter of 72 migrants in northeastern Tamaulipas state, bordering South Texas, by gunmen said to belong to the Zetas.


"I thought that with the massacre there was going to be at least a temporary drop in the migration. But it hasn't dropped at all," said Hugo Carrillo, El Salvador's ambassador to Mexico. "Their situation, their need to improve their lives, makes them run the risks. They are terrified, but they are still coming."


If traveling through Mexico can prove lethal, tripping into the country at first might seem a lark.


On the Sunday morning when Castañeda started his journey toward Texas, he was joined by scores of other Central Americans crossing the Suchiate River.


Twenty-five miles upriver, in the town of Talisman, still more cross the Suchiate on a zipline strung below the international bridge and the noses of Mexican officials.


The ease is deceptive.


"People should know how dangerous it has become," said Carla Gonzalez, a 35-year-old Honduran civil engineer and mother of two who was kidnapped along with her husband and held captive for a month in Talisman. 'You can't trust anyone'


The couple, both evangelical Christians, met up with a Bible-quoting man offering help soon after zipping across the river. He turned them over to their abductors.


"You can't trust anyone," Gonzalez said at a migrant shelter in the southern Mexican city of Tapachula. "Everyone is involved."


From the border, many migrants head for the railhead town of Arriaga, 150 miles inside Mexico, where they catch the freight train.


Once famed for assaults on Central Americans, Arriaga has quieted considerably since the Chiapas state government sent in special prosecutors and detectives targeting gangs and assailants. But the gangs simply moved deeper inland, near the Gulf Coast city of Coatzacoalcos and the cities and towns bordering south Texas.


Migrant advocates and Central American governments have demanded, with scant success, that the government increase enforcement in the new trouble spots.


"It's not possible to ask the federal government to be active in every corner of the country," said Beltran del Rio, Mexico's immigration chief. "It has to be up to the local and state authorities as well."


All but a handful of the Central Americans, the men and women murdered on Aug. 22 near the town of San Fernando - some 100 miles below the border at Brownsville - had contracted smugglers near Coatzacoalcos for the run to Texas.


The smugglers loaded the migrants into two canopied flatbed trucks and drove north. They easily passed through several police and military checkpoints, Central American diplomats say, suggesting official complicity with the traffickers.


Outside San Fernando, the smugglers ordered their clients to climb off the trucks and walk around a roadblock manned by Mexican marines. Soon after resuming their trip, about 10 p.m. on Aug. 21, the migrants were stopped on the highway by at least three cars.


Shot one-by-one


Eight armed men - who officials say worked for the Zetas - forced them into other vehicles, drove them to a small warehouse in the middle of a sorghum field and tied them up, said Fredy Lala, an 18-year-old Ecuadorean who was among the captives.


The Zetas became enraged when the migrants refused offers to join the gang, Lala and Mexican officials say. It's more likely the gangsters were angered because the smugglers worked for an opposing group or had failed to cut the Zetas in on their profits, migrant advocates and diplomats argue.


They shot them one by one, Lala and other survivors told investigators, ignoring pleas for mercy.


"I heard them shoot my friends. And then they shot me," Lala, who took a bullet in the back of the neck that exited his right cheek, told a reporter during his flight home to Ecuador a week later.


Once the killers left, Lala struggled to his feet and with the help of a young Honduran survivor, walked through the night to seek help. He finally reached marines at the same roadblock the migrants had avoided two nights before.


"Now organized crime is the worst enemy of migration in our country," Mexican President Felipe Calderon said last month. "These lamentable acts are, at the same time, one more reason to fight organized crime with all we have."


Warning others


Eight suspects were arrested. Seven others were reported killed in gunfights with the military.


Mexican officials promised a full report on the massacre. But more than three months later, only the barest details have been delivered.


Officials from Mexico and Latin American nations agreed in October to forge greater cooperation against smuggling gangs. The proposals have so far not been put into action. History suggests they might prove less than successful.


"Don't come," Lala, through a television reporter, told Ecuadoreans contemplating the journey. "There are many evil people that don't let you pass."


When he heard about the San Fernando killings, Ramon Molina was little more than 100 miles away, leading another small group of Central Americans toward Reynosa, on the border near McAllen.


Molina, a 49-year-old former guerrilla fighter from Nicaragua who has spent a dozen years working construction in Texas cities, was making his sixth illicit crossing through Mexico. There had never been a problem, he said.


But Molina, who agreed to tell his story only if his name was changed, for fear of retribution, already was worried about the trek this time.


In July, 12 bodies had been dumped on the highway leading north from San Fernando to the border. Later that same month, 15 others were tossed at an intersection on a nearby road, large Zs, for Zetas, painted on their shirts.


Published photographs of the bodies showed bruises on some lower backs, as if they'd been whacked by clubs. That's a common torture used on migrants by the gangsters, Molina said in an October interview.


His group of migrants arrived at the outskirts of Reynosa in late August. They were walking into the city when carloads of armed men cut them off, Molina said.


"They said they were with the Gulf Cartel," Molina said, referring to the gang that is in a bitter war with the Zetas. "That's when the terror began."


The men forced the migrants into cars and drove them to a high-walled compound on the south side of Reynosa. More than five dozen other Central Americans, including women and children, were already inside.


Their captors demanded money from the new prisoners, forcing them to strip while they searched their clothes for hidden cash.


"They took us one by one and threatened us, said they would cut off our hands with machetes," said Honduran Javier Reyes, who was held at the compound at the same time.


Freed weeks later


The gangsters routinely beat the migrants with a board on their backs and buttocks. Molina was shown four other men being held in a small room, hoods over their heads, arms and legs bound with rope. His captors told him the men were smugglers who had not paid fees to the Gulf Cartel.


In all, Molina's group spent more than a month inside the compound while the gangsters tried to extort ransom with calls to family members in the U.S. and Central America. They were freed in October and made their way back to Tapachula, the men said.


"I tell everyone to wait, just wait," Molina said. "Let things calm down."


Having stumbled into Reynosa on the Texas border after two months of walking and hitchhiking the length of Mexico, Honduran air force veteran Charley Ramos gazed across the Rio Grande and gave a shake of the head.


Ramos, 27, heard about the San Fernando slaughter before leaving his rural village in September. His two brothers, who migrated illegally, are waiting for him in Atlanta with a job and a bed.


Now the U.S. stands just across the narrow tea-with-milk tinted stream swirling below. But having survived the journey, he said he now aches to see his wife and 8-year-old daughter.


"It's all the same if they catch me and send me home," Ramos said of the U.S. immigration agents prowling the far bank. "You struggle a lot to make this trip. There's a lot of danger, a lot of suffering."

dudley.althaus(at)chron.com
Tell a Friend
•
Site Map
•
Print this Page
•
Email Us
•
Top