Americas & Beyond
U.S. Officials Meet with Accused Teen Hitman

Kristina Davis & Morgan Lee - San Diego Union-Tribune
go to original
December 07, 2010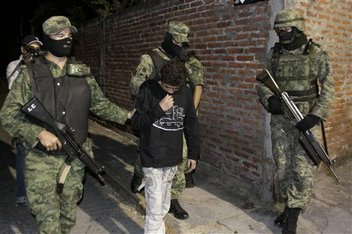 Soldiers escort a 14-year-old known as "El Ponchis" who is suspected of working as a killer for a drug cartel, in the city of Cuernavaca, Mexico, Friday Dec. 3, 2010. The youth, who was captured late Thursday at the airport in Cuernavaca with his 16-year-old sister as they were trying to catch a flight to Tijuana and flee the country to San Diego, is accused of participating in four beheadings for a Mexican drug cartel and will be tried under a state juvenile law and will receive only three years in prison if convicted, a judge said Sunday. (AP/Antonio Sierra)
PAGECuernavaca, Mexico — U.S. consular officials have met with a 14-year-old San Diego-born boy who is jailed in Mexico on accusations of being a hitman for a central Mexican drug cartel, the U.S. State Department said Tuesday.


The visit was made after Mexican authorities approved a formal petition from the U.S. Embassy in Mexico City Monday requesting the meeting.


Edgar Jimenez Lugo, known as "El Ponchis," was being held in an undisclosed location in Mexico for his protection, officials said. Details of the meeting with U.S. officials were not provided.


U.S. authorities are still working to verify the boy's citizenship.


When he was arrested Thursday, he was carrying a San Diego County document registering his birth in San Diego. The San Diego County Clerk's Office was not able to locate a copy of the document when The San Diego Union-Tribune tried to view it Monday.


If his U.S. citizenship is authenticated, he will receive the same consular services as any American citizen who is arrested abroad, including visits in prison, welfare checks and information on local attorneys, a State Department spokesman said.


Jimenez was arrested at an airport on the outskirts of Cuernavaca as he prepared to board a flight to Tijuana with his sister, Elizabeth Jimenez Lugo, 19. The pair had then planned to cross the U.S. border into San Diego.


His other sister, Lina Ericka Jimenez Lugo, 23, was arrested in the car after dropping them off.


The sisters are being held in Mexico City for 30 days on suspicion of ties to organized crime while the investigation continues, according to the Mexican Attorney General's Office.


"El Ponchis" is accused carrying out four beheadings and belonging to a band of hitmen for the Cartel of the South Pacific, a branch of the Beltran Leyva cartel.


kristina.davis(at)uniontrib.com • Twitter @kristinadavisTEXT

Tell a Friend
•
Site Map
•
Print this Page
•
Email Us
•
Top