Puerto Vallarta, Mexico
- Here's the latest news from PuRR Project, a non-profit, no-kill feline shelter located just north of Puerto Vallarta, Mexico, that provides homeless cats and kittens a recuperative stay with the ultimate goal of adopting them out to loving homes sterilized, vaccinated and disease free.
SHELTER UPDATE
Last month
we reported
on the damage to the back fence from a falling tree and damage to the front gate and fence from a car crash! We want to thank Carol & Charlie McCullough and Trisha Aljoe who came to our rescue with donations to cover all the repairs. We now have not only a new front entry but some sturdy cement posts that should protect that area. Sadly, there is not much we can do about falling trees except keep our fingers crossed! We had a scare with Hurricane Lorena, which shut down schools and businesses as it passed by, but fortunately no damage in this area.
UPCOMING EVENTS
Garage Sale: November 9th
Our Fall Garage Sale,
this season's first fund raiser, is SO important as we desperately need to re-fill the "kitty" after a long summer! We've already started receiving some great goodies, but we need more! October is the time to start cleaning out your closets, kitchen cabinets, jewelry boxes and garages for those items you no longer use or need. You can drop off items at the sale site in the Marina by contacting Linda at
donate(at)purrproject.com,
or contact Marilyn for arrangements for items to be picked up at
exkhan(at)usfamily.net.
Shelter Tours:
The first tour of the season will be led by Marilyn on Wednesday, November 13, and they will continue every other Wednesday through April 1, 2020. There is no other way you can spend such a fun morning for only $20 dollars! Plus a chance to get up close and personal with so many kittens and cats who crave the attention. So, if you live in Puerto Vallarta or plan to visit this winter, sign up today. Everything you need to know about visiting the PuRR Project Shelter and how to make your reservation is on
our website.
Kitty BINGO:
We'll be back at
Nacho Daddy
on Wednesday, November 20 for our first Kitty BINGO of the season. Games start at 4:00 and we've got great prizes for the ones who get a BINGO and shout "MEOW!" It's a great way to spend an hour or two, have a few cocktails and some great food, and support the shelter at the same time.
Beach Luau:
Scheduled for Friday, December 13 (a lucky day!!) at the Sea Monkey, the PuRR Project Luau on the Beach is always a highlight of the year with fabulous food, raffle prizes and of course, sunset! We'll be announcing where you can pick up or reserve your tickets soon.
ADOPTIONS
The weekend Adoption Center at PetCo continues to be our main source of adoptions right now, with 22 adoptions in August and September! We bring several kittens there every Friday morning, all tested, vaccinated and spayed or neutered, so spread the word. We will also be back at
Daiquiri Dick's
on Saturday mornings starting in November, with kittens plus all our logo items for purchase.
ADOPTION UPDATE: PABLO
We love to get news of our kitties that have traveled to far places! Betty Nguyen and husband Brian adopted "Khan" (now "Pablo") when they were visiting Vallarta in February of 2018 and stopped by our booth at Daiquiri Dick's.
It was a long trip back to Lincoln, Nebraska with a layover in Atlanta. They finally made it safely home in a big snowstorm, which was a shock to this Mexicat! Betty said he was very sweet throughout the plane ride... and no accidents at all.
Betty recently sent an update: "Pablo is enjoying him time in Lincoln, Nebraska with his dog brothers. Last December my husband and I gave birth to our first baby. Come this December, Pablo will have two human sisters as we are expecting another baby girl. We hope to visit PV in the near future and would love to attend one of Purr projects fundraising nights!"
GRACIAS! THANKS! MERCI! DANKE! ARIGATO!
After reading our September newsletter, Karen O'Shannacery, Carolyn & Gordon Whittington, and Cathy Case, all contacted us to Virtually Adopt a PuRR Shelter cat! We also had a lot of folks renew their sponsorship: Cherri Gillmore, Pam Tanora, Sharon & Ken Rose, Maggy Deike, Connie Argus & Thomas Barnes and Laurie Rice. You can learn more about our Virtual Adoption Program and how to give yourself or a cat-loving friend this gift at
purrproject.com/adopt.
For more Kitty News, please visit
PurrProject.com.
---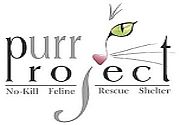 PuRR Project is a Non-Profit shelter in Puerto Vallarta, Mexico that provides homeless cats and kittens a recuperative stay with the ultimate goal to adopt them out to loving homes. All of our residents have been sterilized, vaccinated and are disease free. We accomplish this through our own efforts as well as collaboratively with other animal welfare organizations. Both monetary donations as well as donations of dry cat food are most welcome – and much appreciated. Donations 501(c)(3) tax-deductible in the U.S. For more information, visit PuRRProject.com or send an email to info(at)PurrProject.com.