Puerto Vallarta, Mexico
- We have so much for which to be grateful. For those of us who find ourselves celebrating the U.S. Thanksgiving holiday in Puerto Vallarta, that adds an extra special dose of gratitude!
If you prefer our #1 dish of the house, our Chiles en Nogada, or an extra special Steak & Lobster tail dinner instead of turkey, we have what you want to create a holiday memory with Mexican ingredients.
Join us on Thursday, November 26 for a two-hour live Mariachi concert. Your ticket price includes a delicious 3-course No Way José! award-winning meal, a welcome margarita, and 2 hours of Mariachi classics.
For $1600 pesitos (approximately $80 USD) per person, you can enjoy an evening on our open-air terrace, safely-spaced tables and a reduced 50% seating capacity to protect your health and safety.
"We have always enjoyed giving our family of friends a fun and delicious alternative to turkey day," shares José Alfredo. "Since our live entertainment showcases our unique Mexican offering, providing a live Mariachi concert was a way to offer our thanks to all of our guests on this special US holiday."
Space is limited, so please make your reservations early for what promises to be a night to remember in
Tu Casa en Vallarta.
Feel like you're in Mexico when you're on the Terrace at No Way José!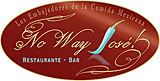 Open Tuesday through Sunday from 5 pm to 11 pm (Closed Mondays until December), No Way José! is on the south side of downtown at 5 de Febrero 260, just over the Vallarta street bridge on your left heading south from the Malecón. Reservations are required and can be made by emailing Reservations(at)NoWayJoseMx.com. For more information, visit NoWayJoseMx.com, or join us on Facebook for real-time updates and special offers.

Click HERE to learn more about No Way José!