Chapter 15: It's The People, Stupid!

Polly G. Vicars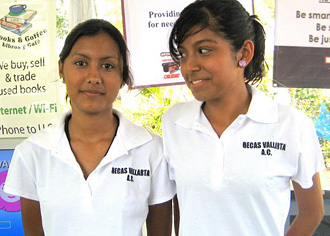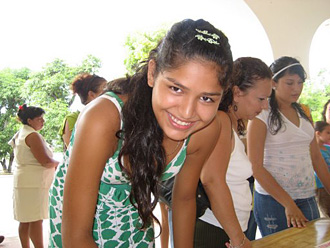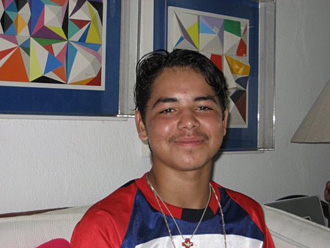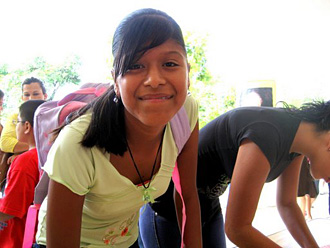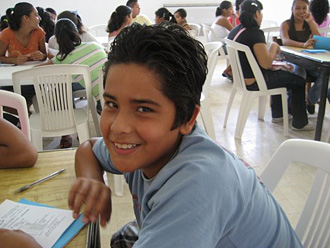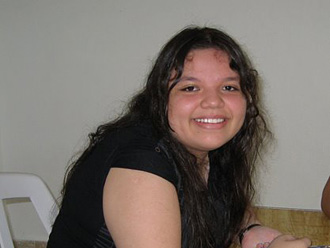 Some of the Juans and Juanitas of Becas Vallarta, A.C. (The America-Mexico Foundation, Inc.) who are being helped by the generous donations of local businesses.
In December, 1994, the newly elected President of México, finding himself faced with a dire economic situation, allowed the peso to devalue by almost half. I'm no economist - if my checkbook balances within $100.00, I adjust and go on writing checks, so I can't presume to say if his action was sound.


However, I can say for the America-México Foundation, the other service clubs in Vallarta, the merchants, restauranteurs, artists and artisans of Puerto Vallarta, the timing stunk! (Can you believe I am revisiting this chapter at a time when the economy in both the US and Mexico are in deep trouble?)


Traditionally, February and March, the highest of the "high season," when all the folks who live here for six-months are in town, are the months when each of the several service organizations raise the bulk of the money needed for the year's activities.


"So?"


Think about it! Bazaars, flea markets, auctions, raffles - the tried and true money raisers - are only possible through the good will and generosity of the community. Event planners and committee members feared the economic crisis, coinciding with their scheduled events, would ruin everything. The AMF was no exception. We worried about the fate of our raffle and silent auction, as well as ticket sales for the annual dinner-dance scheduled for March.


Nonetheless, we made our plans; we reserved the luxurious Hotel Bel-Air and engaged the band. The entire Foundation organized to petition the business and artistic community for raffle and silent auction gifts, and, once received, to log and organize them, Members began constructing decorations to create a fantasy-land of angels and butterflies ensconced in twinkling lights.


I set up the computer to log gifts, make bid forms, "reserved" signs, prepare the program, and scribble a few articles for the local papers to keep everyone posted on the goings on. Husband, sitting in for President Bernice who was under the weather (too much 80th birthday celebration - see, "Too Much of A Good Thing is - Wonderful!"), held the needed meetings, answered the questions and kept everything moving efficiently and smoothly.


"So?"


All those plans would be down the drain if the merchants, artisans and artists took the reasonable route when asked for donations and answered, "The economic future is too uncertain;" "Prices are up forty per cent;" "We'll have to wait and see what is going to happen before we can donate."


But that is where the unique quality of Puerto Vallarta comes in. As I have told you (and told you), this is a magical place unlike any other in the world. There is a love, a generosity of spirit, a giving nature that spreads over the community, seeming to infect everyone. We should not have worried!


When our troops invaded the city seeking donations, we were met with the same smiles, the same love and generosity we have always experienced in Puerto Vallarta. Many commented in passing that times were uncertain and not as they wished they were, but few, if any, "pled poor" and refused to give.


In fact, many gave gifts of even greater value this year: restaurants threw in a bottle of wine with their dinners for two; some artists gave two original oil paintings instead of one; artisans added a little extra something to their donations. The number of gifts we garnered topped our previous year's record.This is the Vallarta I love. This is the Vallarta that keeps pulling you back no matter where you wander. This is the Vallarta that creeps into your heart and digs in deeper and deeper. Want to know why the word "magic" springs to so many lips when they are speaking of Vallarta? It's the people, stupid!


"So!"


So, when you are visiting my Vallarta, please help me say thank you and muchas gracias to the caring and unselfish people who, year after year share what they have, no matter how little that may be.You can use the following list as your guide to the best Vallarta has to offer. When you go in, tell them how you chose them and give them a grand salute for their generosity. I have to be honest - I make my decisions where to shop, eat and play on the basis of the following list of Vallartenses who help make dreams come true for deserving young Juans and Juanitas.

(I still follow that guide line as to where to shop, eat and play. Not surprisingly I have already had several calls this month from Becas volunteers who are reluctant to ask our previous benefactors to help with gifts for our upcoming breakfasts starting in November and our Crystal Becas Ball on March 5, 2009, due to the very slow business so far this year and the awful economic situation in the U.S. I am sending this chapter from 1994 to all of them to say, don't worry, Vallartenses will come through for the Juans and Juanitas as they always have. Remember this is magical Puerto Vallarta where the people, local, transplanted and tourist, are the most generous, the most giving people in the entire world! The following list is of those who donated in 1994. Sadly many are no longer in business, but conversely many who gave in 1994 and are still giving in 2008.)

ARTISTS: Ramiz Barquet, Evelyne Boren, Rita Zanoni Burns, Ada Colorina,,Geoffrey Lee Erickson, Marta Gilbert, Peter Gray, Alberto Grimaldo, Melisande Irving, Inge Lökös, Judith Ewing Morland, Javier Niño, Juan Francisco Curiel Quintero, Cathy von Rohr, Ruben Schneider, Lucille Shipley, Bernice Starr, Tellosa


BOUTIQUES, GALLERIES, SHOPS, DEPARTMENT STORES, etc: Ace Hardware, Alejandro Meza - Lans, Alfarería Tlaquepaque, Amadeus Zapatería, Aradi, Artensanías Flores, Artes Finas Mexicanas, Artesanías Agustín, Artesanías Copalli, Auto Baño Chapetes, Auto Baños Nova, BikeMex, Bisuterías, Boutique Popo's, Boutique Nina y June, Caban, Comercial Mexicana, Conjunto's Boutique, Cotton Club, Creaciones y Diseños del Mar, Creaciones Exclusivas Félix, Curiosidades Vallarta, Deportes Marinos Zaragoza, Don Chuy, El Opalo, El Patio Antiques, El Baúl, Escándalo, Exclusivas Raquel, Casa Museo Manuel Lepe, Charvé Gallery, Farmacia Paraíso, Farmacia Olas Altas, Félix Boutique, Foto Caracol, Galería de Laura, Galería Indígena, Galería Pacífico, Galería Pirámide, Galería Uno, Galería Vallarta, Glamour, Inmobiliaria Caracol Marino, International Friendship Club, Joyas Finas Suneson, Kattanzu, ,Kiki, La Reja, La Choza, La Tienda, La Quemada, La Rosa de Cristal, Librería Limón, Limac, Lloyd Intermediación, Lucy´s Cuca Cabaña, Mar de Plata, María de Guadalajara, Marina Boutique, Meson de Peña, Moonbag, No Name Boutique, Nostalgia, Nueva Ideal Vallarta, Otomí, Papelería y Regalos Beatriz, Papelería de Karol, Pie in the Sky, Promotora de Gourmet, Querubines, Rac Galería de Arte, Rachel Perfumería, Ric's Jewelry, Ropa Típica "La Tapatía," Safari, San Francisco, Sin Nombre, Supermercado Gutiérrez Rizo, Surtidora del Puente, Tabu Artwear, Talavera Etc., Tienda Aeropuerto, Tienda de Artesanías, Top Coton, Valenciana, Vallarta Lifestyles, Vallarta Today, Villa María, Vogue's Vallarta


BEAUTY AND HEALTH SERVICES: Dr. Victor Cruz C., Christy's, Carlos Coiffures, Dr. Paul Constante, Ceil Constante, Clinca de Cosmetología, Ella Y El, Spa Encanto, Lourdes Estética, La Femme, Dr. Salvador Meza Gutiérrez, Optica Italia, Dr. Alfonso Rodríguez Lòpez, Cary Mar, Terapéutica y Massage, Dr. Anna O'Conner, Dr. Ema O'Conner, Centro Odontológico, Dr. Jorge Chávez Páez, Dr. Abel Jiménez' Regensis, Facial Rejuvenation-Massage, Rodrigo, Lola's Hair Salon, Toya's Hair Salon, Spa Puesta Del Sol, D'Martha's Estética Unisex, Lab de Patología Clínica Vallarta, Médico Veterinario ZootecnistaFLORISTS AND NURSERIES: Florart, Florería Catalina, Florería Del Prado, Vivero Jardín Las JuntasHOTELS: Hotel Plaza Los Arcos, Hotel Hacienda Buenaventura, Royal Holiday Club, Continental Plaza Hotel, Hotel Marriott Casa Magna, Hotel San Marino Plaza, Hotel Bel-Air; Costa Careyes, Hotel Bel-Air;Puerto Vallarta


RECREATION: Vallarta Adventures, Rancho Ojo de Agua, Simpático Cruises "Big Al", Rancho Charro, Buenaventura Cruise, Cheforo's Fleet, Viajes La Jungla, Rancho 4 Milpas, Vallarta Mini-Golf, Promotora de Viajes Resorts, Pacific Scuba, Chico's Dive Shop, Sailing Unlimited, Operadora de Yates de Vallarta, Yates YelapaRESTAURANTS: Adobe, Café des Artistes, Balam, Cal's Bar, Porto Bello, Le Bistro Jazz Café, Hard Rock Café, La Casita, Su Chef, Chilis, El Coral, O K Corral, Cuates Y Cuetes, Cuiza, Moby Dick, Daiquiri Dicks, Mr. Fish, Da Franco, Tutti Frutti, Westin Regina Restaurant Garibaldi, El Palomar de Los Gonzalez, Le Gourmet, Ernesto's Good Grub, La Hacienda, Memo's Pancake House, Pizza Hut, La Iguana, Café La Luna, Táa María, McDonalds, Mogambo, Langostinos "El Muelle", El Dorado de Nayarit, Puerto Nuevo, Café de Olla, La Palapa, El Palmar, Sr. Mister Pepes, Camino Real Restaurant, Hotel Marriott Casa Magna Restaurant, Sheraton Bugambilias Restaurant, Chef Roger, deSanto's, Sazón, Shangai, La Taberna, Talulas, Karpathos Taverna, Viejo Vallarta, Café Vallarta, Chez Elena Hotel-Cuatro Vientos, Pizza Joe's Villa, Archie's Wok

(If you are enjoying this first book, why not take a chance and buy the second one? All of the money goes directly to Becas Vallarta to fund scholarships for local girls and boys. See our website at AmericaMexicoFoundation.com and our new Becas Vallarta video right HERE on BanderasNews.)
---

Polly G. Vicars and her husband of 57 years, Hubert (a.k.a. "Husband") retired to Puerto Vallarta in 1988 and soon became active members of several charitable organizations. Polly is the author of "Tales of Retirement in Paradise: Life in Puerto Vallarta, Mexico" [a sell-out!] and "More Tales of Retirement in Puerto Vallarta and Around the World." Proceeds from the sale of her books go to the America-Mexico Foundation, a scholarship foundation that is their passion.

Click HERE for more articles by Polly Vicars.