Tales of Retirement in Paradise
Chapter 17: Superstition is Bad Luck

Polly G. Vicars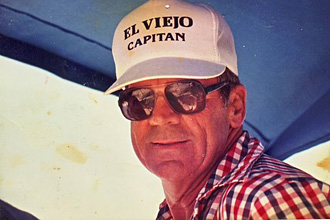 Husband AKA El Viejo AKA Hubert Vicars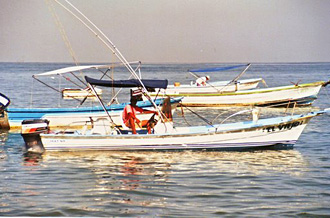 Our panga, El Viejo, with Captain Cheo at the helm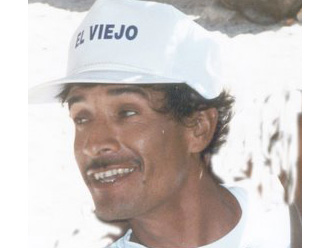 Eliseo Gordian Abundis, Cheo, our boat captain and our good friend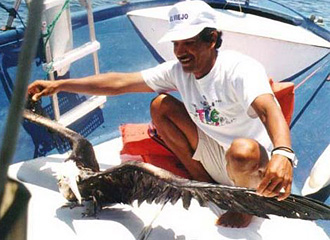 Cheo with a rescued Frigate bird that makes its living on the sea, but can't get wet!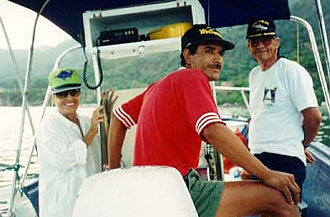 The Three of us - me, Cheo, Husband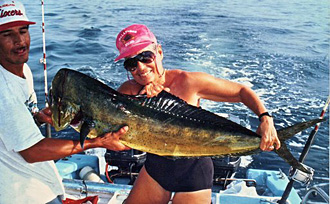 Cheo and me with my gorgeous dorado
Luckily, in our new world there is time for everything, including our avocation, fishing. So don't bother to call us on Tuesdays, Thursdays or Saturdays - we will be gone fishin'! (You can go ahead and call us now, as when we decided to travel the world in the late 1990's, we gave our beloved fishing boat, El Viejo, to our loyal captain and friend, Cheo, as part of his severance pay. I am happy to report that the three of us, Cheo, Husband and I, remain close friends, though El Viejo has gone to that fishing boat place in the sky!)


Before we even settled into our condo and long before we bought a car, we bought the fishing boat. How could we live on the sea and not indulge our passions for fishing, swimming, snorkeling, diving, and anything else you can do on, in, or under the water?


It was also at this time we started our Spanish lessons with Maestro Melchor. One of the first phrases we learned was "El Viejo," the old man. Because Husband had just completed his sixth decade, I thought it would be fun to name the panga El Viejo in his honor. He, being a good sport, went along. As a result, not only is our boat El Viejo, but so is Husband. All the beach folk and local fishermen know him as Viejo and we hear shouts of "Viejo, ¿Cómo esta?" whenever we are out and about. (No matter that we no longer have a boat, the fisherfolk still greet Husband as Viejo!)


With all of the coverage of the comet hitting Jupiter in July 1994, it took me back a couple of Julys to when Puerto Vallarta was one of the world's premier observation sites for viewing a total solar eclipse. The press and television covered the event from every angle. The entrepreneurs made and sold T-shirts, posters, and do-dads to mark the event. The restaurants stocked up on Cerveza and Tequila for the special day.


Vallarta conversations centered on the eclipse. How to view it? Where to view it? What causes it? Is it dangerous? The perspective of many locals, based on folk tales and superstition, was of dread and fear. They didn't care that the TV and the papers called it a natural phenomena. Tall tales circulated, building the suspense for the actual day.


One pervasive tale advised red ribbons tied to every tree to ward off the evil that accompanies an eclipse. Other tales, pertaining to pregnant women, warned them to wear red aprons and red underwear with safety pins attached to the front, and not to leave their homes on the day of the eclipse. The women were told that failure to take those precautions could lead to dire consequences for the expected baby.


Far be it from me to take superstitions lightly. I agreed with the decision of a pregnant employee at our condo when she gave notice weeks before the eclipse that she would not be at work on that day. Everyone acknowledged her reason as a legitimate excuse for missing work.


Husband, quoting his encyclopedia of wisdom, the "Reader's Digest," declared that "superstition is bad luck," but, nevertheless, began telling El Capitán and all of the guys on the beach that on the day of the eclipse the fish would go crazy and jump into the boats. They, knowing him pretty well by then, laughed, nodded and went on their way chuckling to themselves that El Viejo was some joker.


Finally came the awaited day! Vallarta was packed with observers from all over the world. The hotels and restaurants were jammed. Gringo and Mexican friends packed coolers with beer and headed for the beaches. It was a clear cloudless day, perfect for viewing. It was with more than a little self-satisfaction we snickered as the newscasters reported that Hawaii, claiming to be the finest viewing area in the world, was cloudy and overcast.


El Capitán, Husband and I set out in El Viejo to view the expected total eclipse from open sea. Even though we were equipped with the latest in viewing glasses, El Capitán showed disdain for all of this excitement by declining my offer of a pair of the glasses. He diplomatically said nothing to remind Husband that he had predicted fish jumping in the boat.


We motored out to the edge of the bay where we were surrounded by only sea and sky and began to fish. As we baited lines and set poles, the eclipse began. The shadow began creeping across the yellow orb, and we followed its progress with our glasses. It was an emotional event for us all, including El Capitán, who could no longer resist the phenomenon that is so rare to us earth dwellers, and asked for glasses.


Slowly, but steadily, the sky darkened, and the air grew cool. At the point of total eclipse, in the middle of the Pacific Ocean on a July day, we shivered from cold as the sun withheld its life-giving heat and light, and we could only feel an awe for the preciseness and orderliness of our universe.


Then as the shadow, little by little, erased itself from the face of the sun, a loud singing of the line announced a fish. The brightening of the sky was matched by my spirits as I settled into the chair to try to land this jumping, fighting dorado (those Hawaiians, who were not getting to observe this natural phenomenon due to clouds, call this fish Mahi-Mahi.)


Dorado flash a green-gold body, flecked with all the colors of the rainbow, as they display their incredible jumping ability, giving thrill after thrill to the fisherman lucky enough to have one on the line. This dorado was no slacker. He fought valiantly, but I finally brought him right to the boat, ready for El Capitán to gaff and bring in.


Now listen to this! I swear this is no fish story, but the honest-to-goodness truth. As I tried to hold the fish close to the boat, El Capitán swooped his gaff down into the water to impale Mr. Dorado, but Mr. Dorado, in one gigantic leap, shot straight up into the air and landed right in front of my feet in the boat! El Capitán looked from me to Husband and all three of us yelled simultaneously, "That fish jumped right into the boat!" and we began to laugh and yell and do all of the crazy things fisherman do.


We couldn't wait to get back to shore to tell this story to the guys on the beach. Naturally, Husband's reputation grew tremendously as this story made the rounds. Each time we told it, we relived that unbelievable moment during the solar eclipse when a dazzling dorado jumped right into the boat.


Wait! This is not the end of the story. Husband not only uses the "Reader's Digest" as a source of knowledge, but as an engineer, he also uses the laws of physics. One of those laws is, roughly, "You don't get something for nothing."


Weeks, possibly months later, the three of us were again fishing. Luck was running with us; a weighty sailfish was already on board, and it was still early in the day. W H A M! A huge dorado hit my line. He hit a line that was baited with a tiny plume; El Capitán urgently reminded me of that and cautioned me to bring him in very carefully. With every leap he made, I felt fear that he would shake the hook and I would lose him. Carefully and slowly I played this fish like an expert. Finally I had him! El Capitán gaffed him successfully, gave him a knock or two on the head, and placed him in the huge fish box for safe keeping.


Now this fish box is no flimsy box. It also serves as a seat in the boat and has held the weight of many a hefty fisherman. El Capitán and Husband headed forward to attend to chores. I sat contentedly in the fishing chair, my face encased in smiles, my mind engrossed in thoughts of friends with whom I would share this bountiful catch.


C R A S H ! The top flew off the fish box, the dorado gave one gigantic leap straight into the air, and landed back in the water, where he majestically swam away! El Capitán ran forward, looked right into my eyes, which by now held big tears, and said with no hesitation, "Now we're even!"

---

Polly G. Vicars and her husband of 57 years, Hubert (a.k.a. "Husband") retired to Puerto Vallarta in 1988 and soon became active members of several charitable organizations. Polly is the author of "Tales of Retirement in Paradise: Life in Puerto Vallarta, Mexico" [a sell-out!] and "More Tales of Retirement in Puerto Vallarta and Around the World." Proceeds from the sale of her books go to the America-Mexico Foundation, a scholarship foundation that is their passion.

Click HERE for more articles by Polly Vicars.
Tell a Friend
•
Site Map
•
Print this Page
•
Email Us
•
Top