Tales of Retirement in Paradise
Chapter 9: Juans and Juanitas - México's Best Hope

Polly G. Vicars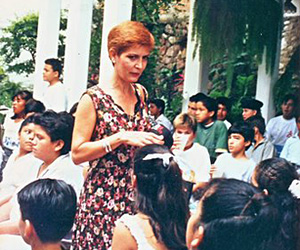 Member Carmen Contreas with the Scholarship Students at the 1991 Posada at the home of Angel and Judy Galeana.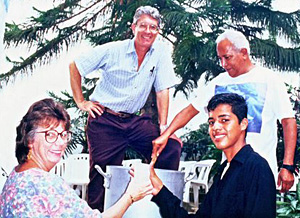 Judy Galeana, a Scholarship Student, Ron Walker and Angelo Galeana in the Galeana's patio at the 1991 Posada.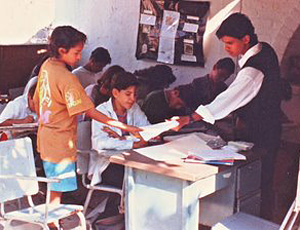 Juan Manuel in his make-shift classroom in 1991.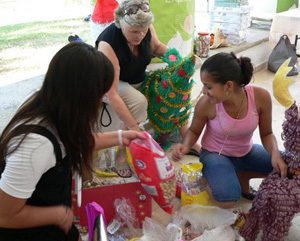 Member Margaret Tolton helps the scholarship girls fill the piñatas in the 2007 posada at Los Mangos Biblioteca.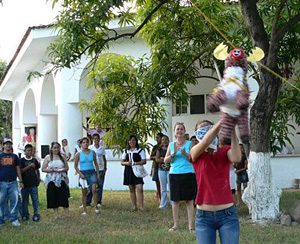 Treasurer Cuca Preciado watches as one of the gals tries to break open the piñata!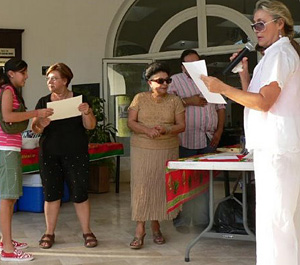 President Mariel de Fregoso and member Teresa Rhyssemus handing out the Mayor's Honor Awards at the 2007 posada.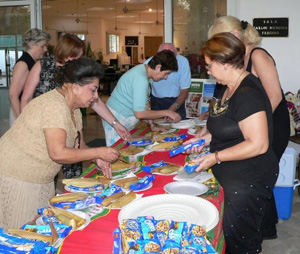 Members prepare the tamales and more for the 2007 Posada at Los Mangos.
To help you understand the joy we feel working with the young recipients of the AMF's scholarship program, I want you to meet them. Caution! This story may be hazardous to your checkbook. (Everything in this Tale is as true today as it was when I first wrote this Chapter and it still may be hazardous to your checkbook!)


They came scrubbed and dressed in their best. At first they were shy and quiet, but gradually they relaxed, and chatted among themselves. More than one hundred came, but the low noise level denied the number. They were bright, eager, polite, handsome and full of hopes and dreams.


Who are they? They are México's future! They are the intelligent, ambitious, scholarship boys and girls of Puerto Vallarta's America-México Foundation, Inc., a U.S.A. tax deductible foundation as defined in Section 501 (c)(3) of the Internal Revenue Code. The occasion was the annual fiesta for the students and the foundation members. (Now Becas Vallarta, A.C., the Mexican partner of the AMF is also tax deductible here in Mexico.)


There were awards from the Mayor of Puerto Vallarta for the highest of the honor students. There were words of encouragement from former scholarship recipients who are now school principals, newspaper columnists, artists, teachers - all successful, respected, active citizens. There were words of hope and wisdom from current scholarship students who are now in various universities throughout the country.


Strange, but touching conversations took place between the English speaking Foundation members and the Spanish speaking students. These conversations, filled with empathy and love, breached language and age barriers. And of course there was the traditional food and music present at any gathering of more than two in this hospitable country.

(That Posada was held at the spacious patio of Judy and Angelo Galeana. We have grown now to more than 300 students so our events are held at Los Mangos Biblioteca, a library that owes its life to AMF founder, Bernice Starr. The 2007 Posada was a fantastic event with all of the trappings of a real Posada, piñatas, tamales and all. This annual event is always held on the first Saturday of December to honor our scholarship students who work so hard to better themselves and to give them and our members a chance to interact. It is always a joyous occasion and you are invited this year!)

America-México Foundation - just another group of do-gooders with a fancy name talking a lot, but doing little? Not on your life! This is a group of dedicated Americans, Mexicans, and Canadians who put their money and their work where their mouths are.


This is an organization that has no salaries or travel allowances - in fact, it has almost no overhead at all! All work is contributed by Foundation members and their friends. Most supplies and services are begged or borrowed. Every dollar raised goes directly to pay for a book or a uniform or a bus ride for one of the becados (scholarship students.) Hundreds of Puerto Vallarta youngsters have reached their educational goals throughout the more than thirty years of effort put forth by this Foundation.

(By now, after almost fifty years, thousands of Vallarta youngsters have reached their goals and even though we have more than tripled the number of scholarship students, the foundation continues still using member's computers, printers, telephones, homes, etc., thus keeping our overhead to a bare minimum.)

Juan Manuel Carrillo Núñez is in his last year of prepa (senior high.) When he first received his scholarship, he wanted to be a doctor. That was fine with the Foundation members as they commit to paying one-half of a student's expenses, no matter to what level she/he aspires. (This has changed through the years as we now have a set amount for each level.)


A teacher friend of Juan's told him about a school he had started in Mismaloya, a tiny pueblo on the outskirts of Vallarta. This school, not yet official, will be taken over by the Mexican government when it reaches specified standards.


Until then, school is held in an abandoned restaurant, compliments of the owner, and the twenty-five or thirty students pay the teacher what they can. Juan visited the school one day - and found his vocation.


Each morning he rises before dawn, does his homework and boards the city bus for the eleven-mile ride to Mismaloya. There, from eight in the morning to two in the afternoon he teaches a class of about fifteen eager junior high students. Then he again buses back to Vallarta to attend his own classes at the Prepa Regional. Next year he plans to enter the University in Tepic to become a "real" teacher.


One of his junior high students had missed several classes, and was falling behind. Juan knew the boy could not catch up on his own, so he found a way to help him. He invited the student to stay in his home for evening tutoring. In a few days the student was back in step with his classmates, and back in his own home.


Last week, Bernice Starr, Juan's mentor and friend (and Foundation president) Husband, and I took the winding road to Mismaloya, and found Juan's classroom, a concrete shell with only three walls. Juan, writing on a makeshift blackboard, was teaching mathematics, and neither the class nor he were aware of our arrival.


So intent were they, the atmosphere was electric. Learning was taking place before our eyes. You could feel the rapport between this young apprentice teacher and his avid students. When he saw us, he stopped his class to warmly welcome Presidente Bernice and her friends.


His students were polite and interested in knowing why we'd come. Husband/photographer was snapping pictures, which they loved, and when he said he hoped to put their story and pictures in the local newspaper, they loved it. Until last year, these kids had no school. Now Juan's school makes them feel important and cared for, and it shows.


Juan is already repaying the pesos the Foundation gives to him for his schooling - tenfold. He is not unique! We have Juans and Juanitas that struggle daily, some against almost insurmountable odds, to get the education they'll need to seize the opportunities the 21st century will offer to them, to México and to the world. Young as they are, they know, for their democracy to grow and strengthen, the people must be educated. They strive every day to achieve that goal.

(Unfortunately we have lost touch with Juan, but I feel certain that he is somewhere in Mexico teaching young people how to learn and how to live. If anyone knows Juan, give me a call and maybe I will have another tale to tell. However, every year, it seems we have another "Juan" or "Juanita" step up and display incredible courage that inspires us all.)
---

Polly G. Vicars and her husband of 57 years, Hubert (a.k.a. "Husband") retired to Puerto Vallarta in 1988 and soon became active members of several charitable organizations. Polly is the author of "Tales of Retirement in Paradise: Life in Puerto Vallarta, Mexico" [a sell-out!] and "More Tales of Retirement in Puerto Vallarta and Around the World." Proceeds from the sale of her books go to the America-Mexico Foundation, a scholarship foundation that is their passion.

Click HERE for more articles by Polly Vicars.
Tell a Friend
•
Site Map
•
Print this Page
•
Email Us
•
Top