Vallarta Living | February 2008
ˇVive la SPCA de Puerto Vallarta!

Barbara Bode - PVNN



Hot tea, high fashion and warm hearts shared a special Valentine's Day at Puerta del Cielo in downtown Puerto Vallarta. Over 70 attended this sold-out event sponsored by La Sociedad Protectora y Compasiva por Los Animales de Puerto Vallarta. (Josef Kandoll W.)

Milagro, a petite white poodle wearing a bright red sweater scattered with white hearts and a red bow decorating her ear, perkily represented the spirit of the assembled supporters of La Sociedad Protectora y Compasiva por Los Animales de Puerto Vallarta, the SPCA de PV. The event was a High Tea held on the afternoon of Valentine's Day to raise funds to further the organization's good works.


Milagro, herself once abandoned to the streets like other animals of concern to the SPCA de PV, had recently adopted - or been adopted by - Janice Chatterton, Treasurer of the organization, who opened her stunning wedding and special events location, Puerta del Cielo, for the festivities.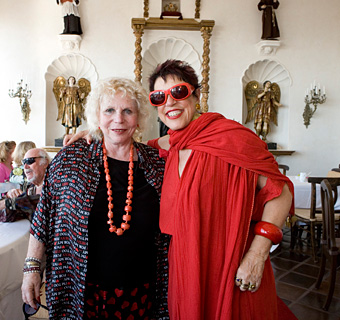 (Photos by Josef Kandoll W.)

The sold-out High Tea, enhanced by a fashion show and raffle courtesy of LOLA, and the silent auction were a great success. More than 40,000 pesos were raised that went directly into the coffers of the SPCA de PV. All expenses were underwritten by Janice Chatterton.


Some hundred enthusiasts sat at tables with breathtaking views of Banderas Bay, framed by the mountains and highlighted by the crown of Church of Guadalupe. It was the perfect setting for what someone termed a "deliciously decadent event."


And indeed it was delicious in every sense of the word. The luscious tea buffet of sweets and savories was catered by Hacienda San Angel Gourmet, the eponymous restaurant of Janice Chatterton's luxury boutique hotel across the street.


In accordance with the day, most of the attendees dressed in red; gorgeous red roses decorated each table and a red carpeted runway underscored the fashion show. Elegantly lithe models presented a range of audience-appropriate fashions from chic casuals to enticing evening gowns. Ooohs, ahhhs and applause greeted each of the designs from the high fashion shop, Los Caprichos de LOLA, whose energetic young owner, Liliana Joya Gutierrez, organized the show, donated a $5000 peso leather bag for the raffle and contributed 20% discount cards to each of the guests.


Liberia Gomez de Rodriguez, owner of Sebastian, donated her staff to handle hair-dos and makeup.


For the Silent Auction, seventeen local businesses contributed goods or services, including a painting by Steve Fisher; a gold necklace from Anthony Garzino jewelry; two days for two offered by the Westin Resort and Spa in Vallarta; skin peels by dermatologist Dr. Alma Vargas; a Marc Jacobs wallet donated by Blooming Value and a Pet Portrait by photographer Josef Kandoll W.


Lest supporters forget the purpose of all this glamour, darling puppies, dogs and kittens frolicked, sporting red ribbons and collar cards reading "Adopt Me," reminding all that they were looking for homes. They and others like them can be seen and adopted every Saturday morning from 10 am - 2 pm at Los Mangos Library. All are healthy and neutered or spayed.


Founded by a group of dedicated animal lovers, the SPCA de PV is overseen by a volunteer Board of Directors. Members are Cathy Gordon and Heather Wilson and officers are Secretary, Luz Wong; Treasurer, Janice Chatterton; and President, Gretchen DeWitt. None receive salaries.


The SPCA de PV depends on donations, monthly pledges and volunteers to meet their obligations. The financial records are open for inspection.


Interested in helping out or adopting a pet? Send an email to spcapv(at)gmail.com or visit their website spcapv.com for more information.
Tell a Friend
•
Site Map
•
Print this Page
•
Email Us
•
Top