If shopping is your bag
, Puerto Vallarta is a paradise where you'll always find something to surprise, amaze and delight you. There's no one specific shopping district in the Banderas Bay area . . . you might find what you're looking for in a tiny shop, boutique or art gallery on a back street - or in a large department store at one of the area's modern shopping centers.
On Calles Libertad
, Juarez and Morelos, small shops selling traditional Mexican apparel, folk art, and beachwear juxtapose with art galleries and boutiques offering original art, pottery and designer clothing at prices that are sure to make you "shop 'til you drop." And as far as shopping malls are concerned, Plaza Marina, Plaza Neptuno, Plaza Caracol and Paradise Village are packed with specialty stores selling clothing, jewelry, original art and home decor.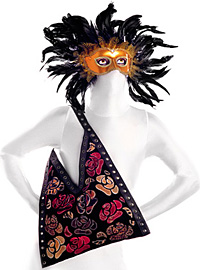 But for many savvy shoppers the real fun
begins when haggling with beach vendors, at street-side stands and in flea markets. Haggling is a common practice in Mexico, and in most cases, if you offer to pay about 40% less than the asking price, you'll end up paying somewhere between the initial amount and your counter offer. The only rule of the game is to maintain mutual respect while wavering between impulse and indifference.
The stalls and kiosks along
Cuale Island, in the Municipal Market and at the Pueblo Viejo Artisans' Market are also popular with visitors on the lookout for vacation souvenirs at bargain prices. The owners of these shops are always ready to bargain, so take an unhurried look around, fall into the temptation and buy, buy, buy!
Shopping in Puerto Vallarta
has a somewhat different focus for residents and long-term visitors than it does for tourists - centering more on every day necessities and all the "must do" chores of daily life. Unlike most other resort destinations, you can find stores and supermarkets all around Banderas Bay that cater to locals rather than tourists.
On almost every street you'll find
stores selling hardware, furniture, kitchenware, appliances, groceries, and just about anything else you can possibly imagine. Most stores stock international brands in addition to regional products at reasonable prices. And, if you just can't find what you're looking for - there's always Home Depot, Costco, Sam's Club or Walmart...
Click HERE to learn more about some of the many art galleries in Puerto Vallarta.
• B E L O W T H E F O L D •
Walmart Mexico Takes on Amazon with Same-Day Delivery

BanderasNews.com
Walmart stores in Mexico now provide delivery within three hours for certain home and tech products ordered online. The new service, called 'On Demand,' covers approximately 12,000 products, among them laptops, cell phones, televisions and small appliances, delivered within three hours.
---
Mexican Vanilla Extract: Pure or Imitation?

Sandra Cesca
Vanilla beans cultivated around the world originally came from Mexico. When Cortés came to conquer Mexico in 1519, he sent samples of the vanilla orchid back to Spain, where they eventually spread to other countries. But how can you tell if vanilla extract is pure or imitation?
---
Décor Trends: Las Vegas Market Showcases Resort Style

Crate Interiors
The CRATE Interiors team has just returned from the Las Vegas Summer Market, where they were on the look-out for the latest furniture and design trends that will give Puerto Vallarta homebuyers and investors a competitive edge in the Banderas Bay area's growing real estate market.
---
OPC Pop-Up Store to Showcase Puerto Vallarta Designers

Marie Callan
On Saturday, August 31, the Oficina de Proyectos Culturales, will team up with local clothing brand Hilo y El Mar to present a Pop-Up Store that gives residents and visitors the opportunity to buy art, clothing, accessories and jewelry made by some of the city's best artists and designers.
---
Galleria Dante End of Summer News and Art Sale

Claire Guarniere
Summer news from Galleria Dante, the largest and most eclectic art gallery in Puerto Vallarta. Read all about the gallery renovations; Dante's Summer Art Sale, with prices reduced 20-50% through September 30th; and the 2019-2020 season art workshops and South Side Shuffle dates.
---
Got a Summer Closing? Claiming Your $2,500 is a Breeze!

CRATE Interiors
Serious real estate buyers know summer is the time to make serious property investments in Puerto Vallarta. To celebrate our summertime investors, CRATE Interiors is offering a cool $2,500 Design Credit towards furnishings packages on all summer closings completed through August 30, 2019.
---
Meet the Mexican Willy Wonka in Puerto Vallarta

Sandra Cesca
The always smiling Jesus, whose nickname is 'Willy Wonka,' and I became friends at least 10 years ago when I started to bring people to one of his family's Puerto Vallarta 'dulcerias' to taste his many yummy products. Caramelized nuts, not chocolate, are his specialty.
---
Ikea Plans to Open First Mexico Store in 2020

Reuters
IKEA, the world's largest furniture seller, will open its first store in Mexico City next year and plans to launch other stores around the country. The Swedish chain known for its modern and inexpensive furnishing designs also plans to sell its products online.
---
Mexico's 'Hot Sale' Offers Online Deals & Discounts

BanderasNews.com
From May 27-31, some of Mexico's largest online retail companies and e-commerce sites will participate in the country's biggest Internet shopping event. The annual 'Hot Sale,' a four-day version of 'Cyber Monday,' offers online shoppers incredible discounts and deals.
---
Discover The Miracle of 'Milagros' in Puerto Vallarta

Sandra Cesca
I was walking by this shop in downtown Puerto Vallarta when I was attracted to the hundreds of wooden shapes hanging on the walls. Turns out they were 'milagros,' which means 'miracles' in Spanish, and they have been used for over 4000 years as a way to express gratitude.
---
Villa Premiere Art Gallery Supports PV Orchestra School

BanderasNews.com
A weekly event whose main objective is to support and promote the culture of Puerto Vallarta, 'Art Gallery by Villa Premiere Boutique Hotel' is an initiative that showcases the work of local artists, while supporting the Orchestra School of Puerto Vallarta.
---
Discovering Indigenous Art in Puerto Vallarta

Sandra Cesca
Mexico has long been known for its talented artists and craftsmen. Some techniques date back hundreds of years. Many shops and galleries in Puerto Vallarta carry these beautiful, handmade pieces, some examples of which can be seen on some of my walking tours.
---
Mexico's Top Corner Stores Tap into Corona, Pacifico

Reuters
Mexican bottler and retailer Femsa will start selling popular national beers, including Corona and Pacifico, at Oxxo stores, Mexico's biggest convenience store chain in April. Sales will begin in Mexico City and Guadalajara and spread to stores nationwide by the end of 2022.
---