Chihuahua Stars Rushed to Rescue Pampered Pooches

World Entertainment News
go to original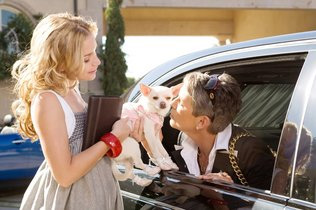 Piper Perabo, left, and Jamie Lee Curtis star in "Beverly Hills Chihuahua" – along with lots of talking canines. (Daniel Daza)

Actress Piper Perabo and the cast of new family film Beverly Hills Chihuahua turned into dog rescuers on the set of the film when floods threatened to drown their pampered pooch co-stars.


Heavy rains in Puerto Vallarta, Mexico, where much of the movie was shot, sparked an emergency for the human cast and crew of the film - because the movie pets couldn't swim to safety.


Perabo explains, "The rains flooded the trailer and everyone was trying to scoop up the dogs because the humans can run but they were worried the dogs in some trailers would drown."


"It was chaos because, all of a sudden, it was like, 'Who cares about the set, who cares about the trailers.' People were carrying dogs to make sure that they were all accounted for."