Americas & Beyond | November 2008
Peru Offers National Hairless Dog to Obamas

Associated Press
go to original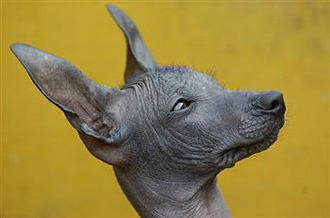 A four-month-old puppy called "Machu Picchu" is seen in Lima, Tuesday, Nov. 11, 2008. The owners of the animal, a Peruvian Hairless Dog, have offered it to U.S. President-elect Barack Obama. Obama has promised his daughters a new pet for the White House but one of them is allergic to most breeds. The owners of the Peruvian Hairless Dog say it is perfect for kids who are sensitive to dogs. (AP/Karel Navarro)

Lima, Peru — Completely bald and older than the Incas, the Peruvian hairless dog seems like an odd fit for the White House.


But Peruvians are mindful of President-elect Barack Obama's preference for a hypoallergenic breed due to his daughter Malia's allergies - and say the dark, rough-skinned pooch with large ears and a pointy snout could be just the solution.


At his first postelection news conference on Friday, Obama said choosing a pet dog for his daughters is a "major issue."


"It has to be hypoallergenic. On the other hand, our preference would be to get a shelter dog, but a lot of shelter dogs are mutts like me," the president-elect said.


The Friends of the Peruvian Hairless Dog Association responded on Monday, sending a letter to the U.S. Embassy in Peru offering the Obama family a 4-month-old pup that responds to "Machu Picchu," the name of Peru's famed Inca citadel.


"My family also has suffered from ... not being able to have a pet because my son and I are asthmatic, so we thought it would be ideal for him (Obama) to have a dog like ours," said association president Claudia Galvez.


Galvez, who has lived with six dogs of the breed for eight years, says being hairless has its benefits: The dogs are flealess and relatively odorless, too.


They were kept as pets during the Inca empire and depictions of the breed appear in 1,200-year-old, pre-Inca artwork.


The hairless dog was long scorned for its appearance before it was recognized internationally as the official Peruvian dog.
Tell a Friend
•
Site Map
•
Print this Page
•
Email Us
•
Top