Vallarta Living | August 2009
August 2009 PEACE News & Clinic Updates

Gretchen DeWitt - PVNN
There's lots going on at PEACE this summer. Here's what happened at the PEACE/Ayuda a los Animales mobile spay and neuter clinic that took place in Las Palmas Nayarit from August 18-21:

We drove along the same paved country road that we took last week to El Colorado - past fields with cattle grazing and horses flicking their tails under grey skies. The road slowly ascends east past El Colorado to Las Palmas, perched on top of a hill looking up at the Sierra Madres and down at the lush expanse of the verdant tree-filled Valle de Banderas.


We passed a saddled and tethered horses swaying back and forth in front of a peeling two-toned blue wall... small cement homes... an occasional ranchero riding through town on his horse...babies and children sprinkled everywhere... and in the center town... two dozen palm trees planted around the plaza.


The clinic was set up in an office opposite the central plaza. The white scalloped bandstand was used for the the recovery area, which provided shade and access to occasional breezes for the animals and volunteers.


Pam Wunsch, who drove up with Cathy Gordon and me, monitored the cats and kittens post-op. Temperatures are taken, heartbeat and respiration checked and felines turned on their sides every 15 minutes. Pam saw three cats with their whiskers burned off, an unfortuante practice. Whiskers are radar for cats and without them, they can't as easily jump up on screen doors or on furniture.


Cathy Gordon registered people's pets, helped get them into kennels pre- and post- surgery and assisted whomever needed help. I walked the clean, cobbled streets calling into the open doors - unless everyone is out, no one closes the doors in this heat, to see if people had pets they wanted sterilized, dewormed and treated for fleas and tickets. "Servicio Completo."


One family said they had a conejo-gato, a "rabbit-cat," and invited me inside to see it. It was a very pretty, fat brown cat with enormous blue eyes and a very short bunny-like tail. They told me the bunny-cat hopped, and laughed when I said my husband did too. After being inspected, the cat slowly waddled into a back room.


An old ranchero wearing a torn straw hat and missing most of his teeth sat in front of his home on a wooden chair. He took me inside to see two Siamese-mix cats that he said he wanted fixed. As he had no car and no kennel or box, I walked back to the plaza to get a car. When I returned, his adult daughter had arrived home and said she wanted the cats to have kittens, so they "wouldn't be lonely."


There were other instances of people they said they wanted their pets to "know what it was like to be a mother," or wanted their pet to have "just one litter." They're not thinking about where the litters will go or the generations of litters that will follow.


Thursday was a great day - about 25 animals were sterilized. When we left about 4, people had arrived with their cats in their arms and dogs on cords or ropes who wanted them to be spayed and neutered. There was no time left, so hopefully they went back Friday.


Sterilizations at Las Palmas Clinic - August 18-21


Female cats: 13; Male cats: 8; Female dogs: 21; Male dogs: 6 - Total: 48


On our way home, we stopped off at Alejandro Romero Drellano's beautiful and expansive property in El Colorado. In the middle of the land was a small concrete home painted the color of the sun. A handsome German Shepherd sat in front of the wooden door next to a black and white cat.


My breath was taken away by the two gargantuan parota trees next to the house. Their branches reach up and spread themselves to form an ethereal canopy. I have never seen such enormous or gorgeous parotas. In the front yard, surrounded by trees and potted tropical plants, there wasn't even stray leaf on the raked ground. We saw several immaculate, fenced in areas with cats and dogs in them. Cathy saw what she thought were a couple of pelts over a wooden gate, but they were furry cats taking a siesta in the last of the afternoon sun.


Alejandro wasn't home, but his godson, "Beto," was there. He ran across the dirt road to give me a hug, shake hands with Cathy and Mary whom he hadn't seen before and helped unload Cathy's mini SUV, which was filled with bags and boxes of donations. We'll go back again when we have more.


MONEY RAISED: The San Diego Humane Society's "Fur Ball" held on August 15th was a big success. There was a high bid at the silent auction of $3250 USD for 2 nights at Villa Mandarinas, featured in the current issue of Architectural Digest. The donation to PEACE was made by good friend Gabriela Garcia and her architect husband, Alberto Alvarez, owners of the villa.


Half of the high bid figure, $1625 USD, pays for more than a week's free clinic in Puerto Vallarta. With this latest amount raised, there is now funding for five months of clinics, with about $300 left over to apply to a sixth month. Cost per one-month clinic = $4800 USD.


RESCUED: A blue footed booby bird. Lalo de la Barrera was out on the bay in his boat last week and spotted a blue footed booby swimming swimming close by. He was curious and followed it to the beach, where he discovered that it had a broken wing. Lalo took it home with him and left tuna for it on his balcony next to the hot tub.


Strangely,the bird came inside his apartment that night and slept near the bed. Three days later, Lalo contacted a friend who volunteers to help save the endangered jaguars. The friend gave him the phone number of Dr. Armando Rubio, a vet who devoted to saving crocodiles. At midnight, Dr. Rubio returned Lalo's call and picked up the booby at 1 am. Being passionate about wildlife will help to save it. Click HERE to see Dr. Rubio's crocodile rescues.


ADOPTIONS: PV Animal, under the auspices of the Patronato del Centro de Acopio and thanks to its tireless advocate, Silvia Alvarez, the rescue organization has just been given permission to hold adoptions whenever they like at the Plaza Marina. If you have rescued an animal, you are welcome to sit with it there to interview prospective new owners. No pets will be accepted as drop-offs. And no one is allowed to charge or ask for any donations. If you speak Spanish, you can check the schedule by calling Silvia at 044-322-227-5519, or email silvialvarezb(at)hotmail.com.


DONATIONS: One night at the Hacienda San Angel. Cathy Gordon guessed the day in July with the most rain - July 27th at Rivera Cuale's event. Prize was two nights at the Hacienda. Cathy donated one night to PEACE, which will be used in the Porchlight Theatre's fundraiser with auction on August 30th in Sonoma, and the other to the SPCA de PV.


After leaving Las Palmas clinic late Thursday afternoon, Cathy Gordon, Pam Wunsch and I dropped off the following donations at the home of Alejandro Romero Drellano, the gentleman caring for 40 dogs and 40 cats in El Colorado: 1-18 kilo bag of Kirkland dog food - Patty Marchak; 11 kilo bag of Kirkland puppy food - Barbara Drucker; Patty Marchak had also donated two big bags of used clothing; Pam Wunsch donated two large boxes of used clothing and I donated an 11 kilo bag of Kirkland cat food and two big bags of used clothing and kitchen utensils. He will be able to sell all these items and pay for some of the costs of keeping all these animals.


Alma Cardena donated a very nice used tent called EZ-UP Shelter to be used at PEACE outdoor clinics and events.


PEACE CLINICS


IMPORTANT: Schedule change - Beginning immediately, clinics will take place Wednesday through Saturday.


FOR ALL CLINICS - We need volunteers. If you are volunteering or taking a pet for surgery, please take Paulina's (044-322-102-3327) and Lalo's (044-322-141-1031) telephone numbers with you in case you get lost. Either one can help you with directions.


Locations, with the exception of Basurero, all close to the main plaza.


August
26-29 - Mojoneras


September
2-5 - Basurero*
9-12 - Magisterio
16-19 - Paso Ancho
23-26 - 5 de Mayo


*Calle Guayule #583 Col. Bosques del Progreso II, entre 16 de Sept. y 20 de Nov. (dσnde se hicieron los contratos de drenaje)
---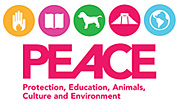 A Banderas Bay non-profit organization, PEACE acts as an umbrella organization for four charitable programs, Casa Comunidad, Ayuda Los Animales (Help The Animals), a Women's Co-Op (Manos de Mujeres Unidas) and Community Pride. It is a U.S. non-profit 501(c)(3) organization, which accepts tax-deductible donations and a Mexican Civil Association that issues facturas for donations. For more information, please visit PeaceMexico.org or click HERE to read more about PEACE
Tell a Friend
•
Site Map
•
Print this Page
•
Email Us
•
Top