Vallarta Living | October 2009
Halloween Pet Parade, Saturday, Oct. 31

Pegeen White - PVNN
October 27, 2009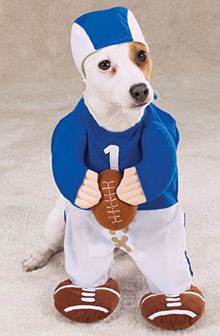 Join us at Epoca Restaurant on October 31 at 5 pm for the First Annual SPCA-PV Pet Parade.
Puerto Vallarta - I recently met the group that meets in front of Molino de Agua every morning to exercise their dogs. They welcomed my dogs and me, as they welcome everybody. One of the folks, Jorge Gonzalez, was showing up with his two dogs and a plastic bag that I eventually realized held dog costumes he was making.


He would take a piece out and try it on one of the dogs to see if it would fit. A plaid skirt, some kind of Scotch Highlander costume for a black dog named Bella. Another time, he took a Robin Hood hat out, complete with feather, and fitted it on one of the dogs. Perfect characterization. This dog had the look. The Robin Hood look.


I mentioned to Jorge in passing that my little foot-long wire-haired terrier mix reminded me of a little cartoon super-hero. When I first got Buddy, I realized he was an escape artist. One time I caught him taking two trial lunges at a six-foot fence, third try he was at the top, going over.


I have one of those metal gates so common here, with a solid two-foot bottom and then the rods above, probably 4 inches apart. Buddy typically leaps into the air and makes a dive through those rods when I am letting him out in the morning. I told Jorge this, and that I always visualize Buddy in a cape. A super-hero cape. A few days later I found out that Jorge had quietly begun making this cape for Buddy. I didn't ask him to do this. He's been doing all this for all these dogs out of the goodness of his heart.


It's a version of "If you build it, they will come."


If you make costumes for dogs, there will be a pet parade on Halloween in Puerto Vallarta. Thanks to the amazing love and generosity of Jorge Gonzalez. The group of dog-lovers suggested involving SPCA-PV as an awareness, fund-raising event. So here we are.


Come down to Epoca at the end of Aquiles Serdan in Zona Romantica on Los Muertos Beach, with or without a pet in costume Saturday, Oct. 31, and enjoy the fun. It's a last minute, spontaneous event instigated by dog lovers for dog lovers; it's our First Annual SPCA-PV Pet Parade and it is going to be an exciting and happy time.


Learn more about the good work the SPCA-PV is doing rescuing, sterilizing and caring for dogs and cats until we find them good homes. We are an all-volunteer organization. All money donated goes directly and only to pay for the care of the animals we rescue, house and keep healthy and happy at the Casita de Guadalupe and in foster homes until they are adopted by loving families.


The parade will leave from Epoca Restaurant at 5 p.m. and move toward the River Cuale Bridge, over the bridge, and toward Los Arcos on the Malecón. We will stop before we reach the main Malecón, however, as police are not allowing people to walk their dogs on leashes there anymore.


We'll return to Epoca along the same route, in time to enjoy the sunset and cocktails, perhaps some delicious "Nuevo Latino" cuisine, and the sight of animals (and people) all dressed up for a Halloween night on the town.


If you're happy we had a First Annual Pet Parade, buy a SPCA t-shirt or drop some money in our donation box.


For dinner reservations at Epoca, call (322) 222-2510. To take a look at their menu, contact epoca-pv.com.
Tell a Friend
•
Site Map
•
Print this Page
•
Email Us
•
Top