2010 Painting Workshop Exhibition Benefits the SPCA - Puerto Vallarta

Mary Ellis - PVNN
January 30, 2010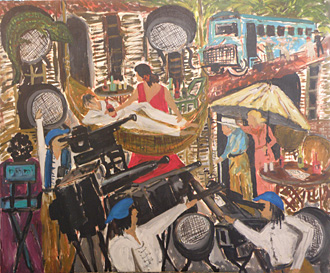 Click image to enlarge
Night of the Iguana by Lucille Shipley
Director Lucille Shipley and her workshop participants are holding their annual workshop exhibition on Saturday & Sunday February 13th & 14th 2-6 pm at the workshop studio on Calle Zaragoza #414, next door to the Casa Kimberley pink bridge, in the Gringo Gulch neighborhood of Puerto Vallarta.


10% of ALL sales will be donated to the SPCA - Puerto Vallarta.


The artists: Pat Adair, Janice Beck, Brenda Bray, Janet Brose, Charlotte Kurtz, Mary Ellis, Cindy Fields, Amanda McGean, Edwige Pelletier, Suan Pierce, Shirley Preston, Mila Saunders, Cassandra Shaw, Lucille Shipley, Shirley Smith, Heidi Snowden, Robbin Richardson, Claire Wagner and Gloria Whiting are very pleased to support the SPCA - PV.


There is artwork to suit all tastes and budgets so come and see some wonderful art, talk with the "Maestra" and her workshop artists and perhaps pick up that perfect piece of art for your casa, while helping to provide support for the SPCA - Puerto Vallarta.


For more information call Workshop Director Lucille Shipley at (322) 222-1697 or Assistant Director Cassandra Shaw at 044-322-227-1864.

The mission of SPCA de PV is to help fund and promote sterilization, adoption and healthcare efforts for companion animals in the Puerto Vallarta area, with the goal of eliminating the euthanasia of healthy and adoptable animals. Monies raised will support these various goals in ways that are most feasible within the community. For more information, visit spcapv.com.