Vallarta Living
More Pet Heaven Improvements - A Kitten Nursery!

Julie Bunker - petheavenmx.org
February 23, 2010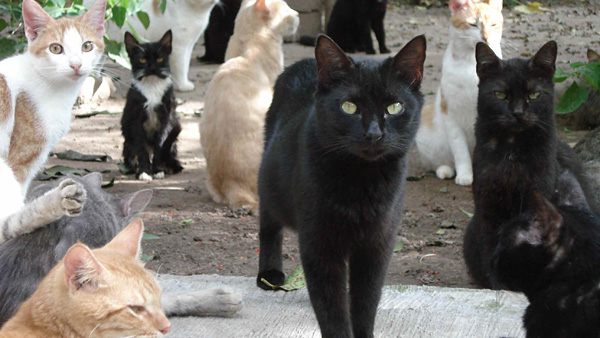 To learn how you can help fund the Pet Heaven Kitten Nursery, visit PetHeavenMx.org.
Imagine placing fragile, scared and often immune deficient kittens within a population of adult cats of all sizes, shapes, colors... and temperaments. Introducing kittens into an adult mix can be a recipe for disaster. The baby kittens get sick and many suffer terribly – this due to the well-known fact that adult cats can carry any variety of ailments that lie dormant for long periods of time.


Kittens often can't fight off the various germs and end up with disfiguring eye infections – some even fatal - as well as painful skin diseases, etc., etc. If you have ever seen a group of kittens that don't romp and play – well, it's heartbreaking.


Pet Heaven is a no-kill cat shelter located just outside of Puerto Vallarta on a 1/2 acre parcel of land. It's adult population of cats roam free within its lush green gardens. There are also areas on the covered porch of the ranch style house on the land where the adults can sleep away the hours snuggled up together.


But Pet Heaven's owner, Gary Phillips, knew there were some missing elements within his shelter when he purchased it in 2009, and the time has come to make the necessary modifications.


You may have read our last article announcing the ground-breaking of our new, on-site clinic. We are proud to announce that the clinic remodeling has been completed, and our loyal and tireless volunteers are to be commended!


We now need to stock the clinic with the basic meds, supplies, instruments, etc. And once stocked, our first surgeries will include sterilizations of some of our newer residents, as well as 3 dental surgeries for Macho, Chita, and Negrita.


Of course Pet Heaven spays and neuters its cats. But cats will be cats – and there are a few feline visitors who have found their way into the shelter just at "delivery time" leaving precious, tiny kittens on our grounds.


So what's next? ...Our Kitten Nursery!


This project, which we have already begun, is the remodeling of one of the bungalows on the land into a home "for kittens only". The plans include an indoor area where these babies can nestle down into baskets lined with warm towels to sleep, as well as a little yard area where the kittens can actually be outside, see the adult cats, but NOT be in contact with them due to double fencing. When a kitten in this area reaches the age of 6 months old, it will graduate out – and into the adult population.


Our in-progress Kitten Nursery is one that we know will touch the hearts of many of you – because after all, there are not many things more precious and appealing in this world than warm, cuddly kittens. As always, we invite you to be a part of our Kitten Nursery project by donating.


We need your help and support – and what better way to become involved than to help fund the Pet Heaven Kitten Nursery. Donations can be earmarked to be used either towards the construction of our Kitten Nursery – or towards purchasing the necessary stock of goods for our clinic so that we can begin our much needed surgeries.


Tax deductible donations (US) can be made by mailing your US dollar check to PET HEAVEN, INC. 7955 E. Chaparral #24, Scottsdale, Arizona 85250, via Pay Pal on the PetHeavenMx.org website, or by contacting the administrator of Pet Heaven, Julie Bunker at 044-322-171-8193 or julievallarta(at)gmail.com.


Both monetary donations as well as donations of dry cat food are most welcome – and much appreciated. If you'd like to see our facility and our needs first hand, use the information above to contact Julie. You won't be sorry - It's quite an experience to see so many felines in one place!
Tell a Friend
•
Site Map
•
Print this Page
•
Email Us
•
Top