Americas & Beyond
Family Branches Tie Obama, Palin, Limbaugh

UPI
go to original
October 14, 2010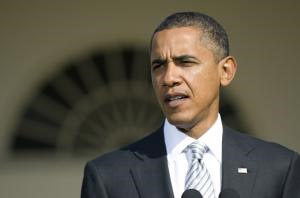 President Obama speaks on transportation infrastructure in Washington. (UPI/Kevin Dietsch)
Provo, Utah - The family tree for U.S. President Obama shows he's related - distantly - to two of his harshest critics, Sarah Palin and Rush Limbaugh, Ancestry.com said.


Obama and Palin - the Republican vice presidential nominee in 2008 - are 10th cousins, related by a common ancestor named John Smith, the family history resource based in Provo, Utah, said on its Web site Wednesday.


Richard Terrell is the common link between Obama and conservative talk show host Limbaugh, who are actually 10th cousins once removed.


In another instance of quirkiness, Ancestry.com researchers said Palin, Senate Majority Leader Harry Reid and conservative author Ann Coulter are cousins through Englishman John Lathrop, exiled to the United States for becoming a minister of an illegal independent church.


Obama's family tree also extends to former President George W. Bush, Ancestry.com said. The two are 11th cousins through common ancestor Samuel Hinckley.


"It is not unusual," Ancestry.com genealogist Anastasia Tyler said, "to find family members on different ends of the political spectrum. This election season is an ideal time to look into the family trees of our candidates and their critics to learn more about the ties that make them all part of this great country."

Tell a Friend
•
Site Map
•
Print this Page
•
Email Us
•
Top