Technology News
Improved Car Batteries 5 Years Off: Energy Chief

Timothy Gardner - Reuters
go to original
December 07, 2010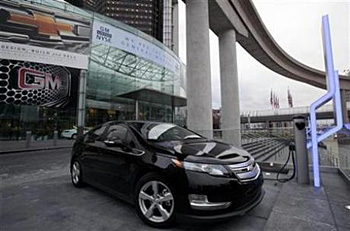 A Chevrolet Volt electric vehicle sits plugged into a charging station in front of General Motors world headquarters with a banner announcing GM's return to the New York Stock Exchange (NYSE) in Detroit, Michigan November 18, 2010. (Reuters/Rebecca Cook)
Cancun, Mexico - Cars that run on batteries will begin to be competitive with ones that burn petroleum fuels in about five years, the U.S. energy secretary said at the annual U.N. climate talks.


"It's not like it's 10 years off," Secretary Steven Chu said at a press conference on U.S. clean energy efforts on the sidelines of the climate talks. "It's about five years and it could be sooner. Meanwhile, the batteries we do have today are soon going to get better by a factor of two," said Chu, a Nobel Prize-winning physicist.


Chu is one of three Obama administration officials that will briefly visit the talks among 190 countries being held at a Mexican beach resort through December 10. Agriculture Secretary Tom Vilsack and Nancy Sutley, the head of the White House's Council on Environmental Quality, are the other two.


Chu's Department of Energy, or DOE, is supporting several approaches seeking to improve car batteries. A battery race has developed between U.S. companies like Massachusetts-based A123 and ones in Asia, like China's BYD, of which Warren Buffett's Berkshire Hathaway owns 10 percent.


South Korea's LG Chem is supplying General Motors with batteries for the automaker's electric Volt car.


Petroleum-powered transportation emits about a third of the world's greenhouse gases. Scientists say battery-powered cars reduce emissions of carbon dioxide, even if they are powered by coal-burning power plants. As more natural gas-fired plants are built, they will become even cleaner.


Right now electric cars do not go as far as ones powered by internal combustion engines, which could limit sales if there are no improvements.


Even so, GM said last month it is stepping up production of the Volt to meet "huge demand," without giving details. GM had planned to build 10,00 Volts in 2011 and 45,000 in 2012.


Chu said car battery companies have to develop units that last 15 years, improve energy storage capacity by a factor of five to seven, and cut costs by about a factor of three in order to be make electric cars comparable to cars that run on gasoline and diesel.


While the technology may improve, it is not certain that there will be ample materials to build the batteries to support a massive move to such cars.


BYD is looking for new sources of lithium, an important ingredient in advanced batteries. Lithium supply is expected to be tight by 2050 if drivers give up their cars and go for battery-powered cars, according to a European Commission study of raw materials for high technology goods.


One unit of the U.S. DOE called the Advanced Research Projects Agency-Energy is making investments in batteries and other technologies considered too risky for the private sector, but that have big potential.


Chu said if one out of every 10 projects in that program, which received $400 million from President Barack Obama's economic stimulus package, made it into the market, they could help the world improve energy security and cut emissions.


(Reporting by Timothy Gardner; Editing by Sofina Mirza-Reid and Richard Chang)

Tell a Friend
•
Site Map
•
Print this Page
•
Email Us
•
Top