Technology News
Google Opens World's Forests for All To See

Suzanne Bohan - Contra Costa Times
go to original
December 21, 2010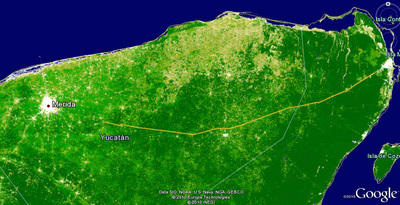 This satellite imagery, available on Google Earth Engine, shows a forest cover and water map of the southern portion of Mexico, including the Yucatan peninsula. (Dave Campbell)
Cancun, Mexico — With Google's new Earth Engine, anyone will be able to view forest conditions worldwide.


When it launches next year, the online tool will provide satellite imagery of forests and will reveal where these woodlands have been razed or degraded by logging.


With Earth Engine, small nations, nonprofit groups, independent researchers and everyone else will be able to assess an environmental crisis of growing magnitude: deforestation. No longer will these groups have to rely on a handful of distant academic or government labs to access the information.


"It's transformational," said Greg Asner, a scientist with the Carnegie Institution for Science at Stanford University, shortly after he described the application Dec. 2 at the United Nation's climate summit in Cancun, Mexico, which ended Friday.


Asner flew to this resort city to announce the successful download of 26 years of data from Landsat, the oldest Earth-observing satellite, into Google's computers. By next year, Asner expects that software he developed for monitoring deforestation will be integrated into Google Earth Engine for public use. Anyone with Internet access will have a free view of forest conditions dating as far back as 1984.


There has been a "disconnect," Asner said, between available woodlands data and what many organizations and smaller nations need to monitor conditions. This information gap comes at a time when precise information on the world's forests is more critical than ever.


The logging and burning of forests accounts for the release of about 15 percent of greenhouse gas emissions annually. Each year, 32 million acres of tropical forest - an area the size of Greece - are cut down.


Asner timed his Cancun arrival to convey an encouraging message to the climate change summit delegates from more than 190 countries laboring over difficult negotiations.


One key debate was over an initiative to reverse the loss of forestlands, which absorb carbon dioxide, the principle greenhouse gas. The proposal is called REDD; it stands for Reducing Emissions from Deforestation and Forest Degradation. The initiative would oblige wealthy countries, which have emitted most of the heat-trapping greenhouse gases now blamed for a 1.33-degree Fahrenheit rise in average global temperatures in the 20th century, to fund efforts in developing nations to restore and preserve forests.


But during the U.N. talks a number of countries, including the United States, balked, saying that there needs to be a reliable way to monitor and verify that forests in countries receiving these funds are indeed being saved or restored.


With Google Earth Engine, developing countries can establish forest-monitoring programs at an affordable cost.


"This is one of the biggest challenges for developing countries," Jose Carlos Fernandez, director of international relations for the Mexican National Forestry Commission, said in a phone interview.


Fernandez worked with Asner and other leading satellite scientists, including Matt Hansen of South Dakota State University and Carlos Souza of the Brazilian nonprofit Imazon, to develop Google Earth Engine.


The Mexican forestry commission has ample data about on-the-ground conditions in Mexico's tropical forests, Fernandez said, and that was used to calibrate and verify the accuracy of the satellite data's observations about forest loss and degradation.


Monitoring degraded forests, such as those blighted by insects or partially logged, is also critical, Asner said. These lands have significantly reduced the capacity to absorb carbon dioxide.


Google.org, the philanthropic arm of the Mountain View-based search engine giant, is funding the program, with contributions from the Gordon and Betty Moore Foundation in Palo Alto.


"It's part of our broader effort to build a more sustainable future," Rebecca Moore, engineering manager for Google Earth Engine, wrote in a statement.


Google.org is also donating to developing countries 10 million computing hours per year for the next two years to apply Earth Engine beyond just viewing satellite images. The data will be processed with a "cloud computing" system - a network of thousands of computers - for mind-boggling processing speed.


For example, Earth Engine has generated the most refined image to date of Mexican forests and waterways, allowing a clearer understanding of environmental conditions. It required 15,000 hours of computation, but was done in less than a day using Google's computing network.


Once it's ready for public use in 2011, Asner said, the conditions of the world's forests may also become a more personal matter to the masses.


"I'm hoping it's a really important step to help people understand the challenges we're facing," he said.

Tell a Friend
•
Site Map
•
Print this Page
•
Email Us
•
Top