Technology News
FCC Approves Net Neutrality Rules, but Reform Groups Unsatisfied

Nadia Prupis - t r u t h o u t
go to original
December 21, 2010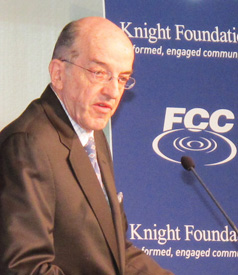 FCC Commissioner Michael J. Copps issued a statement on Monday in support of net neutrality regulations that will be voted on today. (Knight Foundation)
In a 3-2 vote Tuesday, the Federal Communications Commission (FCC) approved net neutrality regulations that will ensure cable companies provide consumers with equal access to legal web sites and content.


The rules are less stringent for wireless network providers like AT&T and Verizon, allowing them to block applications and services that do not directly compete with them.


Part of the plan also requires that both wireless and broadband providers be transparent in their network management.


Media reform groups and politicians across the spectrum have opposed the plan since the FCC took over the debate earlier this year. In April, an appeals court also cast doubt on the FCC's ability to regulate the Internet, throwing out its 2008 cease and desist against Comcast for slowing and ending BitTorrent transfers.


At the time, the court ruled that the FCC did not have the authority to prevent cable companies from abusing their power, leading net neutrality advocates to pressure the agency into reclassifying Internet providers as "common carriers." Under those regulations, the FCC would be able to monitor and enforce neutrality rules. Today's approved plan does not reclassify the Internet as a common carrier.


Consumer watchdog organization Free Press called the order a "squandered opportunity." Managing Director Craig Aaron stated, "The new rules are riddled with loopholes ... these rules don't do enough to stop the phone and cable companies from dividing the Internet into fast and slow lanes, and they fail to protect wireless users from discrimination."


Sen. Al Franken (D-Minnesota) spoke out against the impending regulations Saturday, stating on the Senate floor, "If corporations are allowed to prioritize content on the Internet ... there is nothing to prevent those same corporations from censoring political speech."


Comcast also received negative attention earlier this year when Netflix partner Level 3 Communications and wireless modem manufacturer Zoom Telephonics filed complaints against the company for unfair practices.


Comcast allegedly charged Level 3 a fee for delivering streaming video to Netflix and threatened to block access to its services if the company did not pay. Zoom also accused Comcast of violating existing FCC regulations by preventing consumers from using third-party modems to connect to Comcast's network. Level 3 chief legal officer Thomas Stortz said at the time, "Comcast demonstrates the risk of a 'closed' Internet, where a retail broadband Internet access provider decides whether and how their subscribers interact with content."


A coalition of satellite and Internet-based companies including Netflix, Dish Network and Skype met with the FCC earlier this month to discuss whether the agency's proposal is enough to ensure an open and free Internet. Their concern included whether Internet service providers will be able to "exploit their dominant position and favor their own content and services, or those of select paying partners," Reuters reported the group stating in a letter. Paid prioritization is "an unjust and unreasonable form of discrimination."


The FCC vote also precedes the agency's highly anticipated review of a possible NBC-Comcast merger, which would create a conglomerate controlling broadcast Internet, cable, movie studios and theme parks.

Tell a Friend
•
Site Map
•
Print this Page
•
Email Us
•
Top