Americas & Beyond
Brutal Drug Lord Dies in Clashes in Colombia

Cesar Garcia - Associated Press
go to original
December 31, 2010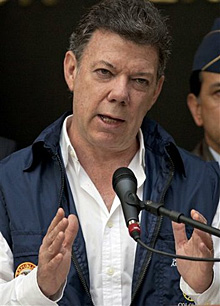 Colombia's President Juan Manuel Santos speaks during a press conference in Bogota, Colombia, Wednesday, Dec. 29, 2010. Santos confirmed that Colombian drug lord and former paramilitary leader Pedro Guerrero Castillo, known in Spanish as Cuchillo, Knife, was killed during operations that began on Dec. 24 at the southern Colombian provinces of Meta and Guaviare. (AP/William Fernando Martinez)
Bogota, Colombia — A brutal drug lord with a $2.5 million bounty on his head and reputed ties to right-wing militias died during clashes with security forces in southern Colombia, President Juan Manuel Santos announced this week.


Pedro Oliverio Guerrero, also know as "The Knife," led the so-called Popular Revolutionary Anti-Terrorist Army of Colombia that protected coca crops and drug trafficking routes in eastern Colombia, according to U.S. officials.


Santos said Guerrero's body was found near Puerto Alvira in Meta province, about 200 miles (320 kilometers) southeast of the capital, Bogota. Authorities found with him two pistols and a knife which he purportedly used to slash the throats of his victims.


"That knife is a silent witness to at least 3,000 killings, ordered or executed, by this Colombian criminal who has finally fallen," Santos said, without providing more details of the killings figure he gave.


"The killer of killers has fallen," Colombia's president said in a news conference,


The operation began on Dec. 24 and involved the police and air force. Officials on Tuesday said they had found a body that resembled Guerrero but it wasn't until Wednesday that they confirmed it was him using fingerprints, he said. Two police officers also died in the operation.


Santos said that authorities had been after Guerrero for many years and his death "demonstrates the courage and determination" of Colombia's armed forces and police.


But the director of Colombia's Legal Medicine Institute, Juan Angel Isaac, told The Associated Press the autopsy didn't find gunfire or blade wounds on Guerrero's body. Police director Gen. Oscar Naranjo said Guerrero likely drowned after losing his footing while carrying a heavy load amid the fighting.


Santos said the $2.5 million reward will be paid to several informants.


As a young man, Guerrero joined a paramilitary band on Colombia's eastern plains led by Gonzalo Rodriguez Gacha, a feared drug trafficker from the disbanded Medellin cartel who was killed by security forces in 1989, according to Colombian officials.


In April 2006, when the paramilitary group demobilized under a peace process led by then President Alvaro Uribe, Guerrero returned to clandestinity and rearmed his men as a drug trafficking group.


Colombia's paramilitaries were initially formed by ranchers to counter leftist guerrillas, but later became involved in drug trafficking and extortion.

Tell a Friend
•
Site Map
•
Print this Page
•
Email Us
•
Top