Americas & Beyond
In US, Sarukhán Urges Rational Debate

The News
go to original
December 31, 2010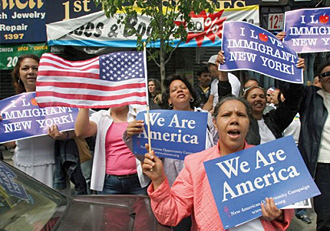 Mexican envoy to U.S. says immigrants are scapegoats
Mexican Ambassador to the United States Arturo Sarukhán Casamitjana said this week that there is an urgent need to adapt rational and constructive debate on the establishment of an integral immigrant policy, thus reducing the tendency by some conservatives to blame migrants for everything that goes wrong in that country.


During his New Year's message to the Mexican community in the United States, Sarukhán said that in 2010 the debate on immigration underwent an unfortunate setback.


Sarukhán said that in spite of the fact that Mexicans in the United States actively contribute to the economic and social development of the communities in which they live, migrants have often been convenient scapegoats for politicians looking for someone to blame for social and economic problems.


He said that, in general, Mexican and other Latin American immigrants are often targeted unfairly in debates over various domestic concerns ranging from the health care to the education.


"We have spoken in favor of our fellow countrymen, wherever and whenever we've had the chance to do so," Sarukhán said. "We want to make sure that every single Mexican in this country is treated with the same respect anyone else would be, regardless of whether he or she is here working, studying or just on vacation."


The ambassador pointed out that in 2010 he held several meetings with various U.S. governors, mayors, senators and representatives in order to underscore the contributions of Mexican laborers.


Sarukhán concluded by saying that he fully supports the passing of the proposed Dream Act, which, he said, would constitute the first step towards a safe influx of immigrants into the United States.

Tell a Friend
•
Site Map
•
Print this Page
•
Email Us
•
Top