Americas & Beyond
Guatemala Launches Siege to Reclaim Violent North

Juan Carlos Llorca - Associated Press
go to original
December 21, 2010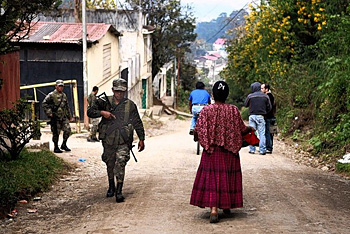 Guatemalan soldiers patrolled Alta Verapaz province on Sunday. (European Pressphoto Agency)
Coban, Guatemala — Gangs roamed the streets with assault rifles and armored vehicles, attacking whomever they pleased and abducting women who caught their eye. Shootouts became so common, residents couldn't tell gunfire from holiday fireworks.


Local leaders of the mountainous northern province of Alta Verapaz, which has become a prime corridor for smuggling drugs from Honduras to Mexico, say they have been asking state and federal authorities to intervene for two years now.


"The violence has increased. There are assaults, extortion, shootouts in the street caused by outsiders," said Ariel Hasse, director of city projects in Coban, about 60 miles (100 kilometers) north of Guatemala City. "We don't know who they are, but the rumor is that they're Mexican drug cartels."


The Guatemalan military declared a monthlong state of siege Sunday in Alta Verapaz in hopes of reclaiming cities that have been taken over by Mexico's brutal Zetas drug gang.


The measure lets the army detain suspects without warrants, conduct warrantless searches, prohibit gun possession and public gatherings, and control the local news media. Guatemalan law allows a state of siege for acts of terrorism, sedition or "rebellion," or when events "put the constitutional order or security of the state in danger."


Hundreds of police and soldiers patrolled Monday, making 10 arrests and confiscating weapons and four armored vehicles in an area only a few miles (kilometers) from the Mexican border.


The region has been plagued by battles between the Zetas and local gangs for control of a new, lucrative route: a recently constructed highway crossing northern Guatemala that has increased the flow of people and trade, as well as weapons and narcotics.


The military operation was launched days before Christmas "to take advantage of the surprise factor and to guarantee the holidays will be quiet in Coban," said Ronaldo Robles, spokesman for President Alvaro Colom. "It's not the result of any specific action, rather the product of intelligence work done by security forces."


Recently appointed regional police chief Freddy Nolasco said there are 500 officers - almost double the usual - plus 300 soldiers that have arrived since Sunday to participate in operations. Carlos Medrano Zapeta, his predecessor, was dismissed from the job and is under investigation for corruption.


Locals interviewed by The Associated Press were afraid to discuss the violence, let alone name the Zetas, referring only to "the people from outside" or "certain groups" to describe the gang of ex-soldiers who started as hit men for the Gulf drug cartel before breaking off on their own - quickly becoming one of Mexico's most violent gangs and spreading a reign of terror into Central America.


Since 2008, when the Zetas killed Guatemalan drug boss Juan Jose "Juancho" Leon, the gang began controlling cocaine traffic in the area. They are blamed for numerous shootings in the region since then, plus the killing of five police officers in 2009, a confrontation that resulted in the confiscation of 500 grenades and other military weapons and ammunition.


"These gangs cruised the streets with assault weapons and their armored cars. They'd honk their horns and get out and beat you, or abduct a woman they liked and send her to be raped," said one resident who didn't want to be named for fear of retaliation.


"The violence was extra-savage. Bodies were dismembered and tortured, things that no one had seen since the 1980s," said Roberto Alvarado, director of the Association for the Development of Peace, referring to the period when Guatemala was consumed by a civil war that left 200,000 dead or missing.


Officials say the Zetas have been recruiting from local indigenous groups, who suffer extreme poverty, in Alta Verapaz, and many people apprehended in Zeta operations are from the local area, according to prosecutors investigating drug crimes.


Earlier in the decade, hundreds of coffee plantations that employed locals for more than a century were abandoned after a crash in coffee prices.


"The young people don't have work and join the military, the police or these groups as a source of income," said political analyst Alvaro Pop.


The government will maintain the state of siege for a month, according to Robles, and evaluate whether to extend it to other areas.


Congress will meet Wednesday to approve the state of siege.

Tell a Friend
•
Site Map
•
Print this Page
•
Email Us
•
Top