Americas & Beyond
Will Bill Clinton Become Obama's Salvation?

Doug Thompson - Capitol Hill Blue
go to original
December 26, 2010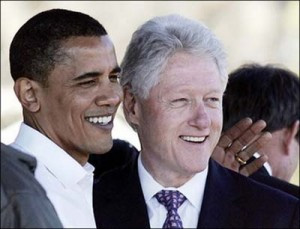 Obama and Clinton: The new superteam?
In 1994, a chastened President Bill Clinton overcame the loss of Democratic control of Congress by turning the extremes of the Republican Party on itself — demonizing both the House and Senate.


What made the turnaround even more astounding was his public pronouncement after the mid-term elections that this was exactly planned to do.


Clinton's turning of the tables on Congress was a master touch by a political master and President Barack Obama, after getting burned in the 2010 mid-terms, appears ready to turn to the master for help in winning back the hearts and minds of the American voters.


"With Clinton's help, Obama can pull this off," a senior Democratic strategist tells Capitol Hill Blue. "Obama turned to Clinton to help sell the tax bill to reluctant Democrats and insiders expect the former President to become an important advisor as the President rebuilds his team for a second term."


Such a move makes sense. Even a massive ago like Obama can read political tea leaves and those leaves say he needs experienced help if he wants to see a second term.


"HIllary became a player in Obama's first term," the Democratic strategist says. "Now it's Bill's turn."

Tell a Friend
•
Site Map
•
Print this Page
•
Email Us
•
Top