Business News
All the Nudes That's Fit to Print

Doug Thompson - Capitol Hill Blue
go to original
December 31, 2010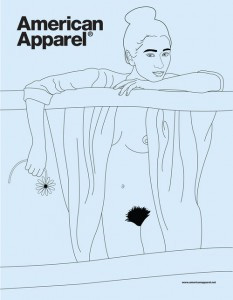 American Apparel, the Los-Angeles-based clothing company that likes to push the envelope even more than Abercrombe & Fitch, is shaking up the ad and clothing world with an ad that features a drawing of a model who not only is not wearing any of the company's product but whose main feature is pubic hair, not clothing.


This from the company that shocked the same industry a while back by using porn star Sasha Grey.


Writes Tracy Clark-Flory on Salon:

Two things are apparent from American Apparel's new print ad: 1) It features a line drawing of a lady instead of an actual model, and 2) She has pubic hair. The first fact makes sense: The clothing company is in dire financial straits, so maybe transitioning to illustrations is a cost-cutting measure (or it's meta commentary on the underground artist who creates fake line-drawn AA ads). But what about the big black bush?

Dov Charney has made a name for himself by stirring up controversy with his pervy behavior and aesthetic. At some point, though, American Apparel and its mastery of the style of P.O.V. porn ceased to be shocking. You can only photograph topless young women cavorting in bed so many times before your audience starts to yawn, That again? When that happens, it's time for some subversive sexiness — imagery designed to arouse at the same time that it repulses. Enter: The bush.

This isn't the first time American Apparel has gone there. Its 2008 full-frontal ad featuring unshaven porn star Sasha Grey raised eyebrows. Speaking of, the actress inspired a Twitter backlash this summer when she appeared with pubes on "Entourage."

Maybe it's time to abandon the clothing industry and just get rich on porn.

Tell a Friend
•
Site Map
•
Print this Page
•
Email Us
•
Top